Tesla (TSLA) shareholders are well aware of Elon Musk's fondness for using Twitter as a means of expressing his opinions.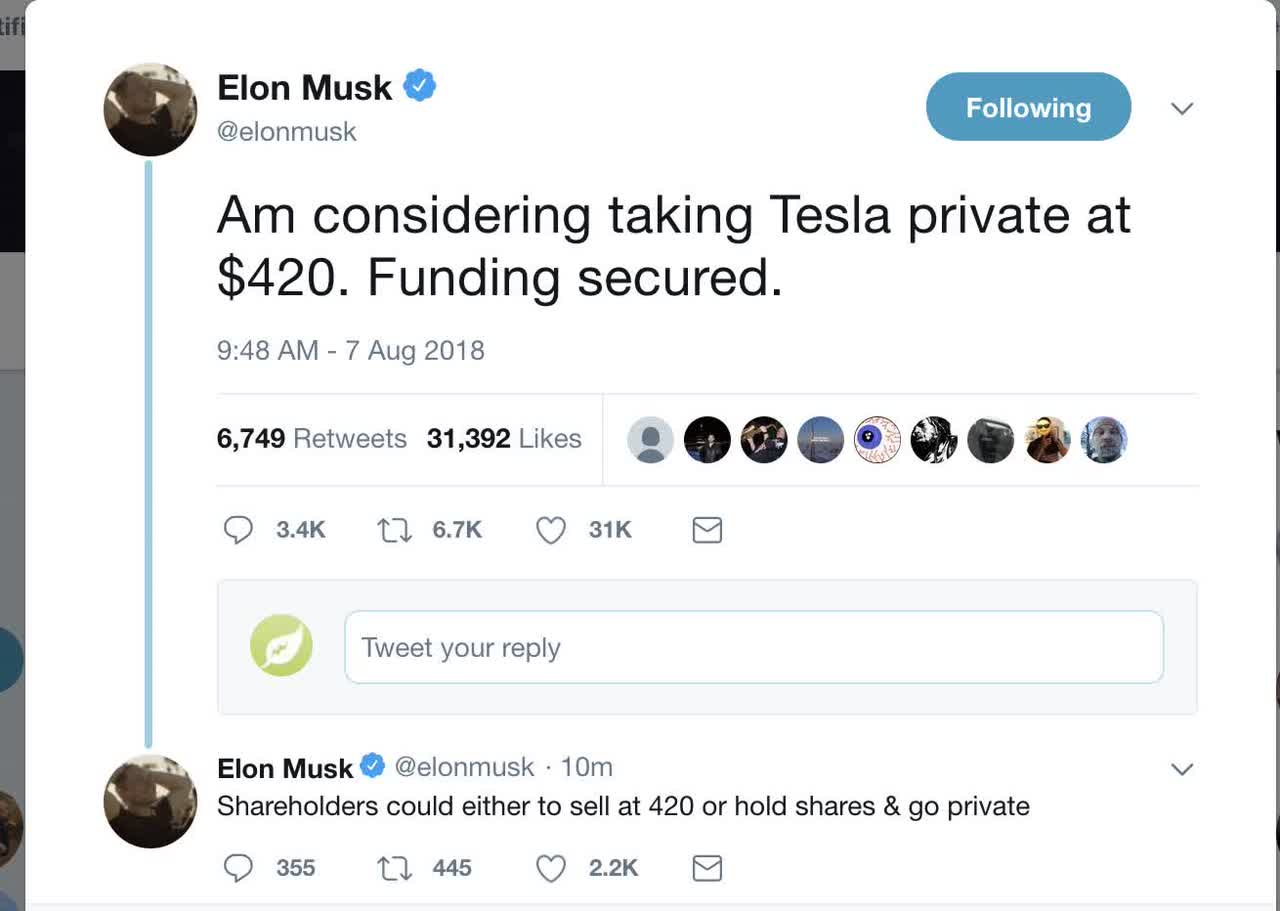 Perhaps the most infamous example is shown above, where Elon Musk used the platform to notify shareholders that he had funding in place to take the company private.  This tweet caused an uproar amongst short sellers and led to Elon Musk being fined 20 million dollars by the SEC, and being forced to step down as Tesla's chairman.
Has Elon changed his behavior?
Following the SEC fine, Elon Musk stayed away from tweeting about his company's share price for some time.  However in May of 2020, Elon Musk reverted back to his old habits of using Twitter (TWTR) as a means of providing his opinion on the Tesla stock price. This time however, he shared a negative view about the current share price of the company.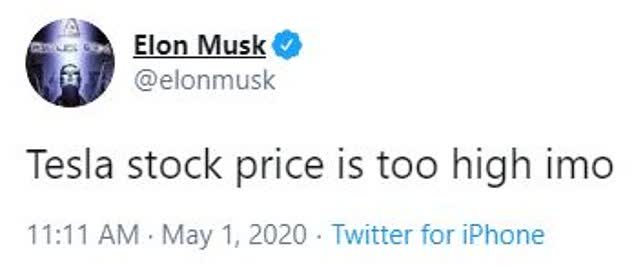 This tweet which was sent during market trading hours caused the Tesla stock price to fall sharply, closing down over 10% for the day.  It's share price has since dramatically recovered, rising over 6 fold in price from $140 to a peak of $900 per share on a split adjusted basis. 
Sending out more market moving signals
Elon Musk continues to use Twitter to bask in his power to influence markets.  He played a role in the recent Gamestop (GME) fiasco, tweeting that if the stock price reached $1000 he would put the company's name on a future rocket ship launch.  In addition he tweeted this on January 26th after the market close.

This tweet caused the stock price to surge over 50% higher in after hours trading, and led to the stock price opening over 100% higher from it's previous day's close. 
However, the enthusiasm for Gamestop's stock proved to be short lived.  It peaked in the following two trading sessions, before ensuing to collapse over 90% from it's peak of nearly $500 per share.
A hedge fund which noticed Elon Musk's tweet in the after hours of trading on January 26th cited this as a signal to get out of it's position in a recent article from the Wall Street Journal.
After the market's close on Jan. 26, Tesla Chief Executive Elon Musk tweeted "GameStonk!!" a rallying cry to users of Reddit's WallStreetBets forum, who had put their support behind GameStop.
Senvest, which had slowly been trimming its position, decided to get out completely.
"Given what was going on, it was hard to imagine it getting crazier," Mr. Mashaal said.
Moving on to an even bigger target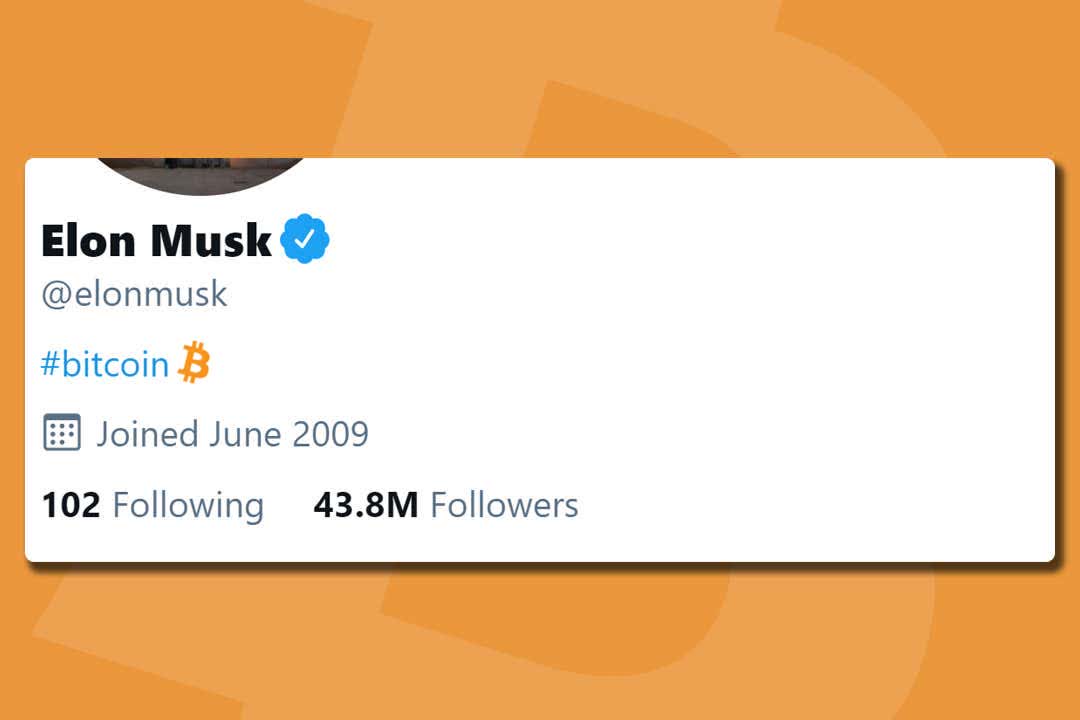 The market cap of Bitcoin (BTC-USD) passed 1 Trillion dollars in value for the first time on February 19th 2021.  This incredible rise in value owes a portion of it's recent success to the vote of confidence provided by Elon Musk over the past few weeks.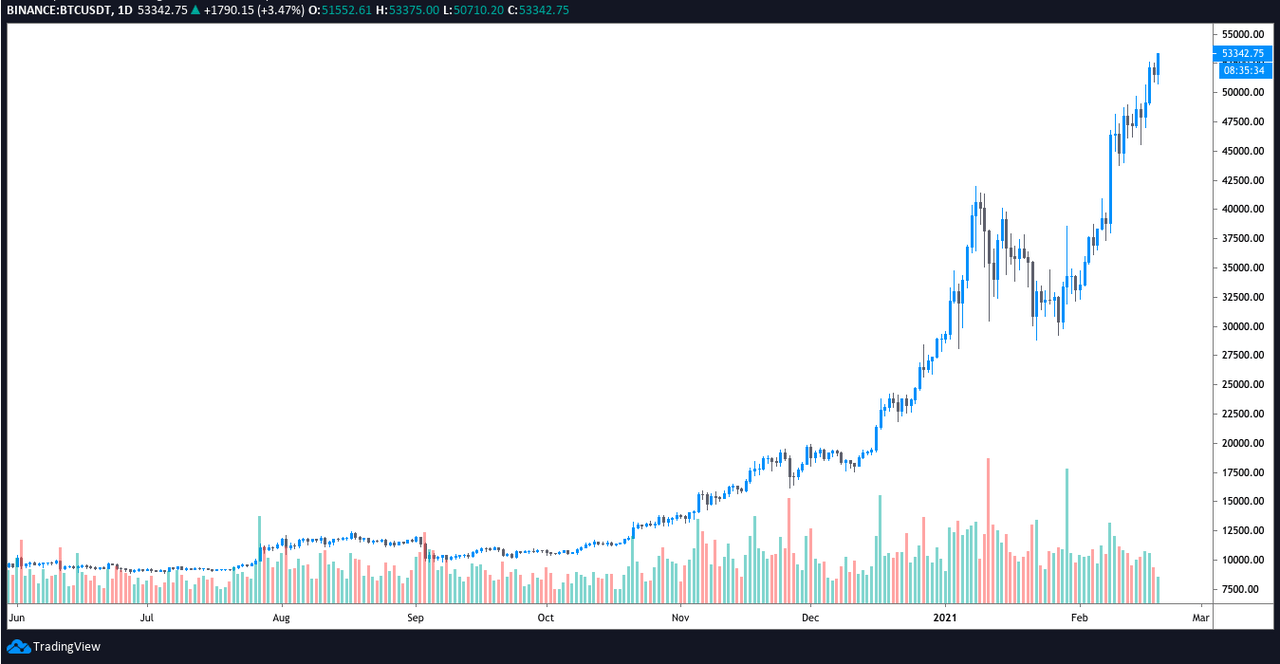 There was perhaps no bigger price altering move for Bitcoin than when Tesla announced, in a filing with the SEC, that they would move $1.5 billion of cash from their balance sheet into Bitcoin.  This dollar amount represented 8% of Tesla's cash on hand and instantaneously exposed all holders of SP 500 stock index funds to some minute quantity of Bitcoin holdings.  In addition, Tesla also announced that it was looking into accepting Bitcoin as a form of payment for it's products.
Bitcoin spikes 16% to record high after Tesla says it invested $1.5 billion in the cryptocurrency and will begin accepting it as payment
Elon Musk's tweets have inspired the next leg higher for Bitcoin's price, as it has broken above the psychologically important $50,000 threshold.  Many Bitcoin proponents are anticipating further corporate adoption of cryptocurrency in lieu of "safer" cash on a company's balance sheet.  This outcome is yet to be determined, as many CFOs continue to remain skeptical about the long term viability of Bitcoin, as a replacement for cash on a company's balance sheet.
Tesla's actions have potentially solidified Bitcoin's long term store of value thesis touted by many of it's early adopters.  However, it brings into question whether it's main function is as a long term store of value, or as a more traditional currency to make purchases with.  Additionally it is unknown how much longer Elon Musk's tweets will continue to influence market prices, and what his main objectives are with his recent vote of confidence in Bitcoin.

What should Bitcoin holders do now?
This is a question that long term Bitcoin investors should be asking themselves, now that the recently richest person in the world Elon Musk is touting it's utility.  A backing from Elon Musk has been shown to yield a mixed bag of results, based on his recent targets.  He has done an incredible job turning around Tesla from the struggles it experienced following his "going private" tweet and the stock has recovered magnitudes of value from his "overpriced" tweet this past spring. However, some of his more recent tweets have coincided with a boom-bust phenomenon in the underlying target, with an eventual collapse in price. 
Long term holders of Bitcoin must plan accordingly, now that they find themselves in the crosshairs of perhaps the most powerful influence on today's markets, the Twitter profile that is Elon Musk.  He has proven to be a market moving force to be reckoned with, especially damaging to anyone with an open short position on his targets.  Going forward it remains to be seen how long this market moving impact will last, and what Elon's agendas are with his use of Twitter to promote these ideas.