- Vimicro's (NASDAQ:VIMC) shares have gone up on the surveillance video hype, not fundamentals, and will inevitably crash down 50% to the $4-$5 range where it was one month ago.
- VIMC's management has been on a promotional campaign for the stock, while aggressively selling their shares.
- Vimicro's (VIMC) SVAC video coding standard isn't new, it hasn't caught on in China, and likely never will.
- H.264 video coding cameras are the mainstream in China, and worldwide, and that won't change anytime soon.
- VIMC's surveillance camera sales are entirely dependent on its Chairman's political connections, something too fragile to count on in China's ongoing intense anti-corruption campaign.
- Vimicro has no chance to sell SVAC cameras into the broader China market, given its inferior products, many bigger competitors, and the absolute dominance by Hikvision and Dahua.
Why VIMC's Share Price Has More Than Doubled Within The Last Month
Vimicro (VIMC) is a chip maker and producer of surveillance cameras in China. Nothing material has changed today compared to September 2nd when VIMC was trading at below $4 per share. Yet it's now trading at above $10 per share!
The tragic shooting of an unarmed black man by a police officer in Ferguson, MI has caused video surveillance to be a hot stock sector. Hype fueled some impressive run-ups in US-based video surveillance companies such as Digital Ally (NASDAQ:DGLY), Image Sensing Systems (NASDAQ:ISNS), and TASER (TASR), only to have each of these stocks come back down to earth soon after the euphoria ended. Recently, the blind enthusiasm has shifted to Vimicro (VIMC). It's strange that it is affected because it's in China which isn't concerned by events in Ferguson. On top of this, VIMC management has gone on an aggressive campaign to promote their stock in the US and China.
VIMC will inevitably fall back to the $4-$5 range it was trading at one month ago, as nothing new fundamentally has happened to the company since then. New sales here and there are expected, but each sale the company makes is non-recurring revenues. The company's marketing deal with Inspur doesn't seem to be a big deal, as there was no comment from Inspur and the news wasn't posted on Inspur's website.
With An Inferior Product, Vimicro Can Only Get "Forced Sales" Through Government Connections
VIMC's cameras have performance specifications inferior to those of key competitors. Almost 100% of VIMC's camera sales are to the Chinese government and its affiliates, because no non-government entity would care to buy them with so many better options out there. VIMC's Chairman and CEO has ties to the government and uses his influence there to help sell its cameras to two provinces. VIMC will inevitably experience declining revenues as it's directly competing with China's biggest surveillance camera maker, Hikvision. For example, Hikvision reported a major sale in Guangdong province, which is supposed to be VIMC's territory.
Earlier this year, Guangdong Province was selected by the Ministry of Public Security as the first demonstration of the National SVAC (Surveillance Video and Audio Coding) standard. A standard that VIMC co-created with the Ministry of Public Security. However, businesses in Guangdong are ignoring this standard, and going with superior camera makers like Hikvision.
In fact, Hikvision just signed a strategic partnership with Alibaba (NYSE:BABA) on 9/30. The two companies will together build China's largest security camera cloud for family, personal, and city use. Such partnership is a validation that the current H.264 based camera is still the mainstream, and will continue to be. VIMC's "first mover advantage" on SVAC is no more than its relationship with a couple provinces.
Vimicro's History Of Poor Execution
VIMC started out as the first Chinese chip company on the NASDAQ in 2005. They were selling chips for webcams embedded on laptops. Their execution was poor compared to their competitors, and now it's a declining business for them. Starting in 2010, they shifted their focus to manufacturing and selling surveillance cameras and chips because their other business failed, and now are using government support to prevent failure with their surveillance cameras as well.
Here is an interesting Seeking Alpha article about VIMC published in May, 2012, to see how the company was perceived back then. From the article:
"VIMC has been hit hard as of late, with shares falling more than 14%+ in the most recent trading day, as shares have fallen to $0.78. When it comes down to it, VIMC are the leading chipmakers for PC webcams and have achieved great success for their design of multimedia chips for mobile phones. The company has been rapidly expanding; recently, they have even created a unit focusing on surveillance-camera chips."
Now VIMC's business is almost solely surveillance cameras, the other product lines are almost finished.
The following chart shows VIMC's declining revenues and negative operating income over the years.
Vimicro's Revenues Are Miniscule Compared To Other Chinese Surveillance Camera Players
VIMC isn't a leading or advanced surveillance camera maker. The following are VIMC's major, pure play competitors that sell video surveillance products only in China:

In addition to the above list, there are other pure play competitors that are mentioned in VIMC's latest annual report. These competitors, led by Hikvision and Dahua, are 2x-50x bigger than Vimicro in market cap. These firms all make and sell the H.264 video coding standard, which is the most common standard worldwide.
The exchange rate is about 6 RMB per US dollar. In US dollars, Hikvision, the largest on the list, has a $12.5B market cap, and OB Telecom, the smallest, has a $477M market cap. VIMC only has about a $250M currently, and had a $125M market cap just one month ago. The following shows Hikvision and Dahua's expected revenues compared to VIMC's: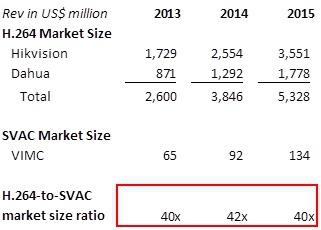 The above 2015 revenues for VIMC are street estimates, by only two analysts that follow VIMC, and are unlikely to be achieved.
It's clear from the size of VIMC's pure play competitors that surveillance cameras are a big business in China. Then why is VIMC so much smaller? The answer is that its cameras have inferior technology to its competition.
Vimicro's Inferior Technology
VIMC's chip design capability is way behind some of the bigger players. VIMC's highest spec'd camera uses 2.1MP sensor which maxes out at 1920x1080. It's bulky and old-fashioned looking. In comparison, Hikvision and Dahua offer 5MP sensors with a better design. If you had a business in need of an efficient surveillance system, would you rather buy cameras that look like this: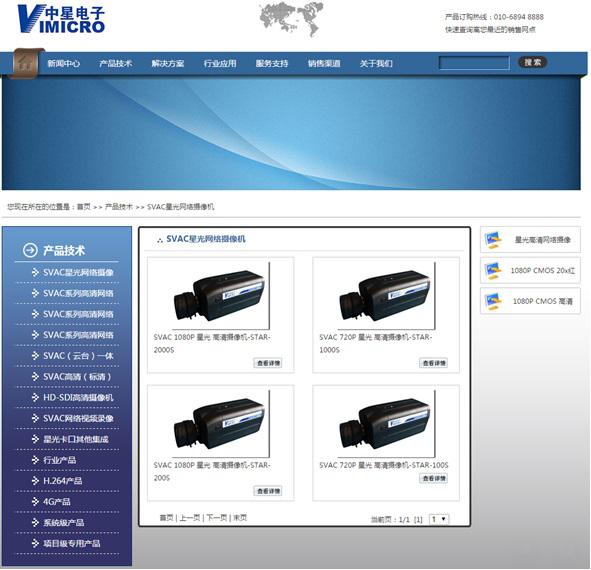 Or that look like these:

The SVAC "Standard" Has Not Caught On In China, And Likely Never Will
It has been over three years since there have been talk about the "new" SVAC standard, as announced by VIMC in January, 2011. Yet it still hasn't been widely adopted in China and there's no reason to suggest that it will be. SVAC is a failed attempt by VIMC to compete with H.264. This vain battle was fought in 2011, and SVAC was left orphaned, with only the CEO's government friends buying a few systems, which will soon be obsolete.
Hikvision and Dahua have achieved absolute dominance in China despite VIMC's claim to the SVAC standard. The reality is, H.264 video is overwhelmingly dominant not just in China but across the world, by not only video system buyers but also by producers of chips and system. The big players in the industry like Hikvision have found ways to add proprietary encryption and control to provide the necessary security.
Guangdong province was selected by the Ministry of Public Security for a first demonstration of the SVAC standard earlier this year. Except just last month, Hikvision deployed its video cloud storage unit at Shaoguan Iron & Steel, a major China steel company based in Guangdong Province. Shaoguan is a state-owned enterprise, so this rules out the idea that the SVAC standard will be required in Guangdong.
Regarding VIMC's traction in Guangdong Province. VIMC released a PR on April, 2014, which states:
"To-date, SVAC has been implemented in Shanxi and Hebei provinces and in other regions to provide public security, urban management, and in other large-scale industrial applications. Recently, the Ministry of Public Security selected Guangdong Province as the first province for a national SVAC standard demonstration running through October 2014"
It's a matter of trying out the standard in small cities and then leading up to bigger cities. It's a slow process, dealing with the government, and the SVAC standard will likely never take off. If a building is using the old form of surveillance standard, they aren't going to rip it out in order to put in SVAC.
This article on China.org.cn from 2012, put the spotlight on SVAC like what's happening now. The article mentions Panasonic and Canon, also competitors of VIMC as they sell surveillance cameras, but they of course aren't pure plays like the other competitors I mentioned.
It says:
Canon and Panasonic said they are aware of the new SVAC standard but do not have products that have been set up in accordance with it. The two companies are working to supply equipment for the Safety City project and will consider using the standard if a strong demand arises for products that operate on it, Canon and Panasonic said.
If this standard was something that was going to take off, then all these huge camera makers would be investing in it and taking their slice of the pie. So far, that hasn't happened.
China has tried in the past to create its own proprietary standard, but has always failed. A prime example of this is its WLAN Authentication and Privacy Infrastructure (WAPI), explained here. WAPI is a Chinese National Standard for Wireless LANs Although it was allegedly designed to operate on top of WiFi, compatibility with the security protocol used is in dispute. Due to the limited access of the standard (only eleven Chinese companies had access), it was the focus of a US-China trade dispute. Following this it was submitted to, and rejected by the International Organization for Standardization (ISO). It was resubmitted to ISO in 2010, but was cancelled as a project in 21 Nov 2011 after being withdrawn by China. Part of the reason for withdrawal is thought to be that WAPI only applied to a small number of systems.
General Atlantic's Liquidation Of Its VIMC Position
Looking on sec.gov, the only fund who has filed an SC 13D filing on VIMC has been General Atlantic. It was an owner of VIMC since 2005 when it first came on the NASDAQ. General Atlantic owned 16.7% of the outstanding shares. The filings show that General Atlantic sold a bunch of shares in early 2013, and sold its remaining shares to the company for $1.97 per ADS on 12/18/2013. $1.97 is less than a fourth of what the stock is trading for now.
This was less than a year ago that General Atlantic liquidated its position in VIMC. General Atlantic is a very large and savvy Global Equity fund with $17B of assets under management. They are effectively the "smartest guys in the room". If VIMC was onto something cutting edge and successful with their SVAC, General Atlantic would not have liquidated their position last year, after being major shareholders for 8 years. General Atlantic does deep due diligence, and has offices in Hong Kong and China. It knows full well what kind of business VIMC has, and what hope it has for the future.
Vimicro's Government Sales Are Not Reliable
Almost 100% of VIMC's revenues are to the Chinese government. These are non-recurring revenues, and are dependent on continued dealings with government officials. As written in VIMC's latest annual report:
"Most of our revenues are derived from the installation of video surveillance systems which are generally non-recurring. Our customers are primarily governmental entities and their affiliates such as cities, municipalities and provinces, non-profit organizations and commercial entities, such as airports, customs agencies, banks and theaters."
A private company would not buy from VIMC unless it is required due to an affiliation with the government. VIMC gets sales by dealing with government officials who require that its affiliates use these cameras despite the lower quality than its competitors. Take a look at VIMC's Chinese language website. On the homepage, its primary photo is its CEO, Dr. Zhonghan Deng, shaking hands with China's president.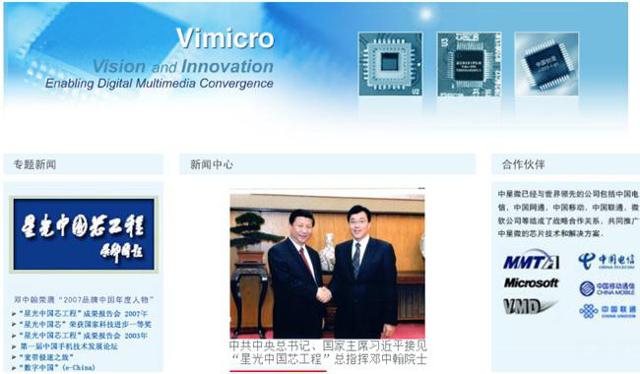 Compare this with the home pages of Hikvision and Dahua, where the primary pictures are of its cameras.
That is the way VIMC sells its cameras. Not from promoting, improving or trying to find a niche for its products, but from having connections with Chinese officials. VIMC is trying to "fight gravity". With inferior cameras, the only sales the company makes are those forced through by the government. If an establishment had its own choice, it wouldn't choose to purchase VIMC's cameras. If VIMC loses favor with the government and its affiliates, then its sales could drastically decline.
China's Recent Anti-Corruption Campaign Could Stifle Vimicro's Sales
China's large scale current anti-corruption probe has a big impact to government-related businesses. This could hurt VIMC since it is exclusively dealing with Chinese government and selling due to connections rather than technical merit. It could delay orders or even completely cancel them. Regarding this widespread campaign, note the bold print from the following earnings calls from companies with business in China:
2014/07/22 Waters Corp (NYSE:WAT) earnings call:

Question - Ross J. Muken: Good morning, guys. I wanted to dig in a little bit more again just on sort of China and the rest of Asia. It seems like developing markets getting better across the portfolio. Usually that would sort of be feeding off of at least as we think the Asia off of China, I guess in terms of the sort of weakness there, particularly on the government end, are we still seeing some of the delays just in terms of budget approvals on high-end CapEx, say, over $50,000 type items where it's really the sign off process that is just taking time given some of the anti-corruption probe sort of concerns.
Answer - Douglas A. Berthiaume: ... We think the issues that existed is related to a crackdown on corruption, was a general dynamic that affected a lot of business in China, wasn't necessarily focused on the lab and analytical marketplace and to that extent ...

2014/07/29 Waddell & Reed (NYSE:WDR) earnings call

Also, during that period of time, our exposure to the gaming sector, specifically, Macau gaming, which is a significant part of the portfolio and continues to be, was negatively impacted by sentiment as it surrounded the outlook for Hong Kong traded securities in general in that sector, in particular on the back of the, on the back of investors' concerns about the extent and depth of the anti-corruption campaign that is currently being engaged in by the current leadership of China.

2014/9/4 Dominion Diamond Corp (NYSE:DDC) earnings call

In China, there's a weakness in the sales of diamond jewelry at the top-end as a result of the continued anti-corruption drive, which has been reflected in the full in jewelry sales in Hong Kong.
Management Stock Promotion
VIMC management went on an aggressive investor road show in China. It's also promoting itself in the US. Its head cheerleader, Needham, which is accompanying VIMC on its road show, raised its price target from $6 to $8 on September 8th. The stock was trading for below $4 per share as recent as September 3rd. When it rose above $8, the Needham analyst was asked if he would raise his target, but he had no comment at the time.
Per its 20-F filing, VIMC management has 2.3 million in the money options expiring on October 14, 2014. This is about 2% of the total shares outstanding. The desire for management to exercise these options at a high price is likely the primary motivation for its current stock promotion.

Management has been aggressively exercising their options and selling shares since their promotion at the beginning of September as shown here. They are using Form-144 so they don't have to file on sec.gov. It's a tricky way to report insider sales.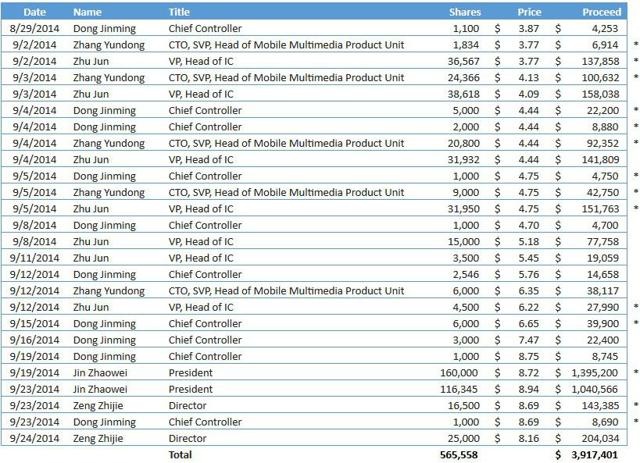 Taken from Bloomberg, the above are the insider sales since September. Insiders started selling aggressively starting at $4 per share.
You Should Sell VIMC Like Management Is Doing
VIMC has had an unprecedented runup in share value, up 500% since the beginning of the year off the surveillance sector hype. While the sector is strong in China, it's the H.264 video coding that is in demand, not Vimicro's SVAC video coding. Government influence can only go so far in convincing companies to buy an inferior product, even in China. With its non-recurring revenues, shareholders are risking a lot expecting SVAC to become readily adopted in the future. It's clear that VIMC's management has no confidence of its future success, or they wouldn't be selling as many shares as they have. Investors would be wise to follow suit and sell VIMC shares as well.
In fact, as shown below, management has been fleecing shareholders for years, with compensations equaling over 6% of VIMC's market cap.

Disclosure:
Adam Gefvert and/or clients of White Diamond Research may have a short position in VIMC and stand to gain from its decline.
Disclosure: The author is short VIMC.