This recommendation is on Akoustis Technologies (OTC:AKTS), which I've been following for some time now. Yesterday, it rose 19% on not very high volume, only 106k shares traded. Shorting AKTS today and holding for a couple days or more looks like a high probability to be a profitable trade. As shown in the one month chart below, the stock has been fading for the past month. This bounce appears to be a temporary oversold, short-squeeze bounce, and it should fade again soon, if not immediately.
The stock went up yesterday on what seems to be immaterial news. The news stated that the company shipped out filters from a contract with a Chinese company that it announced in December 2016. AKTS never mentions any dollar amounts that it should receive from the sale, so we can assume it's miniscule. 10 days ago, AKTS announced a shipment to a Chinese company that it claims is a "partner", yet it doesn't even reveal the name of this Chinese company. On 8/11, the company did an interview on Fox news about its factory in NYC, and mentioned it shipped to this Chinese company, but AKTS doesn't have any other customers other than these 2 Chinese companies. That's stated in this article from February titled: AKTS: Two Customers Signed and More in the Works. AKTS has only announced that they only have one new customer since this report from February, which remained nameless.
This news is likely the company's proactive response to a negative Seeking Alpha article that came out on August 9th titled: Akoustis: Strong Sell on product obsolescence, paid stock promoters, and ex-Gottbetter team involvement, 96% downside. The article was by Mako Research who does some deep research on stocks, even though his track record isn't great, he's probably right here. I read the article and there are a lot of good points made regarding large RF Filter manufacturers like Qualcomm, Qorvo and Skyworks that are far beyond Akoustis' technology. AKTS was the stock that The Street Sweeper wrote about when it was trading at $11, and again, the company put out a PR the next day to combat that article.
AKTS didn't fall much the couple days after the Seeking Alpha report was published. This is likely because it had already drifted down on the month, and it's full of retail investors who sometimes have a delayed response. But on Monday, August 14th, the stock opened 9% lower on no news. It's likely that the article just had a delayed response to retail investors who got nervous over the weekend. However, today the stock is higher than it was before the negative SA article was published, which creates a good entry point. 
 I believe we can expect a similar pattern with AKTS that happened with Zion Oil and Gas (ZN) recently. Note ZN's monthly chart below: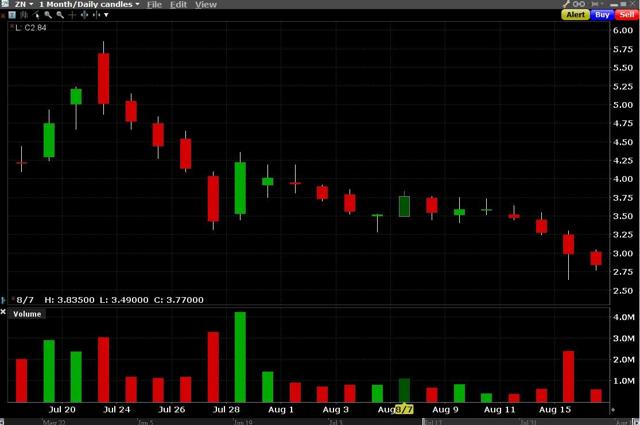 On 7/26, there was a good, well-written bearish piece on ZN published on Seeking Alpha by Fuzzy Panda. As shown in the chart above, it took an extra day after publication for it to fall hard. Then the following day, on 7/28, the stock bounced hard. Only to fade little by little daily after that. It's likely that AKTS will fade similarly after it's 19% gain yesterday.