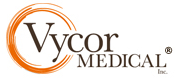 Vycor Medical, Inc. is closing in on completion of having its newly-acquired subsidiary, NovaVision, Inc., fully operational in January 2011 to re-commence operations as a leader in non-invasive Vision Restoration Therapy (VRT). It was just over one month ago that Vycor announced the purchase agreement in which the Company acquired the assets of NovaVision, Inc., a manufacturer and marketer of FDA-cleared and CE-marked medical devices for VRT, including its wholly-owned German subsidiary, NovaVision AG.
Vycor is moving forward quickly in an effort to capitalize on the significant time and money invested to date by leveraging all of the existing academic and clinical studies, which include the six Company-sponsored studies and 14 independent studies, together with patient testimonials. A great deal of strength was added to this strategy as Vycor secured key personnel in both Germany and the United States from NovaVision's predecessor who will prove integral to the Company moving forward with attracting and servicing patients once again in the near future.
Vision Restoration Therapy is a rehabilitative treatment that helps victims who have lost vision due to stroke or traumatic brain injury (NYSE:
TBI
) recover vision regardless of the age of the patient or how long ago the damage occurred. Medical devices provide non-invasive neurostimulation to restore visual function by activating neuroplasticity, which entails harnessing the brain's proven self-repair capability. The therapy is patient specific as a customized treatment is created for each individual from comprehensive diagnostics that map the seeing and non-seeing areas of vision. Throughout the process of repeatedly detecting light at the border of the blind and seeing areas in the visual field, vision is gradually restored.
The therapy has been clinically proven effective, with more than 3,000 people having undergone VRT to date. From a revenue perspective, the market potential is especially appealing as it is estimated that there are 1 to 2 million people that cope daily with vision impairments as a result of stoke or traumatic brain injury. This total increases by nearly 100,000 people per year. Vycor management estimates the market potential worldwide to be approximately $10 billion and is confident that it will receive strong demand for NovaVision's VRT.
While the therapy is not yet mainstream, it may be gaining momentum and Vycor intends to be a catalyst for the popularity. Where many of the nearly 1 million stoke patients a year have regularly been sent home with doctor's guidance that nothing can be done to help recover their vision or that it was a costly endeavor to seek therapy, there are murmurs within the industry about how this sort of therapy should become part of standard post-hospital treatment. Forward-thinking and striving to increase the availability of VRT, Vycor has a goal to have a web-based solution which will further help address the cost and availability of VRT within the next six months.