The Indian markets bottomed out around May - June 2012 at 4900-5000 level of Nifty and from there it hit a high of 6100 in late January 2013. During this whole period, the market breadth is continuously negative and it is hitting new lows every week.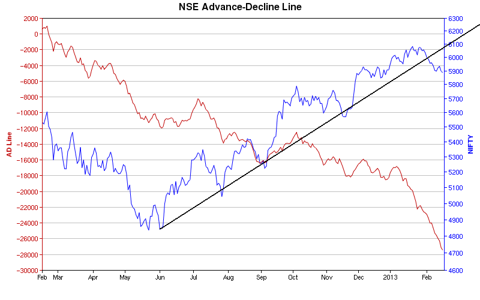 This rally is led by a handful of stocks which can't last for long. And since we are near the all time high, profit booking can lead the market lower from here. The market has already taken out the rising trend line and the near term outlook is negative.
The concerns ...
Markets are led by too few stocks.
Markets are led by a narrow class of investors, DII's & retail are net sellers and its only the FII's who are pumping money.
The hope rally is on the back of positive resolution on many macro economic variables like Inflation, Interest rates, Fiscal Deficit and the failure to adequately address any of them in the coming Budget can lead to sharp selloff.
Disclosure: I have no positions in any stocks mentioned, and no plans to initiate any positions within the next 72 hours. I wrote this article myself, and it expresses my own opinions. I am not receiving compensation for it. I have no business relationship with any company whose stock is mentioned in this article.