For trend following guys, one of the way to get the big picture is to plot moving average crossovers. This may seem like an unworkable exercise to many but it's not without its merits to correctly provide the market direction when plotted on higher timeframes.
Plotted below is the weekly chart of DJIA with 13/34 EMA from March 2006 till date. During this whole period we have three moving average crossovers – Jan 2008, Aug 2009 and Aug 2011 (Watch the volume spike 

)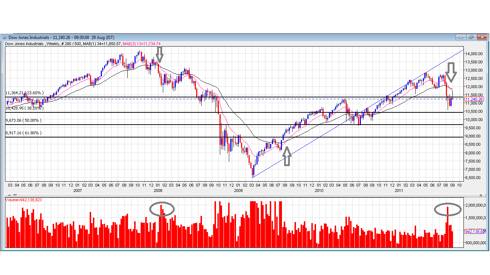 The first is the beginning of the new downtrend, the second the beginning of new uptrend (V shaped recoveries at bottom will obviously make it look more like a confirmation). In an uptrend you buy the dips and in a downtrend you sell the rallies AND if with this Aug 2011 crossover we are entering a new downtrend then the first pullback on the daily charts are already utilized by bears to initiate positions.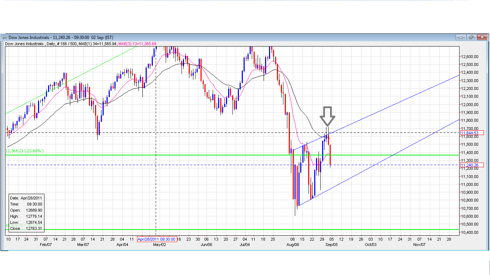 We are currently placed around 23.6% retracement level of the total uptrend and it would be naïve to call it a bottom. With all the fundamental good news floating around for the bears it will be highly unlikely that they will rest before testing the 10400 – 9600 zone on the DJIA.
Visual Arts : http://www.netdania.com/
Disclosure:
I have no positions in any stocks mentioned, and no plans to initiate any positions within the next 72 hours.