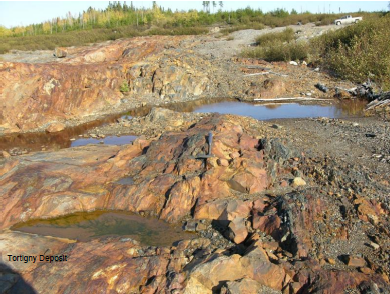 Beaufield (BFD.V), a gold and base metal resource exploration company, has had a drastic change of fortunes of late. On Sept 30th Beaufield's share price tripled reaching a high of $0.68 with 41M shares traded . The reason for the jump in price was the spectacular news from its latest drilling program at the Tortigny Copper-Zinc-Silver deposit.
The phenomenal news was an intercept of 322m of 4.2% zinc, 2.72% copper, 72.02 g/t silver and 0.53 g/t gold. This hole was drilled through the center of the v-shaped deposit, parallel to the hinge of the fold, in order to test mineral continuity between existing exploration holes. As such the intercept does not represent the width of the deposit, but rather the length or continuity.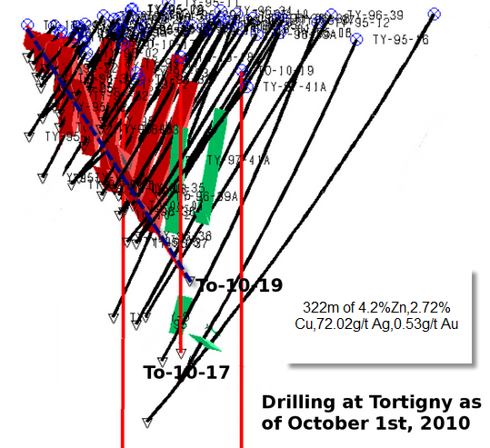 Regardless of the direction of the hole, this intercept of 1000ft of mineralization is significant and it has sparked a big staking rush in the Tortigny discovery area. Less than a day after the initial results were out Habanero Resources (HAO.V) announced acquisition of 5400 acres of land bordering Beaufield property. Hundreds of claims are being staked each day in the area where Beaufield has the best land package and will be the leader of exploration.

 

The Tortigny polymetallic deposit is 100 km north of the town of Chibougamau in Canada's mining friendly province of Quebec. The deposit was initially defined by Noranda (merged with Falconbridge) in 1997 as a resource of 489,900 tonnes of 2.21% copper, 6.15% zinc, 0.24% lead, 0.31 g/t gold and 60.08 g/t silver. At that time the copper price was around $0.80 and there wasn't a lot of motivation to spend additional capital on exploration.

 

With the price of copper rising (~$3.70 today) Beaufield has undertaken a resource expansion program and in the three drilling campaigns has succeeded in increasing both the grade and the tonnage of the deposit. According to Jens Hansen, Beaufield's CEO, previous drilling was limited leaving a good potential for expansion. Following latest drill results the company learned that the deposit is more continuous, wider, and contains more higher grade mineralized zones.

 

The discovery has now become the main focus for the company and preparations are on-going for more drilling in November. Deposit size is easily a double of its original estimate while the potential is for this deposit to grow into a 10 Mt resource. With the metal value over $300+ for these grades the blue sky potential for this junior is staggering.

 

Jens tells us that since the news release he has received a lot of interest from geologists and analysts from various institutions. Desjardins Securities has undertaken a $3M flow-through financing within a few days of the discovery announcement. Desajardins is a Quebec based broker firm well familiar with Canada's exploration industry.

 

Besides this property Beaufield has a host of other projects on the go. With over $6M in the treasury and now an additional $3M on the way, this is a well funded junior. Presently there are roughly 83M shares outstanding giving it a market cap of ~$31M. Beaufield is managed by Jens Hansen, an experienced and well respected geologist. Jens is also the CEO of Melkior resources, another exciting junior explorer presently focused on gold exploration in the West Timmins region.

 

Conclusion

 

Beaufield has been thrust into the spotlight with its spectacular discovery. Everyone is watching to see how big this deposit can get while numerous other companies bring in additional interest as area plays get going. Hundreds of new investors have come into the stock adding liquidity. The story is well worth following and, once the stock price settles, I will be picking up shares in anticipation of upcoming drill results.

Written by Irfan Cehajic (aka TB)
www.TechnicalBuy.com

 

 
Disclosure:
No position yet.
Disclosure:
No position yet.