Background
I originally started buying Google because I saw that their ability to deliver software services at a global scale was way beyond the efficiency levels of the then software companies which still relied on armies of support staff to distribute their software through CD/DVDs and operate software through huge investments in private infrastructure. My thought was that the world did not know how quickly a company born in the cloud that delivered its software services over the Internet could expand without the need to distribute or build physical assets. Back then, Google was a search company that since has expanded into other markets through organic development and acquisition. In almost all cases, their successful expansions have been in support of advertising revenue even when it doesn't seem obvious. Alphabet is now Google combined with other bets. Other bets are businesses that are being incubated to become significant contributions to Alphabets income statement. In my view, other bets have not materially generated revenue for Alphabet and I don't see any indication of Google leading a market with any of them.
Advertising Total Addressable Market TAM
First and foremost, Google is an advertising company. Any of their successful business including search, productivity software, YouTube, etc. contribute primarily to advertising revenue even though the products are not necessarily what we'd consider to be sources of advertising revenue. The below graph found through Google search shows the size of the US advertising market.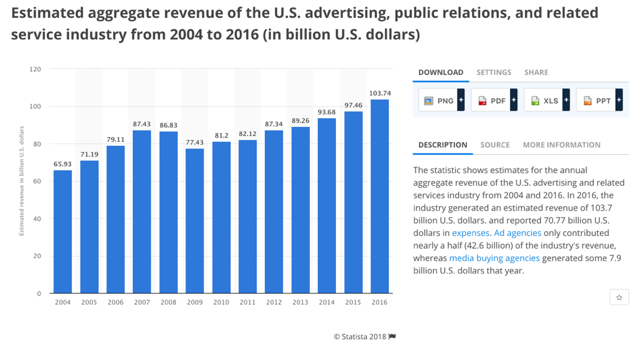 Of the advertising market, digital has become the majority of the advertising market surpassing TV in 2017. The legacy channels represented by radio, magazines, newspapers, out-of-home, and directories represent a shrinking share but a share that seems to asymptotically be a approaching a fixed 25%. The legacy channels get smaller but they do not go away.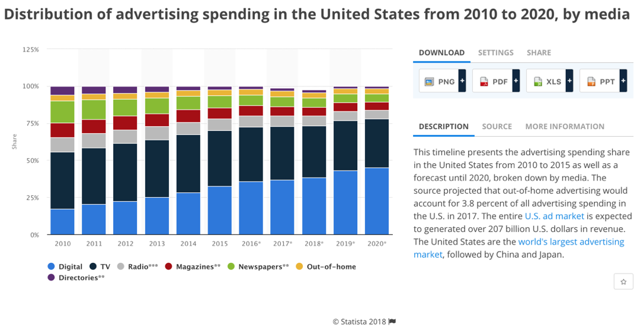 If we look at all media advertising revenue, Alphabet represents a majority of the market and is the size of the next 3 companies combined including The Walt Disney Company, Comcast, and 21st Century Fox.
Alphabet — $59.62 billion in media revenue
The Walt Disney Company — $22.45 billion in media revenue
Comcast — $19.72 billion in media revenue
21st Century Fox — $18.67 billion in media revenue
Facebook — $11.49 billion
Bertelsmann — $10.04 billion in media revenue
Viacom — $9.61 billion in media revenue
CBS Corporation — $9.57 billion in media revenue
Baidu — $7.895 billion in media revenue
News Corp — $6.86 billion in media revenue
By any measure, Alphabet dominates the advertising market. As shown above, the advertising market is a stable market. Alphabet is replacing other forms of advertising but the advertising market itself is not a growth market. Alphabet has grown by acquiring an ever increasing share of the stable advertising market. Because the advertising market is a very fragmented market, I do not expect Alphabet to dominating market share (~75%), rather the best they can hope for is perhaps half the market which they are quickly approaching.
Adjacent Market Expansion
Alphabet makes advertising money hand over fist. They continue to collect and/or invest their massive profits. So far, like many successful companies before them, I see no signs that they are capable of escaping the shackles of their core advertising business. By following Google now Alphabet for years, I've seen them expand or attempt to expand in many times in many areas. To give credit where it is due, Alphabet successfully expanded through acquisition in YouTube and Android. Both acquisitions were intended to and have contributed to the core advertising revenue. However, I've seen Alphabet fail in many more ventures including (in no special order):
Consumer

Google Home - voice controlled speaker
Shopping
Music
Books
Google finance
Social networking
Messaging
IP Phone - Whatsapp
Blogspot
Creating entertainment media
Nest

Enterprise

Enterprise web conferencing
G-Suite for Enterprise (increasingly losing to Microsoft Office 365)
Google Cloud Platform GCP (behind Amazon and Microsoft)

Service Provider
I've concluded that Google doesn't know how to make money through any means other than advertising. At its core, Google is not a retailer, rather they are an advertiser. They have not monetized consumer businesses directly which will limit their ability to expand.
Conclusion
After many years of following, owning and being enamored with Alphabet/Google, it is with sweet sorrow that I bid Alphabet adieu. It's been a wonderful journey from $250 to $1130. I've learned a lot from you Alphabet and I'll never forget you. Thanks for the good times. There were many more good times than bad. Unfortunately, you seem to have trapped yourself in an advertising box and I don't think we can grow together anymore. I thought to stay with you until you offered a dividend or perhaps for the potential for you to lead Artificial Intelligence AI but alas I've lost hope in either happening any time soon.  I've decided that my growth money is better placed on "other bets".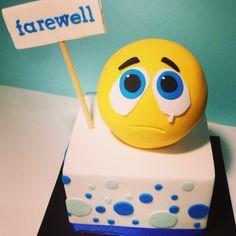 Disclosure: I/we have no positions in any stocks mentioned, and no plans to initiate any positions within the next 72 hours.
Additional disclosure: After about fifteen years ownership, I am no longer long on GOOG or GOOGL.