April 13, 2012
Check out the latest Futures for You column in Stocks & Commodities Magazine, written by Carley Garner of DeCarley Trading!
High flying Treasury futures
Bonds and notes soared into the weekend on a high note. Buyers were eager to own safety assets following a weak Chinese GDP report and a flare in the European Debt crisis. As a result, the benchmark 10-year Treasury note found itself below 2% again and comfortably within the multi-month trading range that was only briefly violated in Mid March. You might recall many analysts calling it the beginning of the end of the bond bull, but here we are again. Readers of this newsletters know we were willing to buck the consensus and look at is as an opportunity to be bullish and a discount. Thus far, that has proven accurate but it seems as though the buying might have nearly run its course for now.
Seasonal pressures call for bullish prices later in the month and going into May, but we typically see some weakness in sympathy to what has historically been one of the best months for the stock market of the year. In addition, stocks tend to trade positive going into their option expiration (which is next Friday); we think stability on Wall Street will prevent the current Treasury rally from getting too much more out of hand. Nonetheless, the door is open to one more round of buy stop running.
Yesterday's inflation report on producer prices showed little change in price pressures and today's consumer price index was much of the same. The CPI rose .2% according to the Labor Department; although most consumers realize prices have gone up tremendously it isn't showing up in the data for various reasons. For now, the financial markets seem to have grown accustomed to what is being perceived as a low inflation environment and are therefore unwilling to dump their Treasury holdings in search of higher yields.
This week's reopened auctions were a bit rocky, next week the government will sell $16 billion in 5-year TIPS on April 19th, $4 billion more than the last outing in December. Traders will likely see this as rather inconsequential relative to next week's economic schedule. We will soon hear details on March retail sales, housing stats, manufacturing indexes on the East Coast and leading indicators.
The bulls could seek out a few lingering buy stops above. If so, the June 10-year note could make a run for the 132 to 132'15 area and the long bond could test resistance near 142'05 and maybe even as high as 143. At this time, we doubt prices will be able to see much higher levels than those noted and see a good probability of some sort of range trade to be carved out (such as 143 to 139 in the long bond).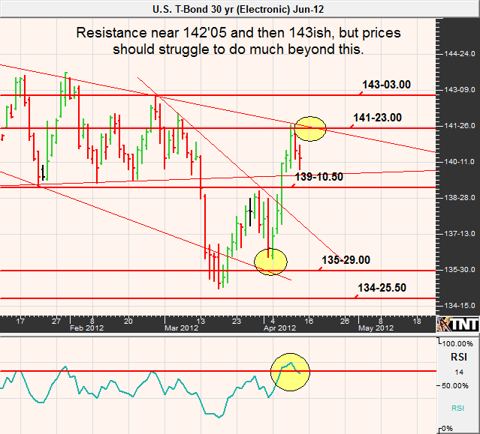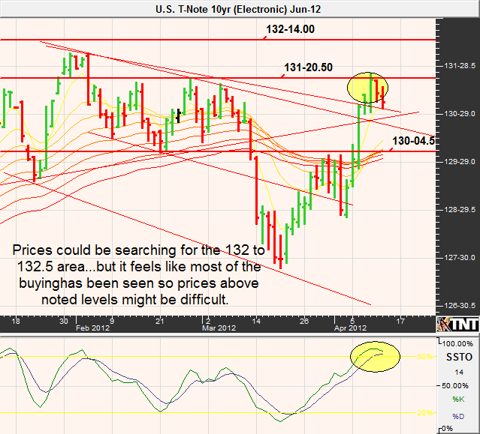 * Due to time constraints and our fiduciary duty to put clients first, the charts provided in this newsletter may not reflect the current session data. However, market analysis and commentary does.
**Seasonality is already factored into current prices, any references to such does not indicate future market action.
Treasury Bond and Note Option and Futures Trading Recommendations
**There is unlimited risk in naked option selling.
3-30 Clients were advised to sell June Bond strangles using the 143 calls and the 131 puts for a combined premium of 60 ticks ($937.50).
4-9 Clients were advised to buy back the June 131 puts for about 10 ticks to lock in a profit of about 20 ticks before commission and fees ($312.50). We are recommending to leave the short calls open for now.
4-10 Clients were advised to sell the June bond 135 puts for about 30 ticks. Later in the session, we recommended to buy back the 143 calls at a loss (about 1'03 before considering profit on puts) and sell the 146 calls in their place. The "new" strangle provides more room for error on the upside and carries a slightly bearish delta with plenty of profit potential if volatility erodes.
In other markets....
4-2 Clients were advised to sell June soybean 1570 call options for 8.5 to 8.0 cents.
4-4 Clients were advised to sell corn strangles. Strikes and fills varied slightly (730/600 strangles for 14.5 cents, or 720/605 strangles for about 16.5 cents)
4-10 Clients were advised to buy back their 730 corn calls for about 3 cents to lock in a profit of about $250 before commission and fees.
(Our clients receive short option trading ideas in other markets such as gold, crude oil, corn, soybeans, Euro, Yen, and more. Email us for more information)
Carley Garner
Senior Analyst / Commodity Broker
DeCarley Trading
cgarner@DeCarleyTrading.com
1-866-790-TRADE
Local : 702-947-0701
http://twitter.com/carleygarner
http://www.facebook.com/decarleytradingcommoditybroker
http://www.DeCarleyTrading.com
http://www.currencytradingthebook.com/
http://www.ATradersFirstBookonCommodities.com
*Due to the volatile nature of the futures markets some information and charts in this report may not be timely.
There is substantial risk of loss in trading futures and options.
Past performance is not indicative of future results. The information and data in this report were obtained from sources considered reliable. Their accuracy or completeness is not guaranteed and the giving of the same is not to be deemed as an offer or solicitation on our part with respect to the sale or purchase of any securities or commodities. Any decision to purchase or sell as a result of the opinions expressed in this report will be the full responsibility of the person authorizing such transaction.
Seasonal tendencies are a composite of some of the more consistent commodity futures seasonals that have occurred over the past 15 or more years. There are usually underlying, fundamental circumstances that occur annually that tend to cause the futures markets to react in similar directional manner during a certain calendar year. While seasonal trends may potentially impact supply and demand in certain commodities, seasonal aspects of supply and demand have been factored into futures & options market pricing. Even if a seasonal tendency occurs in the future, it may not result in a profitable transaction as fees and the timing of the entry and liquidation may impact on the results. No representation is being made that any account has in the past, or will in the future, achieve profits using these recommendations. No representation is being made that price patterns will recur in the future.