Altisource Portfolio Solutions is one of my favorite kind of opportunities. At first glance you may ask "Why is a stock that has gone from $165 to under $20 a good buy?"
When it's massively oversold.
I only bought in this morning but I've been watching it for a couple weeks now.
Background: From 2010 onward, ASPS basically doubled every year while they put up pretty impressive earnings. Then in late 2013 investors seemed to realize it was overbought and the earnings seemed to hit a ceiling, causing a skid. Late 2014 ASPS earnings shrunk and missed target by 25%, and q4 2014 earnings shows ASPS unable to clear an after tax profit and missing estimates by a mile. It's bad but is it really as bad as it seems?
The tricky part here is knowing just how good they'll do on their next earnings, investors seem to have faith in ASPS turnaround but revenue isn't as easy to predict in situations like this. Q1 2015 Showed an EPS of $0.56 ($0.32 diluted)---not great but moving in the right direction, same with post-tax profit: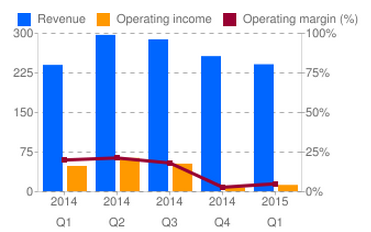 .
.
ASPS stock can be seen diving from almost $100 to $13 a share in late 2014, this kind of loss would make one think they are heading for bankruptcy. However this isn't quite the case, it's a definite pounding oversell---my favorite kind of opportunity. Their earnings truly aren't that bad and it looks like investors are starting to realize this as the share price has nearly doubled in recent weeks. Their put/call ratio as of mid April was an astounding 0.38---pretty good for a company that has just sunk from $160+ to $15 a share.
Let's see what TA can tell us: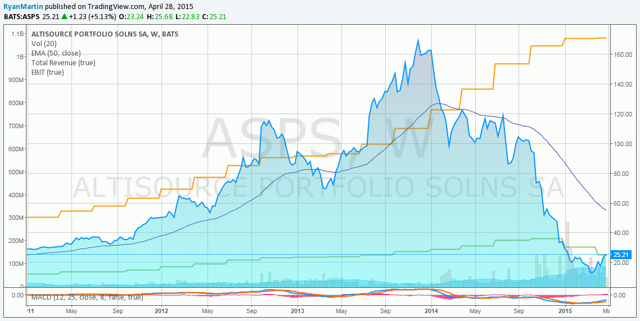 ↑ This first graph shows the weekly price. The orange line is their net revenue and green is EBIT. Yes EBIT has dipped a little but with revenue still growing strong this is nothing that they can't grow out of. Plus even when the EBIT and other income metrics were at this level the share price was around $100 (see summer '13 above)
.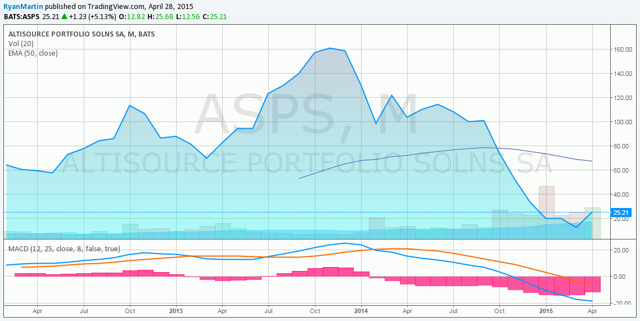 ↑ This chart shows the one month view and MACD, as you can see the MACD is finally reversing for the first time since Jan 2014 (excl. that tiny movement in Sept. '14)
.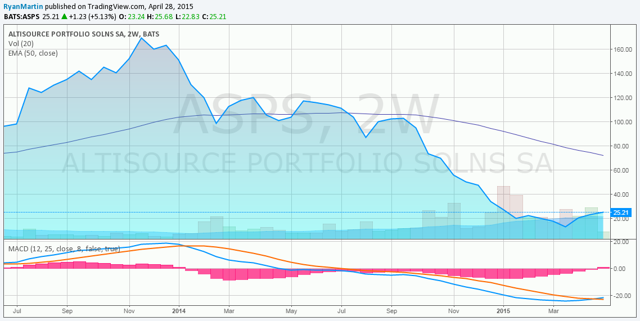 ↑ This chart reinforces the previous chart: it is the 2 week price and EMA. You can see the MACD has entered positive territory for the first time since 2014.
.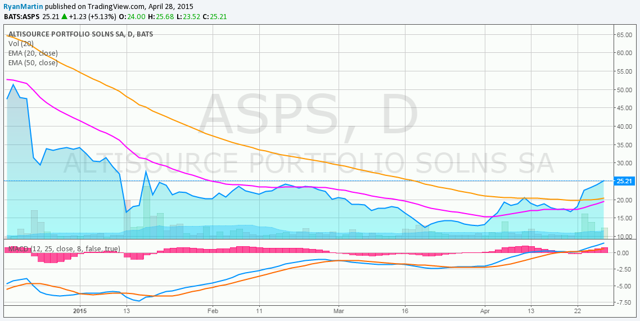 ↑ Finally, if you've ignore all the other charts and text on this article then this is the one chart you don't want to miss. Orange is 20-day EMA and Pink is 50-day. As you can see, daily price just crossed in early April and investors took notice, now the price has crossed the 50 day and we are just a few days away from seeing 20-day cross above 50-day EMA. Last time 20 crossed over 50 with MACD's confirming was May '13 when the stock went from $80s to $160s.
.
.
I can't understand why ASPS has sunk as bad as it has other than a drop in earnings and apparently they are European based and with the Euro down hard in value, perhaps investors got skittish. Regardless, ASPS looks like a potentially rewarding play.
Bottom line advice: pickup a few shares and/or a call option far out as possible. I started this article a couple weeks ago but decided to wait to make sure the technicals were indeed moving in the right direction; at that time a call option for July strike @ 30 was around $25 (0.25) and now its about $135 (1.35). Wish I would have bought then but I'm not kicking myself too bad because I just bought in and plan on picking up a call option tomorrow.
Disclosure: The author is long ASPS.