In the risky world of OTC small-caps you can find a sea of companies of all sizes & dimensions, many have lost big money on seemingly good companies & few have found success. We all dream of finding the next Google but at times it could seem like it's more like a mythical creature. We believe MyECheck (OTCPK:MYEC) could be that unicorn.

Most individuals view the check as something that is an old way of doing business, the average individual writes fewer and fewer checks in a given year than ever before. But even though we physically see fewer and fewer paper notes of any kind in our daily lives, the checking industry as a whole is far from dead.
When we think of electronic money payments and transfers, there is the instant thought of some of the big players that have become a common household name such as eBay's (NASDAQ:EBAY) PayPal, Google's (NASDAQ:GOOG) Wallet, Square, Western Union (NYSE:WU), ACH Direct (Automated Clearing House), Interac (debit card system for Canadian readers) among many others in a competitive market of $1 Trillion
MyECheck is actually targeting to take their share of the $44 Trillion checking industry (36.9 Trillion in 2012 see here). Every time you receive your income electronically, every time you pay a bill online, at an ATM or teller. Every time you swipe your debit card at a store. Every time you receive or pay funds to the government electronically, you're essentially using the checking back-end service so few of us think about and take advantage of it on a daily basis. The Government Federal Reserve Checks alone account for almost $200billion worth of checks each year (see here).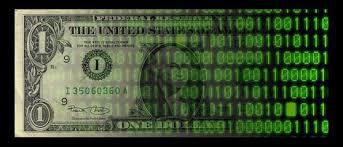 Being such a large industry, it should be no surprise that ACH Direct has been Named to Prestigious Inc. 5000 List for Fifth Consecutive Year in 2012 seen here
We believe this stock has the greatest potential of ANY stock we've ever come across. It is the type of investment we can see ourselves handing down to our grand children. One that will only get better with time. Our hope is that the CEO realizes the companies full potential & resists any buyout from larger companies, as they have the potential to outgrow all of the larger entities. It's not farfetched that at some point down the road, if they are able to execute on all fronts, that in the future (years from now) at some point they will eventually implement a dividends plan rewarding long term investors (such as ourselves). Is it to far to say, this is the last stock you should ever own? We think not.
Industry Stability:
In other industries, there is much fluctuations on income based on consumer use. MyECheck could also see fluctuations throughout the year, but it's good to remember that there is a very strong base in this industry. A consumer goods could have large swings based on economical health or competition, which would also impact large online retailers such as Amazon (NASDAQ:AMZN) or eBay, but MYEC would see less impact as pay checks will continue to flow & consumers will continuously need to pay their bills regardless of conditions. With MYEC, we look to continuously see uptrend's as they form new contracts & expand their licensing agreements. These types of contracts will not be subjected to competition as many service contracts are, no need to compete with other suppliers, so it is expected to constantly grow over time.
In comparison to using a computer; we use the front end of things. We interact with the screen, mouse & keyboard, but we never have to know anything about how the hard drive, memory or CPU is functioning. In a sense MYEC could be compared to being the CPU, but will never be as well known as Intel (NASDAQ:INTC) is in a PC
Overview:
MYEC is a payment transaction data processor and leading provider of electronic check image services to businesses, government and payment processors. Their patented new payment method is the fastest, safest and most cost effective way to process electronic payments from any person, business or organization. They offer businesses a comprehensive payment solutions which are easily implemented into any website, mobile, electronic invoicing and bill payment application.
So if this is such a large market which is already being serviced, why are we looking for a change? How will MYEC capture their share of the market? What about competition?
MyECheck's solution provides multiple benefits over traditional ACH based e-check systems. They provide higher transaction clearing rates, faster funds clearing, fewer returned items, fewer customer support issues, less administrative burden and lower overall costs, thereby increasing efficiencies and profitability for their clients.
Merchants of all sizes know that time is money and the current methods require days to process, where as MYEC would allow processing in a matter of 1 to 3 seconds
Imagine a world where you can transfer money from your bank account to your trading broker and instantly have access to your funds to trade a stock in a matter of minutes rather than days. For those who have a checking account with the Bank of Kentucky, that's already a reality.
MYEC was founded in 2004 on the day "Check 21 legislation" became law (see here) and allow for real-time payments by authorized fully electronic checks and enables more payers - any authorized signor on any US checking account, for any amount. MyECheck's transactions can even be payment guaranteed. The hold US patent number 7,389,913 "Method and Apparatus for Online Check Processing" was issued to MyECheck's founder on June 24, 2008. MyECheck is the sole licensee of the patented technology and the only authorized provider of the Electronic Check Service.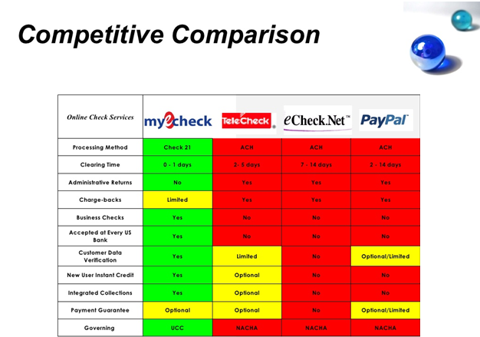 MyECheck offers Check Authorization Service that enables merchants to verify consumer provided data, check the status of their customer's bank account, provide evidence that the consumer has authorized the check and predict the likelihood of a check being returned unpaid. Transactions are immediately and automatically evaluated and approved or declined based upon the real time results of multiple fraud control tools. Businesses that accept MyECheck payments can use this service to provide an automated real time check authorization to mitigate returned items.
Value Added:
MyECheck has partnered with industry leading check guarantee providers to offer clients a cost effective Check Guarantee Service. The check guarantee provider warranties all approved checks and reimburses the Payee (Merchant) for financial losses incurred as a result of returned checks. The Check Guarantee Provider buys the returned checks that have been warranted from merchants for the full face value of the returned checks. MyECheck merchants utilize Check Guarantee Service (see here) so that they can ship products or provide services immediately without having to wait to determine if the check will be returned unpaid. The Check Guarantee Service also eliminates the need for Merchants to collect on returned checks from their customers.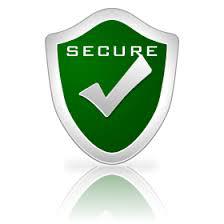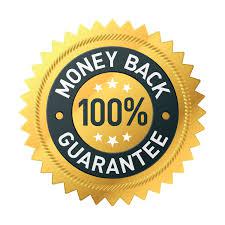 To date, they have created and cleared in excess of six million fully electronic check transactions for Fortune 100 corporations, state governments, and internet retailers.
Management:
As for the CEO/CFO/Chairman Edward R. Starrs, he is a class act, a straight shooter with loads of experience and it is our belief he knew exactly what he was walking into when he joined MYEC and he is hungry for success. He has been flying low under the radar for a while without releasing many PRs, he doesn't generate hype, he looks for clear hard results that will create its own momentum.
Mr. Starrs is a Forbes listed CEO with more than 20 years experience as an international business executive with management experience in multiple industries. He has been an officer and director of MyECheck since its formation in 2004. Previously, Mr. Starrs was President of Starnet Systems International, Inc., a wholly owned subsidiary of a public company that was processing more than $2 billion annually in Internet transactions. Mr. Starrs owned and operated several successful companies including, ERS Marketing, Inc., where he produced over $20 million in contracts for his clients, and Bay Distributing, Inc. a major distributor of over 800 product categories to Fortune 500 accounts. From January, 2002 through October, 2004, Mr. Starrs was President of Digency, Inc., an online payment processing company engaged in credit card and eCheck transaction processing for Internet Merchants. Starrs has also held senior management positions with Fortune 100 companies including McCaw Communications, Inc. (AT&T), and AMF, Inc., the world's largest sporting goods conglomerate. Effective May 21, 2010, the Board of Directors of the Company has appointed Edward R Starrs, the Company's Chief Executive Officer, as acting Chief Financial Officer until a suitable permanent replacement can be seated
Updates & Growth:
The most notable news for MYEC looks to be very promising indeed.
On April 3rd they signed a check processing agreement with Bank of Kentucky (NASDAQ:BKYF). This agreement enables merchants to open accounts with the bank and use MyECheck to deposit electronic checks directly into those accounts, integration and testing with the Bank of Kentucky is complete and they are now accepting new merchant applications.
The Bank of Kentucky is fairly large with 33 branch offices and 57 ATM's and is ranked based on assets at 391 of 6900 (see here)
On April 15th they signed an agreement with Spindle Inc. (OTCQB:SPDL) which is a national provider of innovative mobile commerce and alternative payment solutions for businesses and consumers.
On April 16th they signed multi-million dollar agreements with Corporate Merchant Solutions a leading processor of electronic transactions for major corporations. This will result in a minimum of $250,000 per month in gross revenue to MYEC, it was estimated to be completed by EoY, but it appears as though this has yet to be completed
On April 22nd, services agreements with Karmen Consultants Group has been divulgated, which happens to be a leading provider of corporate payroll processing and tax and bill payment solutions. The agreement is expected to generate approximately $500,000 in annual revenue for MyECheck.
On April 24th MYEC announced a new licensing model on their patent to expedite the growth & expansion of their technology and patent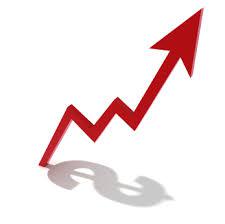 Ed Starrs, CEO of MyECheck commented, "Our new licensing model will enable far greater and faster uptake of the technology controlled by MyECheck, and add new large revenue streams. In addition to our processing revenue, we will have licensing revenue that will exceed our processing revenue in a relatively short period of time."
Since these last few PRs Mr. Starrs has stated that he would no longer PR affiliated company names unless requested, as anxious investors have been actively reaching out to MyEChecks clients looking for additional information, but a few other companies have been spotted hosting the MyECheck branded logo (among dozens of others not listed here)
http://www.cardinalcommerce.com/solutions/my_echeck.htm
https://simplifile.com/eRecording/pdfs/090630_MyEcheck.pdf
http://www.drapescurtainsnmore.com/faq
https://www.netcarats.com/site/companybasket.aspx
http://www.solutionsallianceltd.com/?lg=en&pg=about
https://www.cainfotechindia.com/ecommerce/portfolio-type/multi-store/
Q & A:
A few weeks ago a bunch of investors constructed a list of 50 questions for the CEO and Ed took the time to review and answer as many as he could. Some were not at his liberty to disclose, but the 36 of which can be found here and some are very telling as to where MYEC is and headed & a gift to existing share holders and prospectors. I have emphasized some of the key points that stood out to us in the Q & A below, but I would advise you review all questions;
3) Why are there almost 5 billion shares authorized and 3.6 billion issued and outstanding, this seems like a lot of shares compared to other companies, does it pose any unique problems and is the Company considering restructuring its equity, would management retire their shares?
A) The current equity structure is the result of re-organizing the Company that enabled management to regain control of the Company and restart liquidity in the public market, and that process is still going on. The equity structure has served an important purpose for the Company and has proven to be the right structure during the past year. Currently there is no need, therefore no plan to restructure the Company equity. A reverse split at this time, for example, would cost shareholder value we believe and would give shareholders fewer shares at an inequitable value. We are however open to restructuring if and when we believe there is a viable reason to do so. It is very likely that equity restructuring will be considered in 2014. The idea that management would give away their ownership positions is unrealistic.
7) There was a PayPal Survey sent out showing MyECheck as an alternative. Do you have any knowledge of this? If so, can you comment on it?
A) We have had no contact with PayPal regarding this survey and had no role in it other than being listed as a payment services provider.
Instead of offering MyECheck branded services to PayPal users, a better application for PayPal would be to use our technology as the default bank account funding method instead of ACH, it would work with more PayPal user bank accounts, the funds would clear at least a day faster than they currently do, and it would be more secure with less failed and returned transactions therefore lower cost and much more efficient.
8) What happened to the stock issued for the debt June 15, 2015 of 400,000,000 shares?
A) The stock was issued for the conversion of convertible debt that was purchased by a third party investor. However subsequent to the issue, the investor failed to pay the debt as agreed so the stock was cancelled on the ledger of Company.
To reiterate, the company has essentially reduced outstanding shares by 400 million
10) Do you have an established timeframe for MyECheck's financials to be audited? As it would create a wealth of investor confidence, both old and new investors.
A) We plan to start the process of filing audited financial reports and become fully reporting early in 2014, this will require our previous unaudited financials be audited also.
14) Considering that MyECheck is far superior to competition, what difficulties do you foresee going forward regarding widespread acceptance of your technology?
A) The biggest obstacle is the portion of the establishment banking industry that has vested interests in ACH and resists change out of fear. Once they inevitably and collectively agree to embrace fully electronic checks, the landscape will change very dramatically, very quickly, and for the better of the national payment system.
16) What factors make MyECheck money transfer more secure internationally? Are international payments currently available with MyECheck?
A) It's sounds like just semantics, but MyECheck is not a Money Transfer Service, which requires special licenses and involves a high degree of risk. We do not transfer or process money at all, either domestically or internationally.
To clarify our service processes electronic check data on behalf of merchants, enabling fully electronic check payments to our merchants from US customers/payers. Money transfer services, like Western Union, are person to person long distance cash payments. One person pays cash on one end, the other person picks up cash at the other end.
Currently we do not offer international payments, and although we plan to add global payments in the future, it is currently not our focus.
17) MyECheck appears to work the same as Debit (in that it transfers money from checking accounts), but it is significantly cheaper and faster. Is the Debit card market one that you intend on pursuing? Is it possible to have a MyECheck 'debit card' which would then create a virtual check and be facilitated by your patented technology?
A) Debit card transactions are processed through the Visa/MC or ATM networks, with their fees, limitations and rules. MyECheck creates and processes checks just as if it was originally a paper check, but in essentially real time. This is dramatically different than debit card services. Our service provides access to every checking account in the US, not just those tied to a specific card network. The user doesn't need a card or any hardware to pay using MyECheck, just a checking account.
We are targeting market share of the $44 Trillion check industry with a unique patented service, this industry has different customers and is a better fit for us than the $1 Trillion over saturated debit card industry.
However, a MyECheck customer or licensee hosting a virtual or mobile wallet with MyECheck as the account funding method could issue a debit card to draw or spend those funds in the wallet, but it is unlikely MyECheck will need to offer this type of payment service itself.
19) Do you anticipate uplisting in the near or long term? What obstacles do you see preventing possible uplisting?
A) We plan on moving up to more senior exchanges when we qualify, hopefully early in 2014. We don't anticipate any specific obstacles at this stage and we are confident we can address any that may present.
Uplisting to OTCQB is probably what was meant by Mr. Starrs (as the only requirement would be to have financials audited), but there is a outside chance we could be looking at uplisting to OTCQX which has a minimum requirement of a 10 cent bid price
22) What is your strategy, near term, for signing new customers for the purpose of licensing and sub-licensing MyECheck's patented technology? How do you see that strategy changing in the future to allow for accelerated growth? What level of growth do you foresee in the next 1, 2 & 5 years?
A) The short-term focus is on going live with a few large merchant services customers and licensees that can generate very large transaction volumes. Most of our sales leads come from resellers, and we are starting to build a sales organization to manage the resellers. We also have relationships with resellers that have yet to be engaged.
27) MyECheck Inc. operates under the Check 21 Act in the United States. Are there similar laws in most other Countries, and could this be an issue for International expansion?
A) There are no similar laws in other countries yet, but it is likely in the future. In the meantime, the US market holds enormous potential measured in trillions of dollars. We do have an international strategy of partnering with international payments providers. We are reviewing international payments services providers for implementation in the second half of 2014. The proposed wholesale partnership would provide MyECheck as the US component of their international service, and we would add their global services to our payment platform, giving us immediate comprehensive global capabilities.
MYEC Q3 results for 2013 showed progress of what has the potential to be a snowball rolling down a hill. The Company posted quarterly gross income of $580,314 and quarterly net profit of $553,609. This has the potential to be a high profit margin money making machine, especially as licensing agreements develop. The company reducing total debt from $804,320 to $302,100. In the six month period ended September 30, 2013, the Company has reduced total debt by $902,220. The third quarter was the Company's first full quarter of revenue generation since it restarted operations in the second quarter 2013.
History: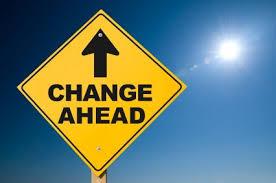 MyECheck was "truckin" along until 2007; so, what happened? Well, between July 2005 and March 2006 MYEC was processing transactions; however, this was more of an integration time period which allowed them to fully test the capabilities of their platform and to get a solid grasp on the demands of their customers. Then, in mid 2006, they ceased operations to further develop and refine their service offerings. By September 2007, version 2.0 was launched. This was also the same time that they entered a reverse merger agreement with Sekoya Holdings Ltd.
Back in 2008 MYEC traded in excess of 150$/share. At the time the share structure was much more favorable than the current (as of January 31, 2008, the Company had 151,375,000 shares of common stock issued and outstanding)
During 2008 and 2009, the Company expanded its relationships with larger customers and as a result of their banking requirements, the Company implemented processing of Check 21 files directly to the bank instead of entering into agreements to use their bank's FedLine account to electronically access the Federal Reserve check clearing system. As more banks have implemented Check21 clearing processes with the Federal Reserve, the need to use a bank's FedLine to process transactions directly to the Federal Reserve has diminished.
On January 29, 2010, the Company's sponsoring bank, First Regional Bank, was closed by the Federal Deposit Insurance Corporation (FDIC). The new bank acquiring the old bank from the FDIC obtained all rights to accept or reject former contracts. The new bank elected to reject the Company's agreement with the old bank. The Company is in the process of moving its customers to one of its other processing banks (see here)
On Thursday, August 18, 2011, Public Savings Bank, Huntingdon Valley, PA was closed by the Pennsylvania Department of Banking, and the FDIC was named Receiver. No advance notice is given to the public when a financial institution is closed (see here)
From that point forward, Ed was in "DO or DIE" mode. This is where the man has earned our respect; instead of giving up and letting his dream die, he presses on by changing his business model, re-establishing a banking partner, and taking back control of his company
Yearly Revenues from Operations:
2005 - $120,168
2006 - $257,220
2007 - $46,051
2008 - $548,159
2009 - $725,331
2010 (for 9 month period) - $73,698
2011 - $0
2012 - $0
Technical Analysis: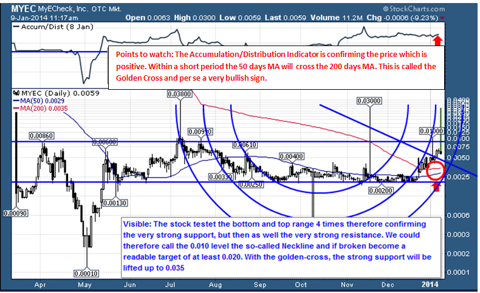 Volume has been climbing significant over the past few weeks and many longs here have a strong hand, there are still a few day traders satisfied flipping for profit, but in the coming days we expect demand to significantly surpass supply with quick appreciation of the price per share.
Catalysts/Expectations:
Considering the top revenue for MYEC was $725,698 in 2009 & we have Karmen Consulting Group expected to bring in $500,000 annually and Corporate Merchant Solutions expected to bring in a MINIMUM of $250,000/month ($3 million/year) 2014 and beyond is looking very good indeed and this does not even take into account income from the Bank of Kentucky, the Spindle deal or potential for the new licensing model which is expected to generate more revenue than all existing contracts. So the key is for MYEC to have a few good quarters from here and the price per share will see steep rises. Combine this timing along with the fact that we are actually waiting on Q4 results (which means it will be a short duration of 1.5 months before we see Q1 results) allows for great opportunities at the moment.

Current technical indicators show the potential for significant appreciation once the 50 day moving average passes the 200 day moving average which should set off alerts to many investors in the coming days. With many investors holding on tight to their current holdings, we believe there is a high probability MYEC may find itself north of 3 cents in the coming days.
It should be noted that this share traded above 9 cents just a few months ago just on speculation. So it would not be surprising if we see levels at par or greater once revenue is shown. With possible audited finances to boot, it is unlikely stay below 10 cents per share. At which point the CEO has indicated he has plans to uplist, which would bring in new interests and money.
Any number of catalysts can emerge propelling this company to new highs such as new bank partnerships and the more business they get, the more businesses will be inclined to follow suit which could drive this sub penny OTC stock to well over $1 per share.
If Mr. Starrs can land one of the larger Banks like Chase (NYSE:JPM), Bank of America (NYSE:BAC) or Citibank (NYSE:C) all bets are off and could lead to wider adoption of the technology.
We don't see this as a quick flip for profit stock (which you may be inclined to do), the best strategy would be to accumulate now and sell off only small portions over time for profit taking. Otherwise you will look back a few years from now and realize your investment would have been better served just to hold onto this one and watch from a distance
Risks:
ACH payments have been the more expensive status quo for a long time in a very lucrative industry, their weight plays a big role in the market & may have far reaching influences. They can be working at reducing transaction times to fight off competition. But in our view, MYEC is setting new trends that the market will demand.
Though transaction times are significantly faster in many parts of the world, the big financial institutions have resisted change for a long time. Here are a few good reads pertaining to the current state of the industry & problems that need to be addressed (see article here)
Additionally, as mentioned, MYEC had good momentum years ago. But reflecting at the current share price, there were definitely risks share holders at the time did not envision such as the closure of First Regional Bank in 2010 and Public Savings Bank in 2011 without notice which lead to the demise of MYEC. But they are growing & diversifying their client base, so we are confident that the current PPS is a solid buy in price with a good amount of downward protection with a strong return potential
Conclusion:
It's difficult to break down a micro stock as such & the current share structure is not something preferred by most investors (3,612,470,000 shares issued and about 609,000,000 in the public float is nothing to write home about), but the momentum looks to be in their favor, they are gaining new customers & once they have those customers, we're looking at an ongoing revenue stream with high profit margins. The company has been at the bottom for the past few years, & are finally beginning to generate income again, so this is truly new life for MYEC. We expect that the company will release ongoing increasing revenue here forth with exponential increase through their new licensing model. We have an excellent captain at the helm in Ed Starrs. With up-listing & financial auditing stated to take place in early 2014, with possible equity restructuring in a more attractive format for investors, we feel that the current pps <$0.01 gives a safe margin of risk vs. reward with the potential for a real multi-bagger. A 1% market share is not beyond the realm of possibilities long term (of a $44 Trillion market, that would represent $440 Billion) will certainly intrigue some of the big players
Disclosure: I am long MYEC, .