Our investigations and due diligence of Worldwide Diversified Holdings Inc. (OTC: WNTR) has revealed a company that is well positioned to have robust growth and is on the cusp of exciting developments that may possibly pay dividends for a long time to come. We felt it necessary to inform the shareholder community of this unique investment opportunity which has revealed a company with a diversified portfolio of over $31,000,000 in assets, over $500,000 in revenues, $0 debt, and the potential for hundreds of millions in revenues in the foreseeable future.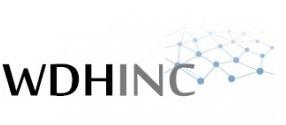 A few things stood out to us as interesting and exciting as to how this company would have a CEO speaking out about a company's goal to uplist to either the NASDAQ or AMEX in 2014, and discussing the possibility of distributing dividends on this sub penny stock. We wondered if these were premature comments, or if the company actually had the means to make this a reality. Could the markets have so mistaken the value of this company? We've laid out all the information and facts that we could acquire, and we leave it up to you to draw your own conclusions.
Follow the Money
The story of the merged company "Ludvik Holdings Inc" comes with quite a history, so it's easier to track the past moves of the CEO to better understand who and what they are. CEO Frank Kristan has had a very active career to say the least. This is a story of "follow the money". It all starts when he was the CEO at Patriot Advisors, Inc. which provided investment advisory services to investment funds, corporations and individuals. Patriot had also managed funds for private companies, delivering an internal rate of return exceeding 25% per annum during this interim of 1994 to 2004. Frank completed his work with the funds, total assets under management exceeding $50 million.
Patriot also performed on guarantees to deliver financing exceeding $50 million. Previously, he was Principal and CEO of Kristan Associates, a financial consulting concern furnishing financial advisory services to the telecommunications and financial services sectors.
He began his career at Affiliated Computer Systems at which he provided computer and operational advisory services to banking and financial services institutions for merger and acquisition transactions. His Bachelor of Science in Mathematics was acquired from the University of Western Australia. Between 10/20/2006 to 3/31/2010 he ran in parallel his own consulting business Ludvik Nominees Pty Ltd and was compensated for his work at Patriot Advisors through his company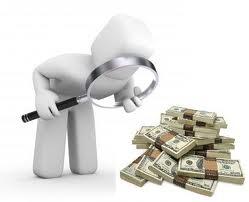 According to SEC filings:
Ludvik Nominees, Pty, Ltd. was the exclusive adviser to Company for the period October 10, 2006 through March 31, 2010. Ludvik Nominees Pty Ltd is 100% owned by Frank Kristan, our former President and Chief Executive Officer. During the period from inception to March 31, 2010 Ludvik Nominees was an advisor to the Company, fees were charged quarterly. A total of $2,017,417 including interest was billed. $484,250 was converted to 32,394,269 shares and $1,503,167 remains owing.

In 2007 there was a merger between Patriot Advisors, Inc. and Templar Corporation pursuant to a plan of reorganization and merger approved by the United States Bankruptcy Court, District of Maine, Case No. 04-20328 forming the new entity Ludvik Capital, Inc. It has been recorded in U.S. Federal Bankruptcy court that Mr. Kristan recognized the underlying assets of Patriot, which is why he bought up the outstanding shares to form the new company Ludvik Capital Inc.
Frank Kristan started the stock LDVK in 2006. Preparing for his first chance at making his own public stock offering, but decided it was not plausible at the time to make his public offering due to funding issues, and resigned as CEO and sold the shell on March 31st, 2010 (as shown here) At the same time, Frank took all existing equity holdings and continued his path under the new name Ludvik Holdings, Inc. and did not have any further involvement with Ludvik Capital Inc.
On March 31st, 2012 Ludvik Holdings, Inc. entered in an agreement to merge with Reinsurance Technologies Ltd. (OTC:RSRN) (as seen here). We'd like to outline the below section:
Following the signing of this agreement, LUDVIK shall have a contingency period of 87 days to (1) negotiate with RSRN creditors subject to the completion of the PLAN and (2) to evaluate the economic and technical feasibility of RSRN's existing software planned to provide services to the insurance and reinsurance industry."
Additionally when looking RSRNs 8-K filing (seen here) dated Sept 14, 2012 there are further telling signs that the deal may not have gone through when we read that there was a requested extension to the due diligence period for Ludvik from June 30, 2012 to September 21, 2012 and eventually halted on March 11, 2014
On April 8, 2013 Frank Kristan took over as sole director of Worldwide Internet Inc.
Frank Kristan has been employed with Ludvik Holdings, Inc and its predecessor for more than five years. Frank Kristan, effective April 8, 2013, became our Sole Director, President and Treasurer. Mr Kristan is the President of Ludvik Holdings, Inc ("Ludvik").
Then of course there is the merger between Ludvik Holdings, Inc. and Worldwide Internet Inc. which we are all interested about here. On July 17, 2013 the announcement of the acquisition in excess of $20 million for the diversified portfolio previously held by Ludvik Holdings, Inc. (as seen here)
Frank Kristan, President of Worldwide Internet, Inc, stated that:

"The acquisition of the Ludvik Holdings Inc assets will provide a broader base of operations for the company with significant additional assets. Worldwide intends to continue to diversify the company's operations through mergers and acquisitions."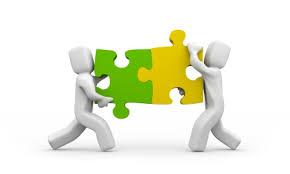 From what we can tell, the most notable asset that Worldwide Internet brought to the table of this merger, is the patent pending technology B.E.A.C.O.N™. At the moment it would appear as though this technology is not yet factored into the PPS (price per share).
Patent pending B.E.A.C.O.N
B.E.A.C.O.N™ is an emergency cell broadcast technology which has been filed for patent protection as of March 22, 2010 (which seems to be a long time for processing considering the average approval time is 24.6 months as per the United States Patent and Trademark Office). It should be noted that 2 subsequent patents have been filed by other entities which reference to WNTR's patent. The best summary provided by WNTR can be found here. The takeaway from which is highlighted below;
This technology remotely tunes wireless handsets real-time to a channel that is broadcasting live emergency alert information. The alert is broadcast with receipt verification to every handset that has the BEACON client application in an area simultaneously.
We also like the vision Worldwide has in its recent acquisition of I-Texts. Though I-Texts is currently an SMS advertiser, one can only speculate if it will at some point also work over WNTR's B.E.A.C.O.N system considering its commercial applications.
700 MHz Network - Worldwide will form a Public/Private Partnership to develop a shared, nationwide interoperable network for both commercial and public safety users. This network will provide public safety entities access to new broadband technologies. Emergency responders will have priority access to the commercial spectrum in times of emergency, and the commercial licensee will have pre-emptible, secondary access to the public safety broadband spectrum. Providing for shared infrastructure will help achieve significant cost efficiencies while maximizing public safety's access to interoperable broadband spectrum.
Investment funds and grants provide the upfront costs for building the 700 MHz networks, and the investment is recouped through monthly subscription fees. Worldwide will utilize the spectrum the FCC dedicated for broadband spectrum in 2007 to build the network infrastructure. This framework will bring public safety to a new level.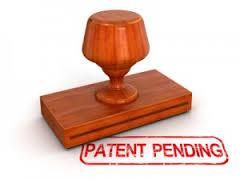 RuMBA (Rural Mobile Broadband Alliance) also launched the American Broadband Bill of Rights back in March 2009 (seen here). From what we gather WNTR has developed this technology to satisfy the needs set forth by RuMBA highlighted in the Request for Information submitted to the NTIA (National Telecommunications and Information Administration) seen here, RuMBA is requiring better standards to be put in place for E-911 & emergency cell broadcast system.
All areas of continental US must have availability of E-911, with location service, and an emergency cell broadcast system with weather and disaster alerting (SMS). Katrina-like outages are unacceptable. Grants should be issued to projects that "construct and deploy broadband facilities that improve public safety broadband communications services". RuMBA considers it imperative that any mobile platform selected should support single-site, Phase II, E911 emergency cell broadcast, cell site priority calling and other critical public safety features. Providers should demonstrate their ability to provide and carry over their networks, emergency alert services (EAS) such as: severe weather watches and warnings, tornadoes, hurricanes, fires, earthquakes, Amber Alerts, and other natural and manmade emergency information relevant to people living in rural areas.
The link also highlights selection criteria for grants to be given to build such a network and Worldwide mentioned grant money in their disclosure. It should also be noted that the B.E.A.C.O.N system is most likely to be adopted in regions where extreme weather conditions and where natural disasters are more prevalent such as on the coasts where hurricanes are more common, along fault lines where earth quakes are common or in the North or South where there can be drastic weather swings (extreme hot or cold weather) and less used in central U.S.
WNTR has not yet put a book value on their patent pending technology (which plays as a HUGE favor to investors taking up positions today). There are several different approaches to patent valuation used. In general one must try look at a two factor approach (both quantitative and qualitative) to draw upon in order to assess the value of an IP (intellectual property). The quantitative approach relies on numerical and measurable data with the purpose to calculate the economic value of the IP, while the qualitative is focused mainly on the analysis of the characteristics and potential uses of the IP (such as the technological, marketing or strategic aspects of the patented technologies). Being that the company has not yet received approval, no quantitative valuation can be made at this time (If approved and widely adopted, B.E.A.C.O.N can easily reach an evaluation in the hundreds of millions of dollars). A good read about evaluating a company's IP can be read here.
In a statement from a press release issued by the company they hinted at the possibility of this technology providing up to $200,000,000 in revenues in the next three years.
WILLIAMSBURG, VA, SEPTEMBER 3, 2013 - Worldwide Internet, Inc. (OTC: WNTR) announced today that it will be further developing its cell broadcast business and currently evaluating opportunities that could provide more than $200m in revenues in the next three years. The revenues are expected to come from providing services to cell tower operators in partnership with other telecommunication companies.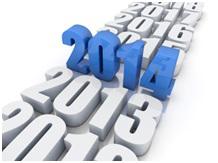 2014 and Beyond: A Diversified Holdings Company
Since the merger, the company's growth strategy has changed significantly as well and has PRed its intent to change its name from Worldwide Internet, Inc. to Worldwide Diversified Holdings, Inc. in order to better reflect the new business model.
Prior to the merger both Worldwide Internet Inc. and Ludvik Holdings, Inc. were almost like being on hold without any big highlights and waiting for things to happen. Since the merger WNTR has been anything but stagnant, releasing constant updates whether it be an acquisition, letter of intent, or a shareholder update. They are actively growing the business through acquisitions with apparent big plans for the future as highlighted below;
In order to visualize how the company has diversified its assets, or the direction it is heading, we have compiled the list of assets, investments, and outstanding accounts receivables. By viewing this table the vision below appears to be clear. Worldwide Diversified Holdings Inc. appears to be a hedge fund in the making.
Acquisitions, Assets, and Letters of Intent
On July 23, 2013 the Company entered into a Letter of Intent to acquire the Honeywell Estates LLC for a total purchase price of Twenty Six Million ($26,000,000) Dollars. It provides for the payment of Two Hundred and Fifty Thousand ($250,000), assumption of a First Mortgage and the balance of payment in the form of a Secured Convertible Note. The transaction was scheduled to close on or before August 31, 2013. However, the company has not been able to complete the transaction and continues to work on a possible financing of the acquisition.
This was immediately followed by a successful acquisition on July 30, 2013 of $3 million portfolio of leases by World Capital Leasing, Inc. in New York City in exchange for 600K of Series C Preferred Shares with a stated value of $5 per share. A follow-up PR was released at the same time with insight as to the business model:
"WILLIAMSBURG, VA, JULY 30, 2013 - Worldwide Internet, Inc. (OTC: WNTR) announced today that it has received a financing commitment for its automobile portfolio. Worldwide will now be able to finance Audi, BMW, Mercedes Benz, Nissan, Range Rover and Toyota, with an independent third party, for leases originated from World Capital Leasing, Inc. in New York"
On Dec 5, 2013 WNTR yet again acquired an interest in the pharmaceutical industry in DPS Ventures LLC the owners of Dr. Belt's Back Fix (www.drbelt.com). Dr Belt's Back Fix is used to put your back and neck in the correct posture
Once the correct posture is regained, the muscles, nerves, ligaments and spine are able to function properly. While sleeping or sitting Dr Belt's Back Fix trains your muscles to fix your posture and fix your pain.
The company continued to update shareholders on Jan 7, 2014 in which Mr. Kristan announced that as of Dec 31, 2013 the company met its objective and fulfilled its obligations to repay outstanding debt, which also was the final term of the merger agreement between Ludvik Holdings Inc., and Worldwide Internet Inc.
The company has satisfied US $995,013 in indebtedness to affiliates by assignment to third parties for the retirement of the debt.
On Jan 18, 2014 they completed a $5 million acquisition of a 40% interest in a property located over the Marcellus Shale near Erie, Pa. The property is currently appraised at $13 million dollars and provides the company with additional development potential. The transaction was done in exchange for 1 million series C shares.
The Marcellus Shale gas formation is rich in natural gas resources. It is one of the largest shale regions in the United States; Marcellus shale and is estimated to be the second largest natural gas find in the world
As we've been reviewing company filings, disclosures and press releases, we've not covered any PRs released by the company when they are evaluating a business till now. We feel the PR on Feb 13, 2014 about water treatment solutions for the fracking industry is worth noting because it shows Mr. Kristan has a larger plan in mind, as yet again it shows not only is the company looking to be diverse, but also looking to synergize between different entities. In this case it could be a foreseen solution which can be deployed in WNTRs recent $5 million property located over the Marcellus Shale (similar to the synergy possibility between I-text and B.E.A.C.O.N)
As fracking becomes more prevalent in the oil and gas industry, the treatment of fracking water proves to be difficult. The average fracked well uses about 4 million gallons of water. Aside from how much water is used in the fracking process, drillers have to haul it and dispose of it correctly at a cost of about 10c a gallon. The company is evaluating a mobile solution for the problem that involves being able to deliver a water treatment plant to the site for processing.

There are more than 25,000 oil and gas wells that are completed in the US every year with each of them requiring the treatment and demand for clean, pure and reusable water.
On March 7, 2014 the company brought new depth to their clear plan to diversify and synergize their holdings with acquisition of an interest in E3 Services and Solutions LLC (www.e3space.com). E3 is still in early stages of development, but it has completed an initial round of funding and received additional financing commitments of up to $6 million dollars subject to certain terms and conditions.
The statement below highlights show how this strategic move should be beneficial to WNTRs recent $5 million property located over the Marcellus Shale, potentially with their investment in New World Energy Holdings Inc. as well as its application to other oil and gas suppliers.
E3 will work with strategic partners to develop and further commercialize key technologies for water reclamation projects in the oil & gas industry, mining services and industrial pollution. This includes the Eco Industrial parks and Remediation centers announced earlier and across coastal and inland port operations.
Mark A. Skoda, CEO of E3 stated:

The vision we began with was to procure and commercialize best in class technologies and innovation while brining that technology to market quickly in industrial applications. The integration of a funding platform together with a number of technology partners represent an innovative approach to our solution. The world class leadership and inventors we are working with provide a unique opportunity to benefit our clients, the environment and of course people.
Frank Kristan, President of Worldwide Internet, Inc. stated that:

"We understood the needs of the market and decided to establish our relationship with E3 on the basis of their vision and go to market strategy. The relationship between Worldwide and E3 will allow us to accelerate our plans. The structure of this agreement provides for rapid development and deployment which may provide asset value and dividends for our shareholders."
Also mentioned in the PR is that the company is also in the process of retaining auditors to provide audited statements as a condition of its previously announced firm underwriting commitment for $30 million dollars and listing on to the NASDAQ or AMEX/NYSE exchanges.
On March 19, 2014 Worldwide appointed Alan Rude to the board of directors. Mr. Rude has an extensive background in the merger and acquisition field and brings over 30 years of experience with him. He will join our team upon the completion of the underwriting of its public offering. We expect him to be a strong asset to our team and company going forward.
On April 3, 2014 WNTR provided an update on their solar project Pamlico Energy Park, LLC. (which was previously held by Ludvik Holdings, Inc. and subsequently acquired by Worldwide on Oct 23, 2013) The company is actively seeking to grow and expand this part of its holdings. They've secured the appropriate leases, sought out funding, procurement, and are attempting to work out a power purchase agreement with Dominion Resources (NYSE: D).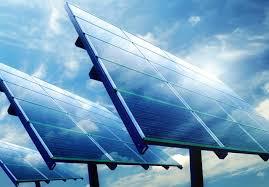 Pamlico Energy Park LLC (Pamlico) has received is approval from the North Carolina Utilities Commission for the initial stage of 1 MW of the 5MW project. Pamlico has also completed the initial lease of the 30 acre property, for the 5MW project, for 15 years with an option to extend an additional 30 years. Pamlico is also in discussions with third parties to lease up to an additional 70 acres to provide the land required to build up to 20MW in solar projects.

Pamlico has engaged Pike Energy for engineering and procurement services. Pike Energy is one of the largest providers of energy solutions in the United States. It is also currently finalizing the terms of the Power Purchase Agreement with Dominion Resources. Dominion Resources announced this week the purchase of 139MW of solar projects.

The financing of the project is through the Federal Investment Tax Credit for 30% of the project costs, the North Carolina Tax Credit for 35% of the project cost, in addition to depreciation and the sale of Renewable Energy Credits. The total 20 MW project when completed will be $40m.
The company also announced that it intends to complete an initial $10,000,000 in financing, with its underwriter, by the end of the second quarter on June 30, 2014. This would include have the audited financials completed for the transaction.
On April 11, 2014 the company announced it completed its initial investment into Telemedcare LLC (www.telemedcare.us)
Telemedcare has a complete solution to telemedicine. The TeleMedCare solution provides remote viewing and intelligent reporting of a full range of vital signs and health questionnaires, with specific applications to care for patients at home, in a care facility or in the community
We don't know how big of an investment was made, nor do we know how widely the technology will be adopted in the U.S. out of the estimated $2 trillion healthcare industry, but it was noted that they are in the process of finalizing a $3 million contract across North America at this time. But looking at this PR, all this has been trumped by the statement below;
The company also announced that it expects the audited statements for its listing to be completed by June 30, 2014
Asset Investigation
We've taken the time to investigate the assets held previously by Ludvik Holdings, Inc. After all, one should always do their due diligence when investing to mitigate risk and by investing in WNTR which is in essence investing on our behalf, we can only hope that they've invested wisely. As per the Q&A below, we can expect to have greater insight and transparency to these holdings once audited financials are released
At the time of merger with Worldwide Internet Inc. (as found here and illustrated below), acquired a range of assets. According to end of year financials, the company had net operating loss carry forwards of approximately $1,618,057 that may be offset against future taxable income. It was also stated that there were no potentially dilutive shares outstanding as of December 31, 2013. In addition to the assets listed below, recent filings indicate that the company has an account receivable due from China Ming Yang in the amount of $1,734,000 and $500,000 in an account receivable due from Solar City.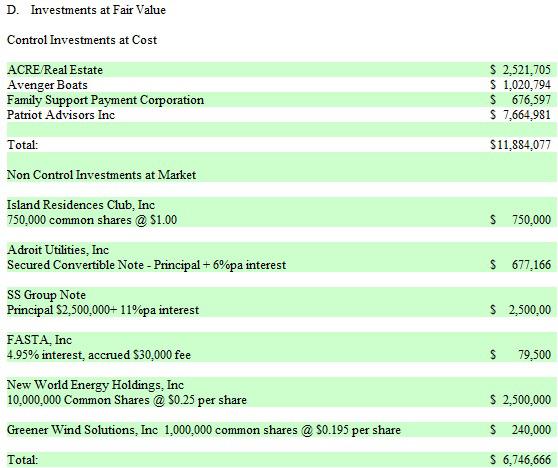 ACRE Real Estate: Is not what we would call a good first impression. ACRE's focus is in commercial real estate. Ares Commercial Real Estate Corporation is a publicly traded specialty finance company and REIT (real estate investment trust). Looking over the past year there has been significant change to the company's stock price which originated as of June 17, 2013 when the company announced a new public offering of 18 million shares with an additional 2.7 million available to the underwriter. They soon after made headlines as a SELL by thestreet.com and as recent as March 19, 2014 were ranked by Zacks as #5 (strong sell). That being said, it should be noted ACRE has been distributing funds in the form of dividends for a few years and likely has compensated this investment limiting any losses from capital depreciation.
Avenger Boats, Inc. looks to have a positive story to it, but the outcome and benefits to WNTR is unclear at this time. According to this PR, back in Oct 2005 Avenger Boats, Inc. formed a partnership with Xtreme Companies, Inc. It all comes off as very positive, but we question how the investment has worked out for Frank and the company.
Avenger designs, develops and manufactures high performance patrol boats for use in Port Security, Homeland Security, Coast Guard and on the Littoral Combat Ship. Avenger owns the molds and tooling to build rigid hull aluminum boats ranging in size from 10 to 100 meters. In addition to the U.S. Government, Avenger boats have been sold to the Bahamian and Greek governments.
News of the deal should be welcomed by investors, as the agreement gives Xtreme a worldwide license to manufacture, market, sell, import, maintain and service the Avenger line!
Family Support Payment Corporation was founded in Nov 2007 by none other than Ludvik Capital, Inc. The intent of this organization was not only noble in the guaranteed payment of child support payments to custodial parents, but also set to penetrate a very large and relatively untapped multi-billion dollar industry. It's difficult to ascertain information on the business or what happened, but in all likelihood it had been dissolved. Knowing what should be and who should pay these support payments is one thing, but enforcing it is another thing entirely.
Patriot Advisors Inc. We can't say much about this investment as the company is no longer in existence, we would like a public disclosure of what is actually held in assets here which make up in excess of $7.5 million. According to "The Plan of Merger" it looks to mainly consist of several loans, and one being to Unitech Industries, Inc. But as Patriot Advisors Inc. has been dissolved, we'd like to see corrections to this to reflect specifically what the investments are.
The Investments at Fair Value also include the holdings of Patriot Advisors, Inc and Templar Corporation as they specifically relate to loans to Unitech Industries, Inc, holdings in Prepaid Systems Inc and investment in the Patriot Growth Fund.
Island residence club inc. At the time that Island residence club inc. filed to issue an IPO of the company through the SEC, we can see that they had actually consulted with Mr. Kristan
Frank Josep Kristan was issued 1,000,000 shares for consulting services rendered to the company
Ludvik Nominees Pty Ltd owned 100K of shares prior to the IPO (which we know was later increased to 750K at some point thereafter). This seems a little odd and needs clarification as it would appear as though the IPO never took place and we can see the company actually filed to withdraw its IPO in Aug 2007. So the state of this investment is unclear at this time.
The company has offered several loans to privately held companies Androit Utilities Inc., SS Group and FASTA Inc.
Androit Utilities Inc. is a privately held company in Chesapeake, VA. They were established in 1985 and run Underground Wire and Cable Laying in their respective area. The company has an annual revenue of $5 to 10 million and employs a staff of approximately 20 to 49. Not much to be said here. We have a convertible note - Principal and receive 6% on the Principal Amount as interest which has a fare value booked at $677,166
SS Group looks to be a privately held company which builds apartment blocks out of India. The principal investment was $2.5 million and 11% on the Principal Amount is received for the investment
FASTA Inc. operates as a manufacturer of pre-engineered steel panels and components for the international, residential, commercial and institutional markets. The company was founded in 2005 and is based in Fairfax, Virginia. Again, we look to be receiving 4.95% interest.
New World Energy Holdings Inc. We could not find ANY information about this company outside of what has been publicly disclosed by the company here other than they were incorporated out of Delaware in 2010

Greener Wind Solutions, Inc. is a privately-held company that operates in the Wind Energy industry which was founded in 2008. Its headquarters are located in Wilmington, Delaware. Greener Wind Solutions represents China Ming Yang Wind Power Group Limited (NYSE:MY) of China in the United States. The Private company ticker symbol is (GREWISP) in which WNTR owns 1million shares. One hopes its business model is more sustainable than its representative out of china which at this time doesn't look sustainable as covered by The Montly Fool.
ABBA Leasing Partners LLC was formed on 2011-08-24 in Virginia by FRANK J KRISTAN. It is quite possible this investment may coincide with more recent leasing acquisition in NYC discussed above, but at this time there is no additional information that can be found on this company outside of what has been publicly disclosed below;

Pamlico Energy Park LLC is actively being developed as per recent PRs previously discussed above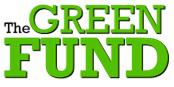 The Green Fund
The company officially launched its Green Fund on Feb 27, 2014 forming a new entity Green Company Holdings, Inc. (www.thegreenfund.us) and intends to add at least an additional 10 companies to its holdings. It's also notable that once the fund is completed the company intends to list The Green Fund as a separately publicly trading vehicle that will provide shares to be available for distribution to shareholders.
The Green Fund is essentially a Mutual Fund focused on the emerging Hemp and Medical Marijuana sector. It currently has a position in Hemp Market Watch with ties to a payment processor "SinglePoint". The advantages of mutual funds (or in this case "Green Fund") is that they give small investors access to professionally managed, diversified portfolios which would be difficult to create with a small amount of capital.
The new entity Green Company Holdings Inc. is looking to embark into the large and growing marijuana industry. As of now, there have been growing support to allow the use of marijuana across the U.S. Earlier this year, there were already 21 states in which allowed for the legal purchase of prescribed marijuana to be obtained (seen here). Recently both Minnesota and Florida have also adopted such laws with anticipation of New York and of Iowa to follow suit in the near future.
On Feb 21, 2014 the company initiated a 20% stake in Hemp Market Watch (www.hempmarketwatch.com) in exchange for 200K shares of its Series C Preferred Shares. It provides an informational portal for the marijuana industry. The portal will provide updated information on the industry and track a portfolio of companies that are involved in providing goods and services. In addition the parties will work together to identify a diversified portfolio of potential investments in the marijuana industry. This is the 1st step the company has taken to form a base in which they are calling their Green Fund.

A recent partnership was formed between SinglePoint™ Inc. (www.singlepointinc.com) and Green Company Holdings Inc. that was announced on March 11, 2014. This partnership will allow SinglePoint to begin implementation and development of premier mobile marketing and mobile payment opportunities for the Medical Cannabis. We also feel as though this partnership may extend beyond and lead to further collaborations across other industries.
In addition, the companies will work together to identify new targets for collaboration for what execs from both camps feel can lead to increased revenues and beneficial cross-marketing opportunities
Other note worthy facts to SinglePoint which lead us to believe we may see collaboration with both I-text & B.E.A.C.O.N in the near future.
We operate a best-in-class mobile commerce and communication platform specifically designed to serve the needs of the non-profit community as well as the for profit companies. We make any campaign instantly interactive via the mobile phone. This functionality allows our clients to conduct business transactions, accept donations and engage in targeted communication campaigns with their customers/donors through any mobile devices. Send more messages, create more awareness, and raise revenues and donations.
Also highlighted in WNTRs PR on the same topic we find the below telling facts to a mobile marketing campaign between the two.
Together SinglePoint and Green Company Holdings will begin to implement and develop premier mobile marketing and mobile payment opportunities for the Medical Cannabis Industry via the subsidiaries. In addition, the companies will work together to identify new targets for collaboration for what execs from both camps feel can lead to increased revenues and beneficial cross-marketing opportunities in the Cannabis Industry nationwide.
On March 31, 2014 a shareholder update pertaining to the Green Fund portfolio was issued. Over the course of 1 month the company has closed 2 deals totaling $2 million in investments thus far, we know that $1 million went towards Hemp Market Watch, so we can conclude that the company invested an additional $1 million in the formation of the Green Fund. Despite being in operations for only 1 month, by the statements below, the company has gained much interest and actively growing;
It (Green Company Holdings, Inc.) currently has letters of intent and indications of interest from other companies totally in excess of $8,000,000 that include cash and/or securities in exchange for their interest in The Green Fund. The company intends to close transactions on a monthly basis until it closes an initial $10,000,000 into the fund. The Green Fund will have its own independent legal counsel and auditors.

The Green Fund is looking at opportunities in the industry for payment systems and informational portals including online shopping malls. In addition the opportunities for technologies that can be modified and applied to this industry. This includes kiosks that provide the product and sales of ancillary products in addition to real estate that provides for warehousing of the product.

The company also is currently interviewing auditors as part of the process for its listing on to the NASDAQ or NYSE /AMEX.
In the company's most recent PR as of April 25, 2014 it has shown its intent to publicly list Green Company Holdings, Inc. by the end of the third quarter this year
The company is currently evaluating which publicly trading exchange will provide the best exposure for the company and access to additional capital to expand the fund beyond its initial investments.
There are many benefits that will be realized by the company and existing shareholders in doing so.
- The Company will have more cash on hand
- They will continue to be able to leverage their assets in the continued growth of the company through acquisitions
- Existing shareholders will have new shares issued for the new entity automatically appear in their accounts
- If listed on a more senior exchange such as the NASDAQ or AMEX it will bring more stability and new investors to the company
As of late there have been a number of letters of intent with the likes of ResponsiBill for financial service that offers a unique green solution for billing, invoicing, and document storage (Ironically through customer's checking account via ACH), with Green Rush Advisory Group LLC which help start-ups, properly license and profitably run marijuana businesses that are 100% compliant with state and local rules, and with Hydro Pharms, LLC which is expected to be a leader in the Medicinal Marijuana Industry in the State of Florida specializing in the cultivation, manufacturing, and distribution of Cannabis products.
SkyLOCK
WNTR continued on its acquisition path on Nov 19, 2013 as it added Encryption Solutions, Inc. (skylockesi.com) to its portfolio of diversified holdings. Which is a software development and distribution company specializing in cutting-edge, next generation encryption software solutions for secure global wireless and wired communications. The acquisition cost was not disclosed, but made possible through the exchange of its Series C Preferred shares.
The phenomenal growth in digitizing information in certain industry sectors combined with an increased need for information security poses a strong market demand for products that can securely enable wireless networking and mobile communications, high speed file transfer (FTP/EDI) and email messaging. Healthcare, education, finance and banking, critical infrastructure such as energy, power and water, government entities and the TV, film and music industries are all impacted by the need for secure communications.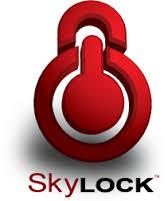 Encryption Solutions, Inc.'s SkyLOCK security solution utilizes an encryption system that is structurally and functionally unique and possesses distinct advantages over any currently marketed security product. The core technology is a proprietary and patent-pending algorithm that surpasses the standards of current encryption algorithms and provides for end-to-end, unbreakable and totally secure communications across both wireless and hard-wired networks.
The company also disclosed the following concerning its Series C Preferred shares;
The company has authorized 45,000,000 shares of Series C Preferred, with a stated value of $5.00 per shares to provide for up to $225 million in acquisitions with minimum dilution to shareholders.
The software company holds 4 patents 8275997, 8031865, 7752453 and 7526643 which include methods for Multi-level security systems, methods for encrypting data within documents, encrypting and transmitting data and system transmitting of encrypted data. They have also been certified by "The National Institute of Standards and Technology" and the "Communications Security Establishment" We also know that they've received contracts from both the U.S. Department of Defense and U.S. General Services Administration
I-TEXTS
I-Texts is an advertising platform which works via SMS (Short Message Service). It is an opt-in service for end users who's main focus at the moment is the advertisement of non-profit and charity organizations. The company offers prizes valued up to $5,000 as an incentive for users to use the service. They are also preparing to offer mainstream advertising for national advertisers such as McDonald's, Nike, Coke, P&G, etc. as well as local ZIP/Postal Code-specific offers in the near future with efforts to send texts tailored to your specific likes and preferences.
On Dec 19, 2013 Worldwide acquired an interest in Global Marketing Services LLC that provide sales and marketing for I-Texts (www.i-texts.com) which is said to be entering a market estimated at approximately $76 billion by 2015
I-texts has developed a state of the art software platform to address all critical needs, such as: business management, information management including compliance and risk mitigation. In addition to the software platform is the latest in security programming to ensure the clients' information is 100% secure including dedicated servers and a state of the art back-up system

The platform fills a need and demand for a unique, simple and efficient cost effective fundraising platform for colleges, universities, charities and military relief organizations. It offers a smart, simple and unique marketing and advertising opportunity that helps crack the code of mobile marketing.
This investment could very well be a good strategic move and lead to a leveraged service that works in conjunction with patent pending B.E.A.C.O.N cell broadcast technology as hinted by the CEO below;
"We see this as an opportunity to leverage our other telecommunication investments, with this investment, to develop a strong cash flow that will provide dividends to shareholders in 2014."
On March 25, 2014 it would appear as though the company has increased its previous holdings of I-texts Inc. and now appear to have majority control (in the previous interest of the company it had been stated that we had the option to increase our holdings, as it would appear we've executed that right)
In addition I-Texts Inc. has signed an agreement with a global technology services company to provide support services and assist in development of new services for its technology platform.
As we can see by the PR released April 1, 2014, both SinglePoint and Worldwide wasted no time on expanding their partnership through integration with I-Texts which should be a prosperous coexistence (Micro donations, especially through mobile donations is a rapidly growing entity as covered nicely by Forbes). So I-Texts will advertise for charities and non-profit organizations and SinglePoint will process the donations via SinglePoints proprietary system SING's Mobile Donation Platform.
As WNTR announced last week, it has acquired state-of-the-art technology company, I-Texts, Inc., who recently signed an agreement with a global services company to expand its strong and growing platform. As announced, I-Texts has more than 300 charities and 400 independent representatives in its database, and is market-ready to accept advertising business to reach its loyal supporters with beneficial offers and opportunities.

As Worldwide Internet's payment solutions partner, SinglePoint and its dynamic mobile donations platform will be promptly introduced to I-Texts for access to the 300+ charities toward mutual benefit and additional revenue streams for SinglePoint™.
While it's great that the amount of funds donated to needed causes has grown significantly as of late, as highlighted below from the Forbes article, the size of each donation has decreased, but the number of donations have increased by a greater factor. What that means to us is that the overhead of processing those payments has increased, so on a percentage basis more money is being kept by processors and fewer funds actually reach their desired charities.
We would like to see SinglePoint form a partnership with MyECheck (MYEC) to process funds via Check 21 processing rather than ACH. That would give much lower overhead for processing, it's faster and more secure than ACH, putting more money where it's needed and as the company grows, so to will the number of transactions. The adaptation of MyECheck should have significant to the company's bottom line.
In fact, in 2012 micro donations outpaced their macro counterparts. According to PayPal data, the average donation size globally decreased by $0.71 last year, while the number of global donations to nonprofits increased by 20 percent

On April 24, 2014 we were informed that its portfolio company I-Texts, Inc had commenced its Nationwide Mobile Advertising Campaign and has been exceeding expectations
The company announced that it has engaged advertisers and is now sending out mobile advertising texts that benefit the charities. The initial responses have exceeded the company's expectations and the responses from the supporters are significantly higher than the industry standards for mobile advertising responses. Some of the charities that are part of the program include the Lions Club, the Lupus Foundation, Shriners Hospital for Children, United Way, The Citadel Brigadier Foundation, Boy Scouts of America, United Cerebral Palsy, Paralyzed Veterans of America and Watering Seeds.
Possibility of Uplisting to a Higher Exchange and a Merger
On Feb 6, 2014 WNTR established not 1, but 2 investment banking agreements with a leading New York-based investment banking firm. Both deals amount to $60 million, half of which ($30 million) is to be used as acquisition financing which needs to abide by terms and conditions. The second half is a $30,000,000 firm commitment underwritten public offering on a major exchange (AMEX or NASDAQ). This agreement is however subject to the Company's successful auditing and acquisition of its current target businesses.
Though the name of the underwriter was never announced, we speculate that the lending financial institution is none other than Wellington Shields & Co. LLC (www.wellingtonshields.com). We know that they were established in 1925, their headquarters are in the heart of Manhattan's Financial District two blocks from the New York Stock Exchange. In the Investment Banking section of their website there are also many telling details which has given us this conclusion.
1) The $30 million deal falls in range with their target
Our target deal range is $10 million to $50 million.
2) The services described below equate to what has been offered to Worldwide Internet
EXCHANGE LISTING ASSISTANCE

"At Wellington Shields we can provide recommendations regarding listing on the OTCBB, NASDAQ or AMEX and NYSE. With our international relationships, Wellington Shields bankers can also help select the most appropriate stock exchange throughout the world. Whether you are a mining company looking to list on the Toronto Stock Exchange versus the Hong Kong Stock Exchange or an emerging growth company looking to list on the Frankfurt Stock Exchange versus the OTCQX, we can guide you in your selection and introduce you to key people involved with the exchange."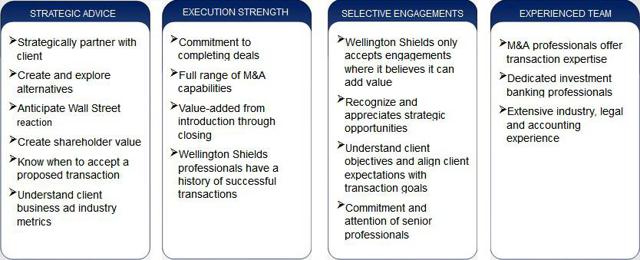 MERGER & ACQUISITIONS

Wellington Shields investment bankers can create an appropriate corporate strategy dealing with the buying, selling, and combining of companies designed to add shareholder value. If your company is looking to expand operations, increase long-term profitability, or to increase economies of scale, our Investment Banking team can assist with customized advisory strategies designed with your company in mind. Moreover, we can advise companies on how to best utilize their stock as currency, for acquisitions and roll-up situations.
3) The icing on the cake is the below exert which reads identically to what was publicly disclosed by WNTRs recent press release.
"Wellington Shields & Co., a member of the New York Stock Exchange with five (5) offices throughout the country, over 10 research analysts, over 70 retail brokers, two Morningstar-rated mutual funds and a pair of institutional desks trading for 800 institutional clients throughout the world."
You may be wondering why we've dedicated so much effort into the lender of these loans. The reason being is because they have a solid track record of successful uplistings, they are not passive, they do their due diligence and work in conjunction with the companies they do business with. Not to mention Wellington Shields management serves on boards of directors of NYSE, AMEX and NASDAQ listed companies.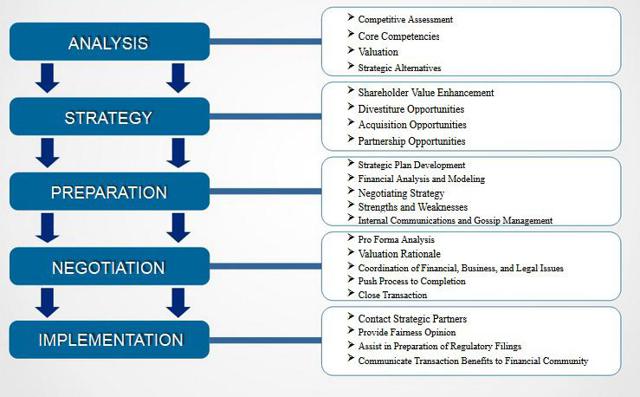 Shareholders are also left to ponder how Worldwide Diversified Holdings Inc. plans to have a market cap that qualifies the company to become uplisted to a higher exchange. Although we have been unable to discover the name of the potential target acquisition in this press release, we suspect that this may be the key as to how the company intends to achieve uplisting:
NEW YORK, NY--(Marketwired - Dec 5, 2013) - Worldwide Internet, Inc. (OTC Pink: WNTR) announced today that it has entered into a Letter of Intent to acquire an employee leasing company to be based in the United States and Europe. The company's revenues for 2014 will be in excess of $100m and provide earnings of least $5m in 2014.
The company currently has 800 contractors that primarily provide services to the oil and gas industry. The company pays the wages, handles taxes and managing benefits for that employee. It is dedicated to providing tax efficient services for consultants, contractors and employees.

Frank Kristan, President of Worldwide Internet, Inc stated that:

"We believe this acquisition will provide significant revenue and earnings for 2014. The transaction is expected to close in the first quarter of 2014. We are executing on our business plan and focused on increasing shareholder value and providing distributions to shareholders."
Series C Preferred Shares
Anyone who has followed any of the recent acquisition PRs has surely read "in exchange for the Worldwide Series C Preferred shares". This is a common practice by holdings companies used to leverage assets to grow their portfolios.
So far, we know;
· 600K have been issued to World Capital Leasing, Inc. for the acquisition of a $3 million portfolio of leases.
· 1M have been issued for a natural gas property lease valued at $5 million
· 200K in the formation of the Green Fund
· 200K for a 20% interest in Hemp Market Watch
· 120K for its position in E3 Services and Solutions LLC
Totaling 2.12M Series C preferred shares + the untold amount that went towards their investments in I-texts or Dr. Belts medical device
In a communication between a shareholder and the CEO we can then see that essentially these Series C preferred shares can only be converted after 6 months with a 10 to 1 conversion essentially valuing the shares at 50 cents.
"We are focused on doing our acquisitions with WNTR Series C Preferred with a stated value of $5. The shares are convertible at 10 to 1 but not for at least 6 months and effectively they would only convert at above 50 cents per share or else the holder would have a loss. So effectively for every $5m in assets could dilute approximately 10m shares at value of $.50c per share. There is also the possibility for the company to list the preferred shares separately to raise additional investment capital on the same terms to minimize dilution."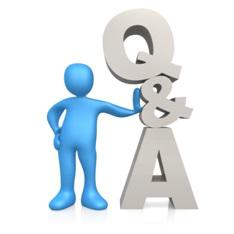 Q & A with CEO. Frank Kristan
In the process of reviewing this holdings company as an investment, shareholders compiled a list of questions which we've forwarded to the CEO. We are glad to say Frank was kind enough to oblige us by answering the below questions. It shows transparency and willingness to reassure investors of his intentions with the company and how he is striving to increase shareholder value;
Q1: It was stated in a press release on Jan 7, 2014, that the remainder of the company debt (as of Dec 31, 2013) was "assigned to the third parties." There have been approximately 250 million shares added to the public float since August of 2013.
Have all, or most all of these shares that have hit the public float been used to pay for the company debt? If so, then do you believe the debt conversions are close to being completed?
A1: The increase in the float has been due to third party conversions of company debt and to the best of my knowledge they have been substantially completed.
Q2: Some acquisitions made by Worldwide Diversified Holdings Inc. have been in exchange for Series C preferred shares, and it has been stated that the company has authorized 45 million shares of Series C Preferred, with a stated value of $5.00 per shares to provide for up to $225 million in acquisitions with minimum dilution to shareholders.
When Worldwide Diversified Holdings Inc acquires a company, or a percentage of a company, with these series C preferred shares-- this in return allows you to place that acquisition as an asset on WNTR's balance sheet, and also collect a percentage of revenues (if any) for Worldwide by having ownership of the asset? Is that correct? Is this a common practice amongst holding companies used to leverage assets to grow their portfolios?
A2: Under General Accounting Procedures the asset is to be reported on the balance sheet. In the event that an acquisition is in exchange for more than 51% of the company then the revenue can be recorded. If it is less than 51% then if there is any dividends or interest then they will be recorded but not a percentage of the sales. This is similar to MVC Capital (NYSE: MVC) ( www.mvccapital.com/) but we are not a Business Development Company. We currently have minority acquisitions but are looking to acquire majority positions in companies to be able to consolidate revenue similar to Compass Diversified Holdings, Inc (NYSE: CODI) (http://www.compasstrust.com/).
Q3: According to the filings there are 354 million common shares held by insiders. If there ever was a reverse split, would these 354 million common shares held by insiders be exempt from any split, or are they treated as regular common shares?
A3: If a company does a split then all shares are treated equally, including common and preferred shares.
Q4: The assets listed under Ludvik Holdings Inc, which include;
Family Support Payment Corp., ACRE Real Estate, Avenger Boats Inc., ABBA Leasing Partners LLC, FASTA Inc., Island Residence Club, New World Energy Holdings, Greener Wind Solutions, and the remainder of assets from the dissolved Patriot Advisors Inc. which include outstanding loans, or accounts receivables...
Is there anyway shareholders can learn about the status of these investments and loans? If the company releases audited financials then would the audited financials show transparency of the assets, investments, and outstanding accounts receivables listed under the assets of Ludvik Holdings Inc. and the 2013 WNTR annual report?
A4: The company will report the holdings in compliance with General Accounting Procedures which involves any update on status of the investments.
Q5: Some investors have expressed interest about the status of the new website. Is there a timeline as to when the new website will be up and running?
A5: The company is working on developing an updated website for better information to shareholders.
Q6: Is Worldwide Diversified Holdings Inc.'s patent pending proprietary technology B.E.A.C.O.N. emergency broadcast technology and its application completely developed, Or is it still under development? Is there any new details or developments to be revealed at this time?
A6: The company has a number of proprietary technologies that it is developing with partners and will update as further progress is made with the technology.
Q7: Is there any update on the Erie, P.A. Marcellus Shale land lease to Aera Energy? Has the company started to receive monthly revenues from this lease deal?
A7: The company has a minority interest in the property which has not had a dividend or payment yet. Under the agreement we are working on additional transactions by June 30.
Q8: Looking over our search results on MacReport Media Publishing's web site, we do not see any publications on WNTR after Feb 28, 2014, are they still employed as a PR firm for your company? & have they lived up to your expectations? Are there any other plans to increase exposure of the company?
A8: MacReport Media is now affiliated with Eteligis ( www.eteligis.com/). We are evaluating our current programs.
Q9: On several occasions you've mentioned the fact that the company plans to distribute funds to shareholders in the form of dividends, Can you give us any guidance as to when the company expects to start these distributions?
A9: The company would have the option to either declare dividends quarterly, annually or as a special onetime dividend and review them on a quarterly basis or as a special situation.
Q10: Taking into account your background as a fund manager, venture capitalist, and providing advisory services to investment funds, as well as looking at the qualitative and quantitative value of Worldwide Diversified Holdings Inc. Currently, the intrinsic value looks to be out of favor with the market. At the moment WNTR looks to qualify as a "net-net" company, have you considered share buyback possible in the future? As it would not only be a good investment for the company, but also reassure investors and increase perceived value, please expand on your thoughts.
A10: The management believes that the company is undervalued and there is a number of ways to increase shareholder value that could include buybacks and retirement of shares. The market value has increased from approximately $700,000 to $1,000,000 to now trading with a market value of $7m to $10m. One of the requirements of listing is to have a market value of $70m to $100m.
Q11: Are we still on track to complete audited financials by the end of June 30th?
A11: We are currently working on being completed by June 30.
Share Structure & Technical Analysis
There are 1,145,757,735 outstanding shares as of April 28, 2014.
· 100 million are owned by TTT Investment Trust
· 100 million by Darrell McDowell
· 154 million by Frank Kristan
· 311,027,490 million in the public float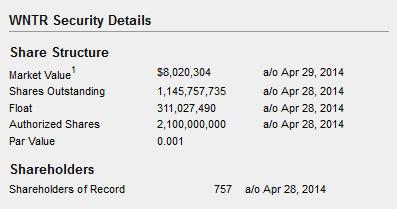 Our current portfolio is valued at approximately $31 million (which does not account for additional assets and growth such as SkyLOCK, Dr. Belt's Back Fix, E3 Services and Solutions LLC for water reclamation projects in the oil & gas industry, mining services and industrial pollution, the expansion of Pamlico Energy Park LLC, Telemedcare LLC, our majority control in I-Texts, or what may turn out to be our largest asset of all B.E.A.C.O.N).
From WNTR's 2013 EoY results;
The company's net asset value has increased to $0.04c per share for the period ending December 31, 2013 from a net asset value of $(0.0001) per share.
What this means is that in essence, if the company were to liquidate all of its current assets and dissolve the company, the shareholders would have a payout with more value than currently reflected at the current price per share!
Looking at the qualitative and quantitative value of WNTR, the intrinsic value looks to be out of favor with the market. At the moment WNTR looks to qualify as a net-net company and we consider this stock to be a STRONG-BUY
Net-net is a value investing technique in which a company is valued solely on its net current assets. The net-net investing method focuses on current assets, taking cash and cash equivalents at full value, reducing accounts receivable for doubtful accounts, and reducing inventories to liquidation values. Total liabilities are then deducted from the adjusted current assets to get the company's net-net value. When a viable company is identified as a net-net, it is about as close to a sure thing as you can get in the markets.
Reviewing the financials leads us to believe the stock is trading in the sub-penny range due to the limited income thus far. It's important to remember that prior to the company merger, they essentially made no income and had no assets on the books! Looking at Q3/2013 they booked assets amounting to almost $18.5 million with investment income of $43.5K with a total liability of almost $950K.
End of year financials was a stellar increase in assets and total revenues coming in at almost $31.7 million and $528K respectively, and now showing $0 debt. With current assets under management, recent acquisitions, national launch of I-texts, and patent pending B.E.A.C.O.N, the company is in a position to sit and wait for its investments to bear fruit (though we know this will probably not be the case). We expect the aggressive growth strategy to continue and for Worldwide Diversified Holdings Inc. to become a well respected holdings company that could possibly end up trading on a higher exchange.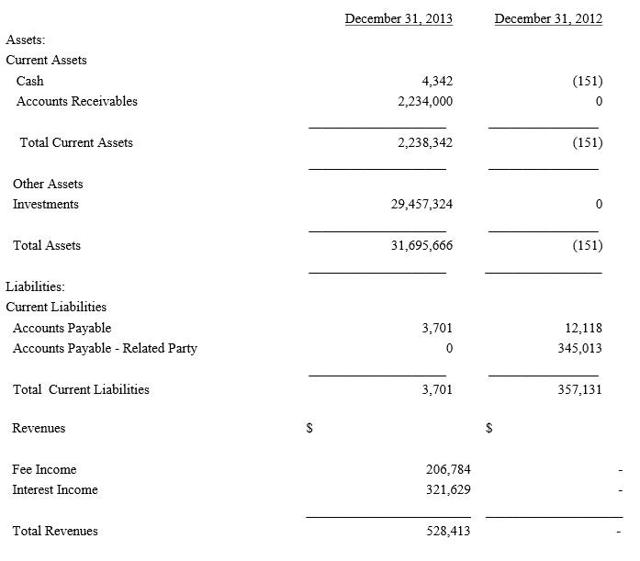 Looking at the charts we can clearly see that the stock is currently in a support pattern close to being oversold as of late with an RSI of 45. So if a significant material event were to occur in the short term, we would have a high climb before hitting the breakout range. We expect that now that the debt conversion and share dilution is coming to an end (as alluded to in the Q&A) that there should be a steady trend reversal and appreciation of the stock price that will follow.
The stock looks to have a clear trend pattern at the moment (material events can always supersede trends). There is currently a strong support line set at 0.0040 and resistance currently set at the 0.0080 mark. This is a very positive trend for investors who follow chart patterns. We can clearly see healthy trading with numerous higher lows and higher highs. The present formation should come to an end as we approach the end of May or beginning of June which points to a breakout on the upside from here. With anticipated material events and upcoming Q1 results, we expect the highs of today, to be the lows of tomorrow. We already see positive signs forming with the 12 day MACD on the verge of crossing the 26 day, so we should see good accumulation in the current range.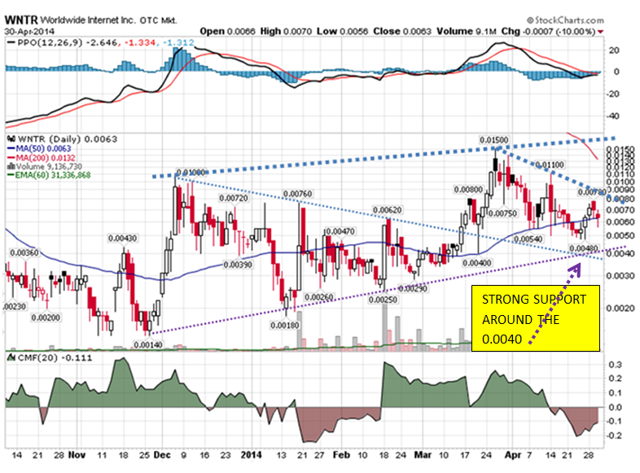 Risk vs. Reward
With any investment there are always risks. The diversification of holdings in the company's portfolio and continued growth should help mitigate risks. We believe that the company has a solid vision of what it intends to do and at the same time, it has intents on leveraging investments and assets to further benefit the company and its shareholders. With the addition of key players such as Alan Rude, and in conjunction with the possibility of Wellington Shields & Co. LLC, we are surely mitigating those risks even further. But we are basing investments on publicly disclosed information, and our own due diligence, and though we are making educated predictions based on facts at hand, there can be a number of unforeseen events that can occur such as deceptive practices, lack of market penetration, increased competition, or economic downturns which are not in the control of the company.
We also feel we are at a great risk VS. reward point at the moment when the stock is currently trading well below book value.
Expectations
There has been much talk and speculation as to the dilution of shares by the company. But we'd like to point out that Frank received 154,125,870 of common shares at 10 cents/share (which would equate to $15,412,587) and 250,000 Series A preferred shares at $20/share (which would equate to $5 million), it would make no sense for him to sell his shares for less as it equates to the assets he brought to the company.
We also expect the company to continue to form strong business relationships and continue to acquire strategic interests with intent to leverage and synergize its holdings.
We should also see ongoing increases to both the assets under management and increased revenue going forth with greater transparency on investments through the upcoming audited financials.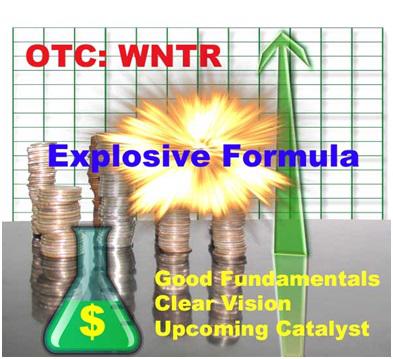 Catalysts
There are a number of upcoming catalysts for the company which could reward long term shareholders for their patience such as;
· Audited financials (expected June 30th)
· Acquisitions in real estate
· Acquisition or merger with a large employee leasing firm
· Possibility of oil rig leasing projects with well known energy producers
· Uplisting to a more senior exchange
· Introduction of distributions to shareholders in the form of dividends
· Increased revenues quarter after quarter
· Public offering of the Green Fund
· Patent approval or the bringing to market of B.E.A.C.O.N
Conclusion & Speculation
99.999% of investments in today's markets are based on perceived or anticipated value, at the moment WNTR looks to be out of favor with the markets for some unknown reason. Having fully reviewed and investigated the company from where they were, to where they are now, and where they appear to be going, it is in our opinion that this stock presents a rare opportunity at hand.
In knowing that the company has intentions to uplist to either the NASDAQ or AMEX in 2014. The answer to question #10 lead us to question what steps does the CEO and company have in store to increase the market cap of its shares by 10 fold from here? We shareholders are speculating that a merger between Worldwide Diversified Holdings Inc., and a much larger high profile company has become a very likely scenario.
It would be nice to say something like "wait for the next pullback to find a more admirable buying price," but with the intense volatility of the stock it is hard to predict a perfect entry. We can comfortably recommend buying shares while the stock is still trading under .01 cent, because we suspect that by the end of the summer- WNTR will be sizzling hot!
Disclosure: I am long WNTR.
Additional disclosure: The information contained in this article has been compiled from sources deemed reliable and it is accurate to the best of our knowledge and belief; however, there is no guarantee as to its accuracy, completeness, or validity, and the author cannot be held liable for any errors or omissions. The Author does not accept liability for any loss or damage caused by reliance upon such sources. Every effort has been made to accurately reflect the current market situation of the stock mentioned. Any forward looking statements made are strictly by opinion only. This information is for personal use only, and is not intended to be reproduced, copied, redistributed, transferred, or sold.This is not an offer to buy or sell securities. An offer to buy or sell securities can be made only with accompanying disclosure documents and only in the states and territories where such offers are permitted. Investing in "penny stocks" is highly speculative and involves a great deal of risk. The information contained herein should not be construed as a warranty of investment results. All risk, losses, and cost associated with investing, including total loss of principle, are your responsibility. The author is not a registered investment adviser in any jurisdiction whatsoever. It is strongly recommended that any purchase or sale decision be discussed with a financial adviser, or a broker-dealer, or a member of any financial regulatory. Never invest in any stock unless you can afford to lose your entire investment.