In a previous article back in January on Arianne Resources (DRRSF.pk), Arianne Resources On Big Fertilizer Stocks Radar, I discussed how Arianne was a potential takeover candidate by some of the biggest names in the fertilizer business. On Tuesday May 21st Arianne provided a further update on their development with a press release discussing additional pilot scale testing. This is one of the last pieces of the puzzle that locked into place with Arianne's announcing that their pilot scale metallurgical test confirmed a 39% P205 concentrate product with a 90% recovery rate. This news confirms that the Lac a Paul deposit can deliver one of the most sought-after phosphate concentrates worldwide. Arianne management has done a wonderful job of advancing this project and executing on the business plan. With the large, well attended annual fertilizer conference held in Chicago this past week, it is safe to presume that several of the majors have taken notice. In fact, the majors have allowed Arianne to do the "heavy lifting" by taking down obstacles, hurdles, and de-risking the project.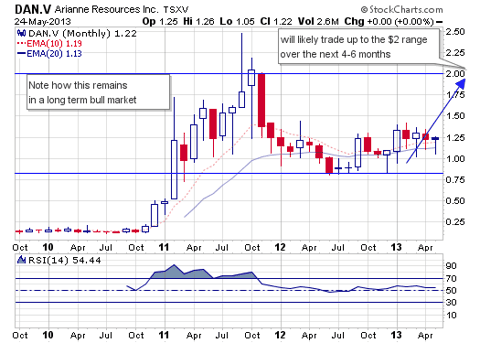 Analysts predict that fertilizer companies will have a strong year of profitability this year. In particular, three very large phosphate producers, Mosaic (NYSE:MOS), PotashCorp (POT) and CF Industries (NYSE:CF) are expected to have huge cash flows this year. Mosaic is expected to deliver $3 billion in cash flow this fiscal year that could add to their current cash on hand of $3.3 billion and will give them quite a war chest to acquire a truly excellent proven phosphate deposit safely situated in North America. Arianne could probably be had on the low side for $250 million but with a few bidders chasing this cherry of a project the most likely number would be $350 million, or more than a triple from the current market cap. CF Industries is forecast to have cash flows of $3.3 billion, which when added to their current $2.2 billion on hand is a not-to-shabby $5.5 billion ready to invest on behalf of shareholders.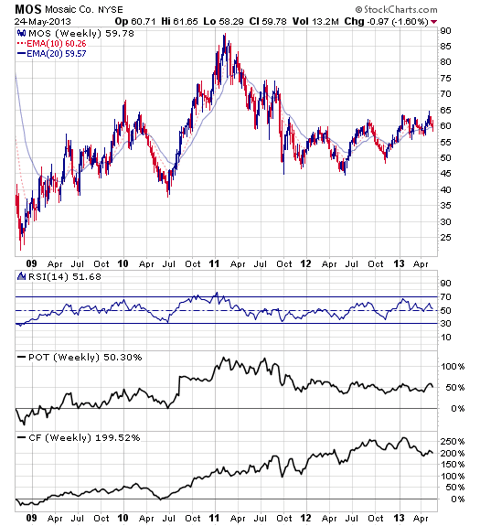 Obviously a company the size of Arianne is not going to develop a property that could cost upwards of a billion dollars but with the excellent potential return and the extremely short payback that could happen with a unique property such as this even a billion dollar investment by a major is very likely once the final risks have been addressed in the Bank Feasibility study due this summer. At that point I would expect Arianne to start soliciting bids on who they will be selling the property to for further development.
Which of the majors will be the first to start the bidding? Will the eventual victorious acquirer be a North American producer or will they let this high grade, high quality project slip through their fingers and be owned by the Russians, Indians, or Chinese, all of whom have a strong desire to add to phosphate reserves, invest for the long haul, and escape the Moroccan monopoly in global supply? Although it is hard to say at the moment the economics of the project only seem to be improving with the latest report and the eventual owner of this development will more than likely step forward in the next several months.
Disclosure: I am long OTCPK:DRRSF.