When looking for potential investment candidates I take into account many factors. The top factor is always the uniqueness of the business and what opportunities are there to grow that business. Other factors, such as the balance sheet, management and share structure also play a key role in my investment decisions. A company I have been following for many months and that I have recently bought shares in is Professional Diversity Network, Inc(NASDAQ:IPDN). This company focuses on helping diverse groups through online professional networking communities, events and working with companies who are interested in hiring diverse candidates. Some of the diverse demographics they serve are woman, minorities, LGBT, veterans,and disabled persons around the world.
While this certainly makes this a very unique company it is the recent changes that makes this a potential high growth stock. In November of 2016, an investment group out of China called Cosmic Forward Limited (CFL) made a $17 million dollar investment in the company by buying 54% of the outstanding shares. A recent Seeking Alpha article, Profession Diversity Network - Refuting the short thesis, did an excellent job of researching who Cosmic Forward Limited is and I think most investors will be very happy with what they find out about this investment group. What made this investment unique is the investment group paid $9.60/share which was a 126% premium to the current market price. In January they added another $3 million to their investment at right around the current market price. This is quite different than the vast majority of companies raising money these days at steep discounts to the current market price. Its also a clear signal to investors that the new management is a strong believer in putting ones money where their mouth is and are in this for the long run.
Besides bringing cash into the deal that cleaned up the balance sheet they also have set the direction for expansion into China. In March, the company's first ever shared event was launched in China and had over 2300 paid participants. This was followed by 3 more events in April and 20 more planned in 2017. This is basically just the tip of the iceberg in an area that is completely untapped. With every 1 o f 5 people in the world being a Chinese woman this speaks volumes about the potential. Also over 50% of recent Chinese college graduates are now woman.
Balance Sheet
As mentioned above the recent investment by Cosmic Forward Limited has completely cleaned up all outstanding debt and leaves a nice cash balance to fund expansion. From the most recent 10Q that was filed on 5/15 the cash balance is $5.5 million with zero debt. As mentioned in the 10Q they have no need to raise money in the foreseeable future.
Share Structure
Even with the recent investment by CFL the number of shares outstanding are less than 4 million. CFL owns 56% of those 4 million and the article linked above developed this chart showing where all the shares are held. According to the chart the float is 415K shares.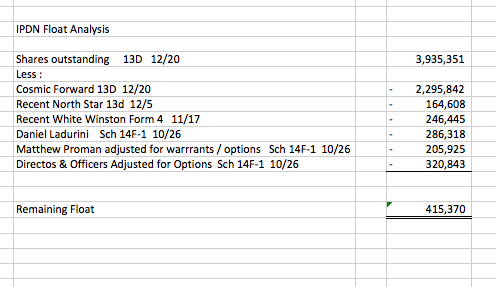 Source: Seeking Alpha Article - Professional Diversity Network - Refuting the short thesis
Since that article came out a 13G was filed by investor Ahmed Alomari. This filing shows him owning 6.2% or 245K shares which reduces the float to 270K shares. This number is very low.
(Source: Company SEC Filing)
Short Interest presents possible short squeeze
With the incredibly low float there is also a sizable short interest. According to this site that tracks short interest on April 28th the number of shares short were 221K. While short selling stocks is another viable investment vehicle this is a perfect example of what can go really wrong when shorting shares. Given the number of possible shares to even buy is roughly equal to the number of shares that need to be bought to cover the short position, there is a high likelihood the stock could good parabolic as the shorts try covering and can not buy any shares. It certainly could add to the excitement and stock appreciation going forward.
Risks
No stock is without risk. One area of risk for this stock is its plans to expand into China. While moving into this untapped market could provide significant revenue growth investing in China has always been tricky due to the inherent difficulty with foreigners investing in China. To help alleviate some of these concerns the companies CEO, Michael Wang, recently put out a shareholder letter and made this statement:
" Let me be very clear - my goal is to create shareholder value in an honest, transparent and compliant manner. We believe PDN is well-positioned as our platform to conduct business operations in both China and the United States. "
Investing in companies doing business in China has always been a high risk/high reward proposition and the only way to minimize the risk is by having transparency in management.
A second risk is the low share count and float. While low share count allows much higher potential earnings it does make the company liable to have large price swings on low volume. Stocks with low floats have a tendency to be illiquid at times and can make it difficult to procure or sell large positions.
Star Power
Another interesting twist is celebrity Ms. Star Jones has been the President of Professional Diversity Network, Inc. since September 2014. Described by many as one of the hardest working individuals they know she is a unique member of this team and brings with her a huge following of high net worth investors. Ms. Jones also is the President of National Association of Professional Woman (Napw, Inc.) and was responsible for the overall expansion, integration and implementation of NAPW's development and programming strategy for its 800,000 members.
1st Quarter Results an indicator of China's enormous potential
With the launch of the China business they generated $324K of revenues with just one event. They have already had 3 events in the second quarter and plan 20 more during the rest of the year. From the press release on 5/15:
"Management strongly believes in the viability of our China Operations model, which forms the basis for the substantial investment made by CFL. We are excited about the team we have assembled to execute this strategy, and believe our early results confirmed our plans.

We plan to launch our China-based women's networking business over the summer months in 2017, and our international education support business in the fourth quarter of 2017."
(Source: Company Press Release)
Summary
A recent trend in the market has been for companies to raise money with secondary offerings at discounted prices to the most recent closing price. This typically has caused investors to quickly sell their shares and many times have driven the share price well below the actual offering price. In this very rare case this investment group paid a large premium when they did their investment and it is obvious they have no plans to try and make quick money. They are here for the long haul to increase shareholder value and one of the targets is expansion into the Chinese market. While I have pointed out investing in China can be risky it seems like the investment group, which is based in China, would have a significant advantage over other companies trying to do the same thing. Plus, with the current share price under the value that CFL initially paid for its shares, it would not surprise me to see management buying more shares.
As the company continues to execute its expansion plans in China expect investors to take notice of the improvement in revenues and earnings going forward. With the low share count expect the company to be able to generate significant earnings per shares in the next few years.
Disclosure: I am/we are long IPDN.
I wrote this article myself, and it expresses my own opinions. I am not receiving compensation for it (other than from Seeking Alpha). I have no business relationship with any company whose stock is mentioned in this article.