HUNT MINING CORPORATION (HMXZF) or (HMX.V Canada) 

Hunt Mining Corp's Martha Mine, located in Argentina's Santa Cruz province, is historically recognized as the richest silver mine in the world with production of ore grading greater than 5,000 grams of silver per ton. During the first three quarters of 2017, the Martha mill began processing remnant material from the Martha mine, and announced in January 2017 the results from the explorative drilling program. With 16 holes drilled, 7 found mineralization of more than 1,000 grams per ton of silver with one interval grading 15,471 grams per ton of silver and 28.6 grams per ton of gold over 4 meters. (Note: these are the among the best drill results I've ever seen in my 40 years of investing in resource companies).

More importantly, Hunt is one of the largest landholders in the highly prospective Santa Cruz province with 5 major mining companies currently (or about to commence) operating there; Goldcorp, Pan American Silver, Yamana Gold, AngloGold Ashanti, and McEwen/Hochschild. Hunt Mining shares are dirt cheap and could handsomely reward those investors who buy now and wait for the story to develop. It's a small, profitable, financially prudent producer, and has been ignored thus far by the market. The summer mining season is fully underway in Southern Argentina, and I expect that Hunt Mining will become a cash-generating machine in 2018.
The Martha Mine: History and future plans

On May 6, 2016, during temporary softness in the silver market, Hunt Mining acquired the assets of the Martha project from Coeur Mining for $3 million. This is a modern mine with a 480 ton per day mill that Coeur invested more than $30 million in, including land, mineral rights, a lab, offices, warehouses, and a 60 person camp including living quarters and a cafeteria— an excellent video presentation is available on www.huntmining.com. Coeur produced more than 25 million ounces of silver and 31,000 ounces of gold at Martha, until operations ceased in 2012. Average grades were 79 ounces per ton of silver (2,240 grams per ton of silver) and .118 ounces per ton of gold (3.35 grams per ton of gold). This is considered robust, high-grade material by any measure. Comparably many modern day miners can turn a profit at 1 gram of gold per ton.

Per Archie's rule—a thumbnail formula for evaluating the potential profitability of a mining company, (discussed widely by industry experts David Morgan and Bob Moriarty)--Martha's historic average grades equate to $1,488 rock per ton at today's precious metal prices. This implies that significant profitability is on the way. An NI-43101 technical report, in accordance with the Standards of Disclosure for Mineral Projects in Canada, is expected for Martha during early 2018. There is an eight-year remaining mine life at Martha, which can be extended given satisfactory future drill results. A previous operator, Yamana Gold, encountered average grades of 20,000 grams per ton of silver from the main Martha vein during the year 2000. Hunt's immediate plans are to continue to mine remnant material from underground, the Martha crown pillars, plus the displaced section of the Martha vein, which is within 5 meters adjacent to the existing vein, running a length of approximately 60 meters. (197 feet). Royal Gold holds a 2% Net Smelter Return (NSR) royalty on all production from the Martha property. In addition, the provincial government holds a 3% pit-head royalty from future production.

Related Projects:
La Josephina: Hunt Mining is also involved in other initiatives in addition to the spectacularly successful Martha mine. The La Josefina gold-silver project is an advanced stage property consisting of a 528 square kilometer mineral concession. Gold and silver occur in fissure vein systems localized in structures, often a meter or more wide and hundreds of meters long. The best exposure is Mogote Hormigas, a 600 meter long sinter-capped hill bounded by a fracture zone that includes 3.0 m of 176.9 grams per ton gold and 7.0 m of 114.1 grams per ton gold in separate trenches. Several veins on these claims will be drilled to collect metallurgical samples for bench testing and subsequently will be bulk sampled for test milling in the Martha mill with full production anticipated to begin in the first quarter of 2018.
La Valenciana: The La Valenciana gold-silver project is the second of Hunt Mining's advanced stage flagship properties. This is a 296 square kilometer mineral reserve with similar high grade characteristics to the La Josephina project above. Material from this site can be fed to the Martha mill as required.

Leadership

Tim Hunt, CEO Hunt Mining Corp.

Tim Hunt is an experienced executive, as he is also CEO and owner of Huntwood Industries, Inc. based in Liberty Lake, Washington. Huntwood is one of the largest building products manufacturing firms on the West Coast, operating out of a 500,000 square foot facility with approximately 550 employees. Tim exhibits all of the qualities of a great leader and visionary, as described in leading management books by best selling business leadership authors Jack Welch and Jim Collins.
In order to be successful in any business, a first rate executive must have each of four specific qualities; a solid work ethic, natural intelligence, experience, and personal integrity: Tim embodies each of these qualities. In addition, he is also extremely charismatic.
In reference to Hunt Mining, Tim has been active in the mining industry for over 30 years. He owns a majority of the outstanding shares and is not drawing a salary but
instead is earning option-based awards. Tim has personally loaned the Company $1.9 million of his own wealth. That's a heck of a backstop…Tim's interests are directly aligned with shareholders.

Leon Hardy, Director of Mining and COO
Leon Hardy is the former COO and Sr. VP for Coeur Mining Inc., and has over 40 years of technical and operational experience which includes 12 years in Latin America. Mr. Hardy was general manager of the Martha Mine and was instrumental from the initial startup construction and subsequent full scale operations.

Jim Meek, CFO
Ken Atwood, Controller
Bob Little, Chief Administration Officer
Klaus Triebel, Director of Project Development
Danilo Silva, General Manager, Argentina
The above group of managers and executives all share impressive educational backgrounds along with a combined 170 years' worth of experience in their respective fields. Salaries are reasonable and competitive.
Country Overview:
Argentina- Tremendous future potential
With the election of Argentina's President Mauricio Macri's pro-mining and pro-business government in late 2015, mining companies and investors are moving into Argentina—a previously underexplored country with relatively untapped mineral potential. Few investors fully realize that the Santa Cruz province has benefitted from the lion's share of major investment in Argentina, with recent examples including:
1. Goldcorp's new, high grade Cerro Negro gold and silver mine which is a cornerstone asset for the company and is expected to significantly contribute to Goldcorp's earnings in the years ahead. Their mill can operate at 4,000 tons per day.
2. AngloGold Ashanti's high grade Cerro Vanguardia gold and silver mine can operate at 3,000 tons per day.
3. Pan American's Manantial Espejo high grade gold and silver mine (near to Hunt) operates at 2,000 tons per day.
4. McEwen Mining/ Hochschild's high grade San Jose gold and silver mine operates at 1,650 tons per day.
5. Yamana Gold's Cerro Moro high grade gold and silver mine (under construction) will commence operations during Q2 of 2018 designed at 1,000 tons per day.

Key points to consider:
1. Hunt is operating in one of the safest mining districts in the world.
2. Majors are operating in a big way throughout the province
3. Hunt is one of the largest, if not the largest land owners in the province
4. This is going to be a mid-tier mining company. The mill is currently designed to be able to produce 3+ million ounces of precious metals a year annually.
5. The very hard work of refurbishing the buildings, equipment, staffing, and recommissioning the mill for processing has been completed.
6. High-grade exploration potential- "Grade is King".
7. The main Martha vein continues to produce.
8. Lots of data from past producers- two Key Coeur managers from Martha were recruited to the Hunt Team
9. Scalability
10. A great management team—a CEO with the insight and fortitude to buy a modern mine and mill facility for less than 10c on the dollar! (Current replacement cost > $40 million)
11. The vast majority of junior resource companies never mine anything…they never reach the production phase. Hunt Mining gets it- they will be extracting minerals from the ground at a profit.
12. If the exploration drill bit is kind to Hunt and precious metals prices improve significantly, Hunt Mining could be the best speculative stock investment of 2018.
13. Administrative costs are below industry norms because they run the back office out of Huntwood Industries in Washington State.
14. With a higher silver price, one of the majors will probably be knocking on the door to do a joint venture land deal with Hunt.

Hunt Mining Corporation has 63.5 million shares outstanding, or 111 million fully diluted shares outstanding upon full conversion.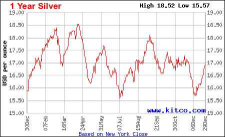 With the chart for silver looking like it wants to hit $18.5 in the near term and possibly breaking out from there this may be an opportune time to look at Junior Silver producers. Hunt Mining is not only producing and can be profitable but also brings with it some of the most valuable holdings in the hottest area of Argentina. With a producing mine and mill that can be expanded in this political friendly area, don't be surprised if Hunt Mining brings back memories of the Hunt brothers when they cornered the silver market multiple years ago.

Disclosure: I am/we are long HMXZF.