In 2012 Worlds Inc. (OTCQB:OTCQB:WDDD) sued Activision Blizzard (NASDAQ:ATVI) for patent infringement based on its original ground breaking 1996 patents. World's patents relate to computer architecture for three-dimensional graphical multi-user interactive virtual world systems also known as Massive Multiplayer Online Role Playing Games (MMORPG).  Two of these games which account for billions in revenues, Worlds of Warcraft and Call of Duty, are well known for their multiplayer communities but are only two examples of thousands of such communities that have been created over the years. Many claimed,once again, it was a patent troll trying to get some huge company to pay them off for decades old technology. Nothing could be further from the truth. Worlds Inc. developed the patents for their own use which means they are clearly not your typical patent troll and could very well be entitled to Treble damages down the road.
As has been the case from the beginning this is a true David versus Goliath story. Worlds Inc. has roughly a $17.5 Million market cap versus the $50 Billion market cap of Activision Blizzard. It should also be noted that Activision Blizzard has a very healthy balance sheet with over $4 Billion in cash.
The case has had many stops and starts over the years. They have survived an Inter Partes Review (IPR) at the USPTO, which resulted in the validation of six of the claims, specifically, claims 4, 8, 13, and 16 of patent 7,181,690 and claims 5 and 7 of patent 7,493,558.  As should be noted it only takes one of those claims to resonant with a jury to win a patent lawsuit. They have also continued to file patents with the latest one, 9110567, issuing in August of 2015. Most recently they have been waiting on a ruling in another case before proceeding forward. The WI-FI ONE case which will have a favorable impact for Worlds Inc going forward had to do with determining that PTAB'S Time Bar Determinations are Appealable. What this means for Worlds is that previous rulings that had gone against them and removed potential claims now can be appealed and they may get additional claims back. If they do get claims back this is another very positive development and further strengthens their case but even if they don't they still have a minimum of 6 claims going forward. With every litigation case it is hard to predict exact timelines going forward until firm court dates are set. I expect to see a calendar date with the United States Court of Appeals for the Federal Circuit (CAFC) get posted in the next few months to go through previous disallowed claims and I also expect to see a trial date set. Neither of these dates have been set yet but both could be very positive catalysts going forward. There is also the possibility that additional litigation could start now that the Wi-Fi One case has been favorably resolved.
Law Firm of Susman and Godfrey
It is also important to look at the law firm, Susman and Godfrey, that is representing Worlds and has been on 100% contingency since day 1. In 2018 they were named for the second year in a row a 'Class Action Group of the Year' firm.
Susman Godfrey has once again been named a 'Class Action Group Of The Year' by Law360 in recognition of its successful prosecution of  high-profile class action matters in courts across the United States, in which it has helped to obtain hundreds of millions of dollars in recoveries for the classes represented by the firm.
While this is quite the honor Susman Godfrey has long been known as one of the top notch boutique firms specializing in patent law.
The firm's accomplishments this year led to over $1 billion in settlements for plaintiffs including automotive component part purchasers, rock stars, animators, music copyright for owners, egg purchasers and "over-the-counter" financial instrument investors.
The key point being this company did not take this case on 100% contingency if they thought they were not going to win. They also had to figure it would take a lot of time and money to get to the finish line and were willing to commit the resources from the start. Sometimes betting on the jockey is a better strategy than betting on the horse.
Additional assets that could fund future growth
Worlds is also the owner of 5.5 million shares of MariMed (OTCQB:OTCQB:MRMD). The MariMed shares, like a lot of cannabis related stocks, has appreciated greatly over the last few years and is currently a $4 Million asset that Worlds can sell, hold or slowly bleed off shares in the future if they need more funding to pursue other potential infringers. Not many patent companies are in such a solid position after five years of ongoing legal battling with a Goliath. The fact is most companies like Activision will do whatever they can to prolong litigation as they figure it will either greatly weaken their opponent or force them to settle for pennies on the dollar. In this case it is not going to happen. One other possible use for the MariMed dollars would be to instigate a share buy back as $4M could buy a lot of Worlds shares at its current price and could turn out to be brilliant use of the money if a win or settlement occurs down the road.
Charts
Since the middle of December the stock price has been trending upward on increasing volume. Since the positive Wi-Fi One ruling in early January volume continued moving upward along with the share price. Looking at a long term weekly chart shows the stock at a 2 year high and a long basing period for over a year. Given upcoming catalysts in 2018 and no obvious overhead in the chart there could easily be a large run coming with continued favorable case rulings.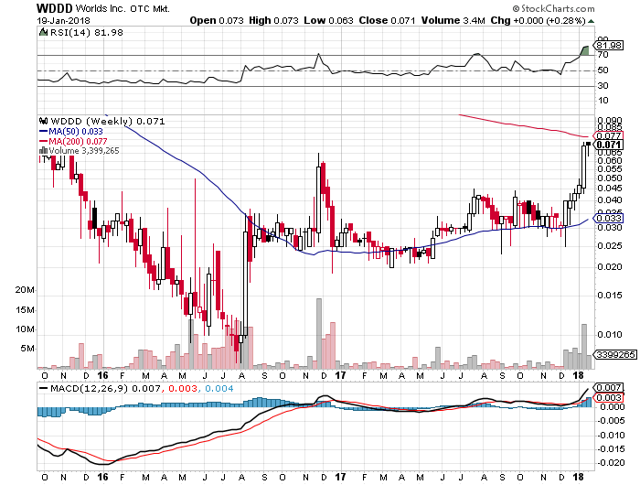 Charts courtesy of Stockcharts.com
Risk versus Reward
As with any investment understanding the risk versus reward is important. This investment is highly speculative and could be a huge home run or possible total loss. Some of the estimates I have seen put the potential infringement in the billions of dollars. Those types of wins are far and few between and it is much more likely a settlement would be reached prior to any huge jury win. As the company continues to progress towards court dates I would expect the speculation to continue to increase along with a rising stock price. While activity has been fairly quiet for a while due to temporarily putting the litigation on hold, that no longer is the case and it seems like the stock is ready to start moving back up to a more realistic market cap well above its current value.
Disclosure: I am/we are long WDDD.