It is not often that investors can jump on the hottest stock bandwagon at a discount and also receive ten bagger potential lottery tickets at the same time. Worlds Inc (OTCQB:OTCQB:WDDD) is one of those rare opportunities where this is true but it also still is a totally speculative investment. As we say in the investment world: Widows and orphans stick with AT&T (NYSE:T), General Mills (NYSE:GIS) and Verizon(NYSE:VZ) for your safe plays. Only money that can be lost should be invested here.
World's Inc current management back in 2011 spun off a company that is now called MariMed (OTCQB:OTCQB:MRMD) while retaining a large number of shares.
MariMed Inc. (the "Company"), a Delaware corporation, develops and manages state-of-the-art, regulatory-compliant facilities for the cultivation, production, and dispensing of legal cannabis and cannabis-infused products. Such facilities, located in multiple states, are leased to the Company's clients in the emerging cannabis industry. Along with operational oversight, the Company provides its clients with legal, accounting, human resources, business development, and other corporate and administrative services.
The Company also provides professional consultative services in all aspects of cannabis licensing procurement. To date, the Company has secured, on behalf of its clients, 11 cannabis licenses across five states—two in Delaware, two in Illinois, one in Nevada, three in Maryland and three in Massachusetts. Accordingly, the Company has developed seed-to-sale cannabis facilities across of these five states in excess of 300,000 square feet.

What makes Worlds so unique is as of its latest filing, June 30th 2018, they owned 4.2M shares of MariMed. With MariMed's recent price rise to $5.39/share that makes World's stake worth over $22M and roughly .40/share based on 56M shares outstanding. For a stock selling at .28/share that would be a 40% gain. Also while there is no long term debt there are notes that could need to be paid off but the cash on hand should be sufficient, if needed, to handle that without selling many more shares.
While it is a very rare case that a small company actually has hard assets worth far more than it current valuation(40%) while holding on to a rocket ship what World's real ten bagger valuation comes from is its long term valuation of its IP portfolio. The recent favorable ruling "Worlds Wins Full Reversal of PTAB Invalidation Ruling from U.S. Court of Appeals for the Federal Circuit (CAFC)" on September 10th, 2018 led to these comments by Worlds CEO Thom Kidrin:

Thom Kidrin, Worlds' Chief Executive Officer, commented, "We are quite pleased with the recent CAFC ruling and we are prepared to return to the PTAB for reconsideration of the Bungie-Activision relationship. The Court's decision demonstrates that the appellate judges on the CAFC are concerned about the PTAB's procedures for determining when IPR petitions are time-barred.
.....
I hope that we can reach a favorable final outcome soon in this matter, so that we can return to our federal case against Activision and also proceed with addition litigation against other infringers."
For additional information on this case a previous article I wrote, Worlds Inc: A Modern Day David Versus Goliath Story As They Move Closer To Getting Their Day In Court Against Activision Blizzard, Inc,
can be reviewed. As is obvious by the date of that article litigation moves at its own pace and when anything actually happens is speculation at best. As mentioned in the previous article the law firm of Susman Godfrey whose motto is, "High Stakes High Rewards", continues to represent Worlds and is no stranger to large awards and is considered one of the top litigation firms out there. While I do not claim to be an expert in litigation there is no way a company like this takes a case on contingency unless they are confident they can win or settle. Sometimes it is the jockey more than the horse that wins. In this case I believe the horse is a thoroughbred and the jockey is already in the hall of fame.
As part of the first annual American Lawyer Industry Awards, Susman Godfrey has been named a finalist for Litigation Department of the Year in Texas. This follows the firm's Houston office being named a Texas Powerhouse by Law360.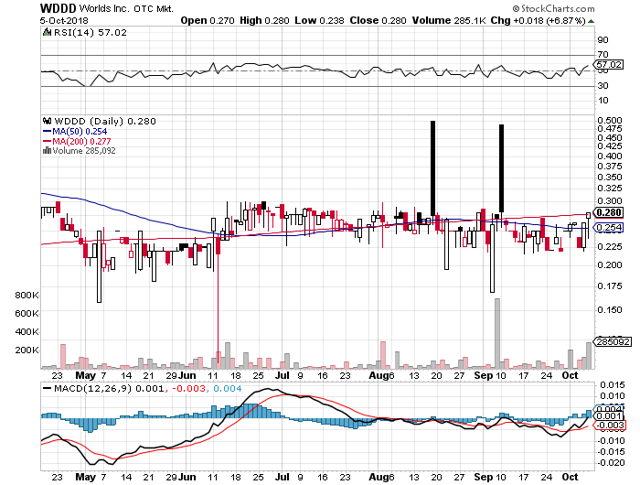 Courtesy of stockcharts.com
Looking at the weekly charts can also be an indicator of potential breakout in stock price. In this case the stock has been basing for many months in a very tight range. With potential catalysts going forward of a trial date being set, additional lawsuits and continued stock appreciation of MariMed shares a break out could occur at any point.

While all investments are speculative it is rare that a potential ten bagger ($3 price target and a $168M market cap) can be purchased at a steep discount to its hard asset valuation. Some IP litigation valuations have been in the hundreds of millions based on just the Activision(ATVI) lawsuit. Keep in mind Activision has a $60 billion dollar market cap and almost $5 billion in cash so getting to a day in court could be a reward far beyond what has been conservatively speculated at. What kind of sympathy will any jury really have towards a company that makes billions a year on violent roll playing games for kids that has spent a very long time delaying its day in court? Add in possible lawsuits against almost every other game developer in the world and suddenly a ten bagger does seem possible while taking almost no down side risk with the current price of MariMed. Of course no one knows what the marijuana stocks will do going forward but here is a speculative play on the hottest investment area out there while getting free Mega Millions lottery tickets.
Disclosure: I am/we are long WDDD.