Did you know that while it may only take you 15 seconds to drink your plastic bottle of water, it takes 1500 years for that same plastic bottle to decompose? Did you know that by the year 2050, the world's oceans may have more plastics in them than fish? Think about that for just a second, we're talking a full-blown potential global environmental crisis that could affect us all and 2050 is just 30 years away! Unfortunately, the problem is a cumulative problem so waiting for 29 years to attack it is not going to work. In fact, many people believe it may already be too late even if we started now.
With over 350 million tons of plastics made each year and only a small percentage recycled, the world is literally drowning in plastics. A 2017 study concluded that of the 9.1 billion tons of plastic produced since 1950, close to 7 billion tons are no longer in use. The authors estimate that 9% was recycled, 12% was incinerated, and the remaining 5.5 billion tons remains in the oceans and land.
For those not aware of the severity of the problem facing us, just look up the Great Pacific Garbage Patch, a picture is worth a thousand words and this video is even more insightful.
Many eco-friendly companies, who utilize plastics, have set steep mandates of finding solutions to these problems sooner rather than later. One of the leaders is Evian a household name in the bottle water space. Their mandate is by 2025 to have 100% of their plastic bottles made from 100% recycled plastics and their key technology partner is a company called Loop Industries (Nasdaq:LOOP).
Loop Industries is not exactly a household name, but if you visit their website they have some big goals. They want to be known as the equivalent to the expression of "Intel Inside" but for plastic materials with the name Loop on every bottle made from 100% recycled plastics. I see them more as the BASF of plastics where they are an enabler to getting to a circular plastics economy. At the heart of BASF is a huge chemical company and at the end of the day, Loop too has similar potential in time.
So maybe they are a combination of both "Intel Inside" and BASF. Perhaps instead of the well-known concept of "making products better" they could use the slogan "remaking better products".
So, what is the story behind Loop Industries? They are a true garage start-up reminiscent of Apple and Hewlett Packard. This recent Forbes article, How Loop Industries Is Becoming The 'Intel Inside' Of The Circular Plastics Economy, gives much of the detail of how they went from incubating in a garage and then making the necessary steps to building their own prototype line which can be seen in operation here.
As with any new process, viability is gained by showing and by demonstrating the process in action on a much smaller scale. They appear to have done exactly that having attracted the attention of some of the world's most recognizable brands all who have their sites on meeting their own aggressive sustainability goals in upcoming years. Loop Industries ultimate goal is to make plastics a circular economy of reuse as shown in this picture that I found when reading this Loop article The Shift from a Linear Economy to a Circular Economy is Necessary and Possible.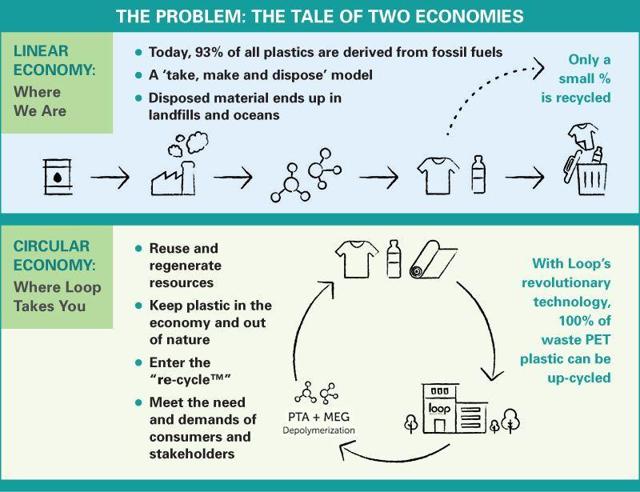 Partners
While I am not going to try and become an expert in chemical engineering, I will trust the big-name partners who have already clearly done exhaustive due diligence. Companies like Pepsi (PEP), Evian and L'Oreal (OTC:OTCPK:LRLCF) all have research budgets in the billions and are looking for these types of discoveries that can help them meet their long term goals. They generally do not affiliate or attach their brand to small companies, let alone enter into publicly disclosed partnerships with them.
This is for two reasons. One, they do not want their competition knowing what they are doing, and if they have plans to acquire the technology, they sure don't want other companies starting a bidding war. One of the other partners I did not mention above could be the biggest player and that is Indorama Ventures or IVL. This joint venture announced September 24, 2018 is with the world's leader in PET manufacturing. They have 75 production sites in 26 countries.
Here is perhaps the most significant take away. Commercial production is scheduled to start in approximately early 2020 or basically around one year away. That milestone could clearly be a sizeable catalyst.
Opportunity
One of the key ways to access any new company is to try to figure out what the market opportunity is. From the Loop Industries investor presentation the estimate is over $4.5 billion in revenue from just the top four companies of which two are already partners. One can only assume more must be on the horizon. Since this comes from the investor presentation, all numbers must be taken with a grain of salt. That said, it certainly does give a feeling for the size of the potential market, and it is simply huge. The business model I see with these large companies is a royalty-based system where the company gets a small payment for each produced item. They also mimic the BASF philosophy of adding value to everything they do.
Risks
As with any investment understanding the risks is key. Loop Industries is a startup meaning they will be looking to raise money. Startups are in one of three states: Need money, raising money or just received money. Until they can get the royalties flowing they will have expenses. Although I would expect the strategic partners to fund all of the building up of manufacturing there will still be expenses for Loop. They are burning roughly $3.5M/quarter and have roughly $3M in cash as of the last quarterly filing in October. There is no doubt they will be looking to raise money. The good news is there are a lot of eco-friendly and traditional funds out there looking for a story like this that has both a growth appeal along with an environmentally conscious element. Importantly they appear to have a strong existing shareholder base, many of which appear to be long term believers and high insider ownership.
While raising money is always dilutive, the result in this case is the unlocking of a billion-dollar plus ultimate revenue opportunity in just a year. If they just got a fraction of their existing partners business, the magnitude of the opportunity is simple immense. Of course, there is always the risk the one of their Fortune 100 partners takes a much larger equity stake in the company or takes them out entirely. This type of technology is so disruptive that I could easily see one of their existing partners making an aggressive offer. Let's hope that's not the case as it will be much better for the world to create the next BASF, remaking better products, than having a company like Coke (NYSE:KO) exclusively own the keys to the recycling kingdom.
Conclusion
Loop Industries will appeal to many types of investors going forward. There are those funds and foundations that like to invest in a socially conscience manner, and in companies that offer a real solution to real world problems while promoting sustainability. Truth is that most major companies are quickly realizing they need to do their part and that consumers are becoming more aware of what brands are doing for the planet and future generations. Whether it be getting clean water to everyone on the planet, reducing air pollution, or eliminating plastics that cannot be upcycled to their original state, the list of companies for these investors to choose from is limited. I predict Loop will be soon appearing on many of their radars, if not already. Once a recognizable name takes a sizeable position in the stock, the cat will be out of the bag and the stock will likely not be trading sub $10 like it is at the time of this article.
Of course, there are other investors who like to find companies with the next great mouse trap addressing a large market opportunity, while having a strong barrier to entry. To those investors I would say changing the world doesn't happen overnight. Adoption of this technology is still early. Again, they are enablers working with companies with hundreds of billions of market cap. While the time is early for investing, there will be a time when the valuation will have increased substantially from where it is today.
There are very few companies out there who can make as big of impact on the environment in just a few short years as Loop Industries. Not often can investing in a company be a great investment capable of generating sizeable returns in your portfolio, but it also has the potential to directly solve one of the largest environmental crisis to ever face our planet. If the picture below doesn't put things in perspective and cause you to fear for where we will be at in just 30 years, then little will.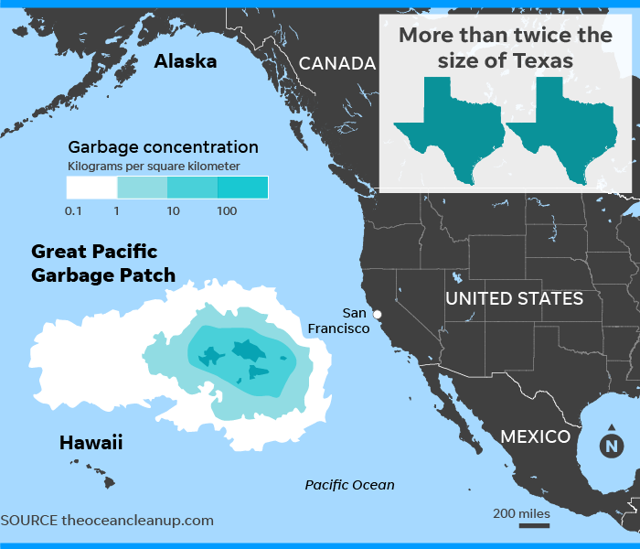 Disclosure: I am/we are long LOOP.
I wrote this article myself, and it expresses my own opinions. I am not receiving compensation for it (other than from Seeking Alpha). I have no business relationship with any company whose stock is mentioned in this article.