Southern pacific resource corporation (STPJF) is a worth looking into at its current price. STP is a publicly traded oil and gas company engaged in the development, exploration and production of in-situ bitumen and heavy oil assets in Western Canada. The company has 2 main plants:
1. STP Senlac - Currently produces about 2100 bpd of heavy oil. Low total operating costs, reduced diluent requirements and favorable royalties allows STP-Senlac to generate consistently strong netbacks. Opportunity to drill additional wells to expand capacity to 3500 bpd
2. STP McKay - Oil sand leases in McKay (Alberta) which have been independently assessed to contain 263 MMbbls of proved reserved and 102 MMbbls of probable reserves. Company has invested $468MM in a bitumen production plant with current capacity of 12000 bpd. And here comes the twist. Plant has been able to achieve production of only 2000 bpd since coming into operation in late 2012. Improper construction has led to sub optimal recovery of produced oil. STP has plans for several engineering projects that should increase oil collection but funding has dried up and company needs additional capital to make the required changes to improve production.
Market has punished the stock heavily for the performance of its McKay plant. Stock price has come down 85% since peak in Q3 2012 when McKay first started production.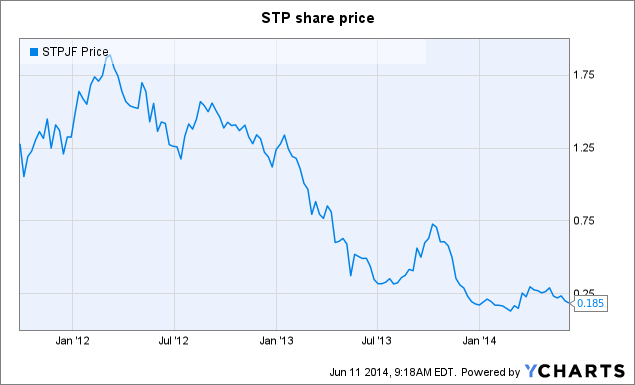 STP announced in Dec 2013 that it has started a review of strategic and financial alternatives to enhance shareholder value meaning its looking for a buyer with strong capital position who can invest money to fix the McKay plant and bring production closer to capacity.
Here is why I think this stock deserves attention:
Stock is trading significantly below book value. Company owns assets of $1B primarily PPE of its 2 plants and has liabilities of $670MM which are mainly the loans it has raised. Book value is close to $1 per share while market value is $0.20 per share. It is interesting to note that stock was trading for much more than book value in 2012 when McKay plant was expected to produce according to capacity
STP - Balance sheet - 31 Mar 2014

| | |
| --- | --- |
| Current Assets | $90 MM |
| PPE | $975 MM |
| Total Assets | $1.07 B |
| Long term debt | $540 MM |
| Total liabilities | $670 MM |
| Shareholder equity | $403 MM |
If STP is able to find a buyer then stock price could quickly increase 2x-4x getting closer to its $1 book value
WTI oil price is close to $100 now, increasing the possibility of a deal
If no buyer is found, then in the short term STP is likely to use its current assets of $90 MM to make engineering improvements to increase oil production.
Of course there is a possibility that in absence of a buyer, STP runs out of cash fast and has to declare bankruptcy. Existing PPE may have to be sold significantly below value and little or nothing may be left for shareholder after the loans are paid
I am a value investor but I believe that a small percent of your portfolio (~2%) should be in stocks that are speculative and have a chance of increasing several fold in value. It is easy to under estimate how much of an impact an upside can have on your overall portfolio.
As a simple case, lets assume 98% of your portfolio is in safe stocks that generates 10% annual return and 2% is in speculative stocks that can either become zero or 4x in value.
Annual return if:
100% investment in safe stocks - 10%
98% investment in safe stocks, Loss on 2% speculative - 7.8%
98% investment in safe stocks, Gain on 2% speculative - 15.8%
As highlighted here, any upside can have a material impact on your overall portfolio returns.
I would recommend this stock to any investor with an appetite for a small risky investment