Coffee is not my morning ritual, but nothing gets my juices flowing like a stock or commodity hitting a multi-year high, and barely making a media blip. Its the making of a perfect under the radar type trade. Coffee, like Iron Ore and other commodities, have risen dramatically in 2010, with Coffee reaching a 13 year high (nominal). Now the question is, where do we go from here?

There are two answers to this riddle, and not because I am a waffling politician. It ultimately depends on ones holding term. Those with a long term view of over 1 year, will see every commodity eventually fall to the historical mean and that means coffe at around 135. Those with shorter investment time frames, will likely continue to put money behind commodities, as the dollar weakens long term against other currencies.


Long Term View: Within a year of today, Coffee will be trading at its average or lower of 150, down from the 220 it breached today. If you look at the historical chart for coffee futures, every spike to all time highs, are followed by drastic price declines. But coffee has room to roam, with a falling dollar and rising commodity prices.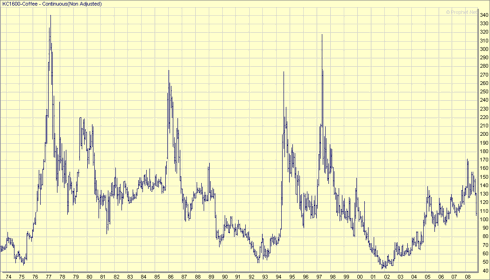 Short Term View: Coffee will most likely breach 250 and top out at 300 in the near term. Questions about coffee producing regions will potentially squeeze supply, and although volatility is high in this futures market, with a weak dollar and growing world-wide demand, I wouldn't be surprised with a quick rise in the near term.

Coffee has been out-performing GOLD (NYSEARCA:GLD) and Apple Computer (NASDAQ:AAPL) over the past 6 months, as shown in the graph below.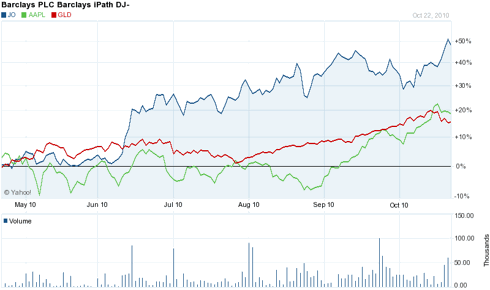 Gold and Apple are the Cinderella "bubble" stocks of 2010. But coffee is in the espresso lane.

Disclosure: No Positions in Stocks mentioned