XLI Monthly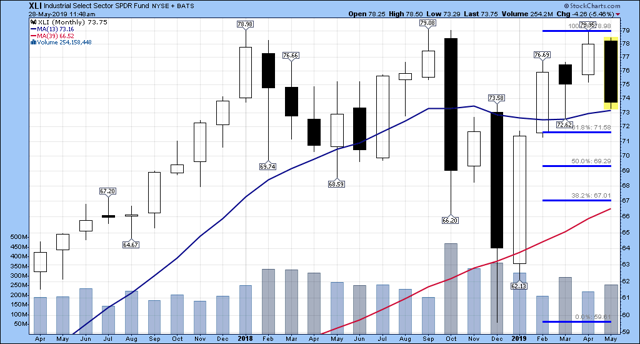 Triple Top
This triple top is a thing of beauty.  The three highs, using dividend adjusted prices, are within 13 cents of each other.  Note the immediate sharp pullbacks from each of the tops.  The tops are all about 6 months apart.
Retracement of 2019 Advance
The advance from December 2018 lows morphed into a consolidation near the 13 month moving average, but I think the 61.8% (Golden Ratio) fib retracement is a better target as that level corresponds to the February 2019 open price.
It should be noted that as we get closer to that area, the probability of it being broken to the down side increases.  Both the January and February candles are what I call pure, almost all body (area between the open and close) with almost no tails at either the top or bottom.  My guess is that the implication of that is that much of the support here is soft, as the February surge candle has almost been taken out.  
The blue Fib lines show other excellent targets such 69.30 or so for a 50% retracement.
The next level, just below 67, is near the 39 month moving average.  That level corresponds to about 2510 on the S&P 500.  May through September are usually the worst months in the year for the market so it seems there is a real (albeit relatively small) possibility of seeing levels like that around the end of summer.
Conclusion
The late April top is unlikely to be broken this summer. 
With the 6 to 7 month spacing between the tops, a new assault might be expected by late 2019 or early 2020.
Most likely XLI will settle into an intermediate term trading range of about 67 to 75.