At 7pm Oct. 19, 2010, China's PBOC surprised with its first interest rates hike since Dec. 2007 -- marking the start of a more aggressive phase of monetary tightening in the face of resurgent asset prices. The move also readies the world 's second biggest economy in dealing with the wave of liquidity that it fear will come with QE2 in the US. 

The rate hikes were asymmetric: 5-year deposit rates rose 60 basis points to 4.2%, but lending rates were raised just 20 basis points to 6.14%, suggesting Beijing is still keeping an eye on economic recovery. The hikes aimed to close the negative interest rate gap as recent rise in inflation has put the real interest rate into negative territory.  

With higher rates, Beijing can afford to rely less on currency appreciation to keep the economy on an even keel as rate hikes could dampen asset bubbles.

Economists expect at least two more rate hikes by mid-2011 i.e. 50-75bps for 1-year deposit.  September CPI reading this week is expected at 3.6%.




            
New Rates
 
Deposit 
Lending
6 months
2.20 (+22 bps)
5.10 (+24 bps)
1-year
2.50 (+25 bps)
5.56 (+25 bps)
5-year
4.20 (+60 bps)
6.14 (+20 bps)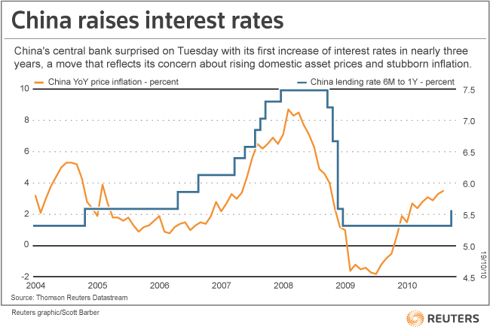 Disclosure:
No stock holdings