The swift reversal to lower prices over the previous nine weeks has lead to the breaking of key supports, signaling long-term shifts away from bullish momentum.  After breaking monthly support for the 1st time in 10 months in November, prices are on course to break 1st Quarterly Support for the first time in over five consecutive quarters.
Going into year-end, the focus is now on 2nd Quarterly Support at 94-08+/94-27 (3.236/3.307) as the next major hurdle to further downside.  Note that in the eight prior tests of 2nd Quarterly Support since 1998, prices have always closed in or above the zone by quarter-end.  Nonetheless, prices would need to break above 1st Weekly Resistance (held for the past nine consecutive weeks) in order to signal the holding of 2nd Quarterly Support and a lasting return to upside.
With trends firmly bearish, sellers should continue to fade rallies into high probability 1st Daily Resistance (held for ten consecutive days) and tests of 1st Weekly Resistance until broken.  Buyers looking to fight the current trend should look to 2nd Quarterly Support with tight stops set below.
Outlook for Tuesday:
Zone                                                Test/Hold
1st Wkly Res         95-04+/95-11+      40/59
- - - - - - - - - -
1st Dly Res           94-28/94-61+        49/58
Last: 94-14+
1st Dly Sup           93-24+/93-28        49/55
- - - - - - - - - -
2nd Qtrly Sup       94-08+/94-27        n/a
1st Wkly Sup        93-04/93-11          46/58
Please see the UST Zone and Prob Report for further details.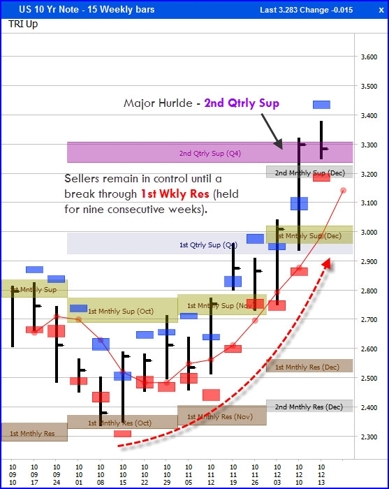 Disclosure:
I have no positions in any stocks mentioned, and no plans to initiate any positions within the next 72 hours.
Additional disclosure:
We do not carry any positions in order to maintain objectivity in our technical research.