I know it's meant to be "the forest through the trees", but it is Aqua Metals, so bear with me on this one; when it comes to AQMS, investors are ignoring the big picture and focused on minutia. This is creating a buying opportunity for those of us who can see past the ends of our noses, or at least out a quarter or two.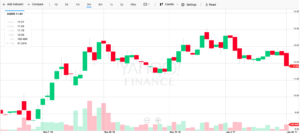 Aqua Metals stock has been weak for the last month. Since trading up to $14, it has retreated about 15% off its highs and the selling seems to be ongoing. Perhaps as the stock trades down, we should revisit what sent it to $14 and why it seemed like a bargain even at that price, much less below $12. Here are four reasons that the stock went higher, along with the "bear" case surrounding them. Spoiler alert: I think the bears should go back to hibernation for their own good. But anyways, without further ado...
Bulls: the company is in production. This is huge news as AQMS has a process to recycle lead batteries CHEAPER and CLEANER than anyone else. A $22B industry has just gotten turned on its head. Bears: we don't know the volumes and who they're selling it to or if they even booked revenue yet. Seriously, who cares?!? I get it, when you're analyzing something like a mine that is running at full capacity, you want to see how the performance is as that will gauge future volumes and cash flows. However, this is start up phase. AQMS is like Tesla...if you look at each month's production, you might find that it shifts around. However, looking at the growth rate and the size of the opportunity is the right analysis.According to the CEO, "we expect to run through January on a single shift and then in February and March increase to two shifts, three shifts and four shifts." Okay, so the volume is likely below some expectations today as they won't hit 120 tons per day for a little while yet. Once again, who cares? In a few quarters they will be going full tilt and early stage ramp up will be a distant memory.In my interview with Stephen Clarke he states, "we're making high quality four 9s lead and we're pretty confident that we'll be able to make five 9s lead in the short term." AT the risk of being trite, let me just say that lead is a commodity. You make pure lead, you'll be able to sell it. Period.Do I care if he sells it in December or in January? Not at all. The most important thing for AQMS is to prove that they can produce it both cheaply and in quantity. That's what they're doing. The next earnings call will be very interesting and should lay to rest most doubts regarding production, sales, product, etc.
Bulls: they are going to enter into multiple licensing deals. Once again, this will be huge news for AQMS when it is announced and the anticipation of the event certainly helped cause the runup in price. Bears: nothing has been announced. Totally true. However, the lack of an announcement doesn't mean there won't be one. The bears are taking the other side of a trade that is skewed against them.The announcement of a partner shouldn't really be a big catalyst for Aqua Metals. This is because they have been very upfront about it coming. "We're confident we'll be announcing some licensing deals in Q1 of next year and planning an accelerated rollout," Clarke said in the December 16th interview. Now, I believe the partnership is big news for the company, I just don't believe it should be a big catalyst. Because, with the guidance given by the company, one would think it should be priced in the stock.However, I don't think it is priced in the shares, and that's what makes for great investments; the ability to make money off an event that has been foretold. In my opinion, there is little uncertainty around the partnership, yet the market acts otherwise. I'm going with the CEO on this one. Expect Q1 to assuage all concerns over a licensing partner.
Bulls: the model is replicable and scalable. Bears: where's the announcement about the second facility? I feel like this argument is quite similar to the licensing one. The company has stated all along that they would be in production before announcing a second facility (or a partner for that matter). They are now in production. They also have just gotten a ton of funding, which should enable them to have the equity required to move forward on a facility. This is going to happen. We are near the announcement. Next week? Next month? Next Q? Sooner is better, but, in the long run, it's all noise. There will be many facilities and investors who participate now will be enjoying the announcements as they come in the future.
Bulls: the company is fully funded, in production, and insiders just purchased more shares in the latest offering. Yet, there's a massive short interest. Bears: someone must know something to be short all this stock. I have to admit, this one is the most interesting of all the "issues" around this stock. I feel that, fundamentally, AQMS is going to lay any and all concerns to bed in the next few months. Yet, short interest has been increasing?!?I guess at this point I have to ask myself, "what are the potential problems with the AQMS story?" I can only come up with one...things go seriously awry if the process doesn't work as advertised on a cost basis.I mean, we know it works, they are producing four 9s lead at this time and ramping up. We know it's clean. The environmental permitting was pretty straightforward and they are running it without issue. I guess the only possible hiccup in my mind centers around costs. I'll grant you this: If the facility can't operate at a cheaper cost than competitors, this story is deep trouble.Does someone know something negative about the production costs of AQMS? I find that highly doubtful. On the other hand, when Interstate Batteries invested in Aqua Metals, they did a ton of homework. I find it more likely that they knew the costs of production when they invested. I would also guess that the CEO and board members who just bought stock in the secondary have a good sense as to the costs. Furthermore, all communication from the company is very consistent in terms of speaking to the actual hard dollar cost savings of their process versus the current business practices that exist. They have spoken many times to an IRR of 30% for each facility. That's a big number.So, in the cost of production, we have yet another concern that should be addressed in the next earnings call. This is truly the biggest risk in my mind, yet a risk that I think has minimal likelihood of being a real problem. And, if I'm correct that these shorts are lingering due to a concern over costs that will be dispelled on the earnings call, we have a huge buyer in the wings.
In conclusion, I believe that AQMS stock is trading down over a number of really unsubstantiated concerns, each of which will be addressed in the next earnings call. True, as with most startups, Aqua Metals has missed their timelines. However, the big picture is still intact and there's a ton of blue sky in front of this company. Ignore the noise and enjoy the ride. AQMS will dispel investor concerns going forward and those willing to look through the rain at the sea of opportunity in front of them.
Disclosure: I am/we are long AQMS.