When I last wrote about biOasis, I compared the shares to a designer suit in Filene's Basement, a store where each week items were marked down. If you waited, you could get a better price; but, if you waited too long, it could be bought by another bargain hunter resulting in an opportunity lost. For those investors who looking to purchase biOasis shares at bargain basement prices, if you didn't act prior to their recent announcements, you waited too long.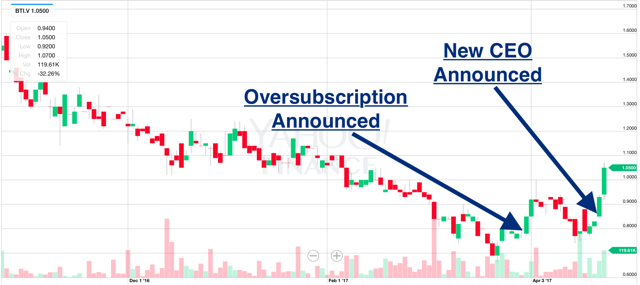 In the last three weeks biOasis has completed a financing and brought on board a new CEO. These are transformative events for the Company, the result of which has been a 50% rally in the shares of BTI.V from their lows in March.
"FINALLY, IF AND WHEN A TRANSACTION IS PRICED, WE FULLY EXPECT TO SEE A RALLY IN THE SHARES. AND, IT COULD BE QUITE SHARP." ~ TAILWINDS, MARCH 12, 2017
As predicted, the rally has come and it has indeed been sharp. Does this mean that you've missed the move? What should investors do when they see shares of biOasis go up 50%?
At Tailwinds, we have been positive on the shares of biOasis since $1.34 and, in our opinion, the company has never been in a better position since its inception. With the recent announcements, the business prospects of the Company have been severely de-risked and, while the share price is up a lot, biOasis is still a bargain.
Two Points to Bring Up Regarding the New CEO
When looking at the resume of Dr. Mark Day, the new chief executive officer for biOasis, there's really only way to describe him; a perfect fit. According to JDStox, a long time follower of biOasis, "He's an industry insider, a neuroscientist and a business development guy who's not only been "in the room" but he's been "at the table" through a lot of years, a lot of deals and with a lot of major players."
Dr. Day not only checks all the boxes, he jumps right off the page. This combination of industry expertise, experience and connections is very important to biOasis. Right now, the Company has a burgeoning pipeline of potential partnership opportunities. Dr. Day's the right man at the right time to bring those deals forward at a rapid pace.
Thus, the first key point to make about his hiring is that, under Dr. Day, I expect to see an acceleration of the partnership opportunities, leading to more deals sooner. Thus, giving the shares more catalysts.
The second point to make is that, by joining the company, Dr. Day has derisked the core technology. Simply put, he did not need to join biOasis, but wanted to do so. By staking his name and reputation on this tiny, pre-revenue company, Dr. Day has basically said that he believes the technology works.
"I consider the biOasis Transcend Platform to be one of the most unique and promising blood-brain barrier technologies of our time… The Transcend Platform may finally give the pharmaceutical industry the ability to design neurotherapeutics with the knowledge that, no matter a drug's chemical structure, the Transcend peptide can likely be used get it across the blood-brain barrier in a very natural and cost-effective manner." ~ Dr. Mark Day, April 24, 2017
The core thesis behind Tailwinds' support and investment in biOasis has been that the technology is a game-changer for CNS therapies that has been significantly undervalued by the market. As Dr. Day says, "The unmet medical needs for this are huge." By having a renowned industry expert put his seal of approval on the Company's technology, one can reasonably expect the market to finally start rewarding biOasis with the multiple it deserves for having developed a ground breaking platform technology.
2017 Will Be a Year to Remember
I firmly believe that 2017 will be the year to remember for biOasis investors; the year in which the great promise of Transcend finally gains significant traction. In the past, the investment has been on bringing Transcend to a point where potential partners will step up and license it. This is a lot of hard slogging, pre-clinical work and nothing too exciting from a market perspective.
Going forward, it's about getting human data from the new clinical trials that are about to be launched, and signing licensing agreements with major pharma companies.
This is where the recent financing is a further game-changing event for the Company. biOasis has never had human data, which has been a major roadblock in terms of getting licensing deals. The combination of Dr. Day and ongoing human trials, should position the company well for an acceleration of that process. And, with the pre-clinical success shown by Transcend, I'm a firm believer that we'll see similar positive results in humans. Which would be huge.
At Tailwinds, we have always been huge believers in biOasis, the Transcend platform, and the genius of Rob Hutchison in bringing it all to fruition. For some investors, it's been a long road. However, with the transformational events of hiring Dr. Day and completing a needed financing, biOasis looks set to start achieving some significant catalysts. As such, as shown by the recent rally in the shares, biOasis looks poised to be a very exciting Company in 2017 and beyond.
Disclosure: I am/we are long BIOAF.