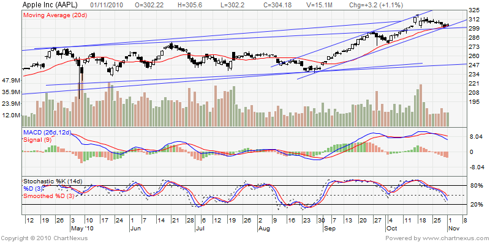 Oh how I love my Macs and my iPhones and my iPads. Seriously who cares what the product is, I want a piece of it as long as it's from Apple Inc. That's how impressive Apple's marketing strategies have been.
The 4Q result announce not too long ago by Apple Inc shows a record revenue of $20.34 billion and a profit of $4.31 billion. Apple Inc has sold 3.89 million Macs, 14.1 million iPhones, 9.05 million iPods and 4.19 mil iPads in the last quarter itself. All product lines seems to be growing except for the iPods which I feel Apple is trying to rely lesser on.
The new MacBook Air looks impressive and judging from my friends' reaction to it, this laptop will most probably be a hit as well.
Looking the AAPL chart, the stock seems to have reached a recent support trendline. I always believe in buying good counters during trendlines. This seems like a good value buy for the near future.
Disclosure:
Long AAPL