I finally broke down and bought a share of AAPL today. It closed near where it opened; down 5.48% today after the unveiling of iPhone 5C and 5S.
I think that the market is incorrectly interpreting iPhone 5C's expensive price tag (though quite a bit less than the 5S) incorrectly. Apple (the company) is playing to its strong suit of high-margin products, not market share. With their steadily increasing book value, solid (albeit shrinking) margins, and their immense and growing cash pile, I think Apple's managers are well-positioned to play by their own rules, which should eventually reflect in AAPL (the stock's) market valuation. Although history shows that cash flows today are more valuable than speculative growth that may or may never come to fruition, I believe AAPL's modest P/E shows that the market may be discounting potential revenue growth from China, AppleTV, or even an iWatch. This all combined made today's dip an irresistible impulse buying opportunity for me.
Here are some 10-year graphs to make my points more clear*.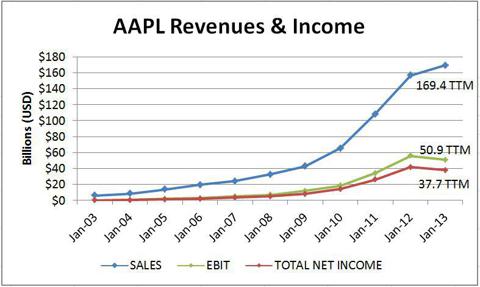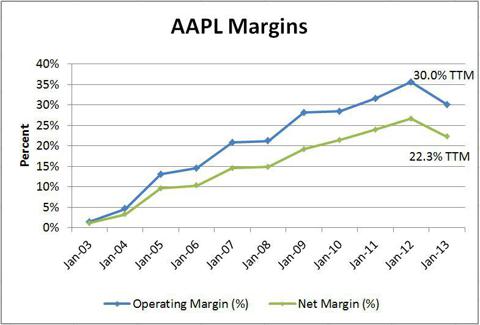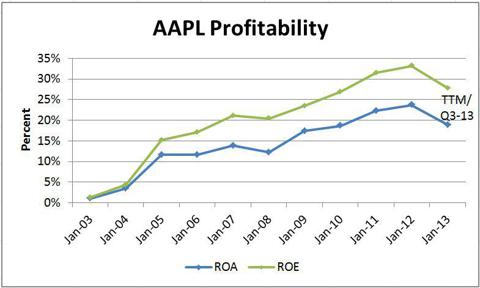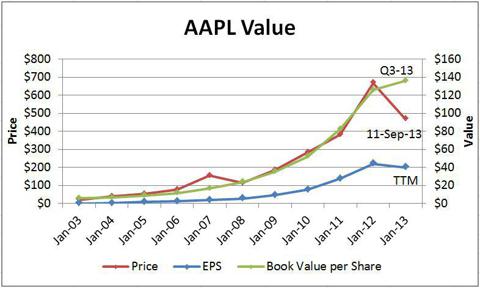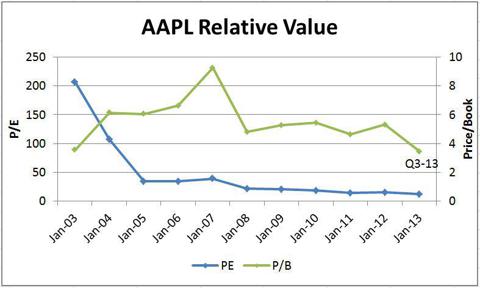 Data provided courtesy of MSN Money
Admittedly, I had to bypass some of my investing principles in order to hit the 'buy' button on my computer screen. But heck, there's never been a twelve-month stretch where AAPL was cheaper! I intend to hold AAPL for more than 3 months but less than eternity, so we'll just see what happens...
DISCLAIMER: I do not own an iPhone nor do I intend to initiate such a purchase within the near future.
Disclosure: I am long AAPL.