It looks like the AUD/USD has finally decided to follow the bearish signal copper prices sent several months ago. The pair has been aided in part by a deceleration in GDP and dovish RBA that left rates unchanged for a third straight month, but will likely cut further in late Q4 2012.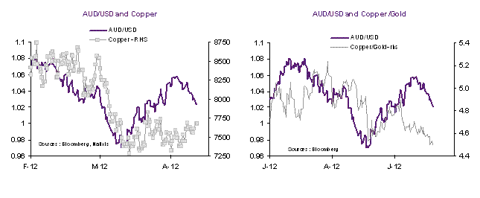 The RBA statement states:
1. Some recent indicators (in China) have been weak, which has added to uncertainty about near term growth;
2. Growth in Asia is being stifled by moderate Chinese expansion and the weakness in Europe.
The chart below highlights the extent of China's slowdown: steel prices are at their 2009 trough, while the Shanghai Composite has reached its lowest level since early 2009.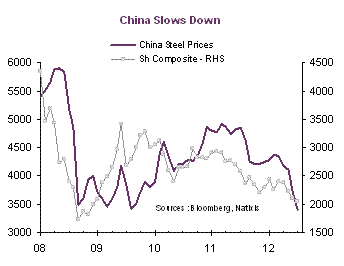 The Shanghai Composite is often deemed to be a leading indicator of the SP 500. It was the case in 2008 as it sent an early signal for the early 2009 rebound. Since then, the Shanghai composite has failed several times to become a consistent and reliable leading indicator.
On the FX front, we observe an interesting pattern: the ratio of SP 500 to SH Comp is generally linked to the AUD/USD. A significant disconnect can be seen in early 2012, but both series tend to mean revert (for those who dislike the SH Composite, the relationship is similar when we substitute the Shen 300). Who's right here?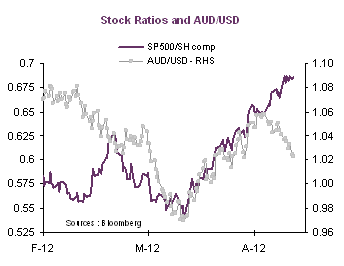 To sum up, copper prices call for a weaker AUD/USD. Our short run technical analysis points to 0.99, which is confirmed by the copper/gold ratio. In the meantime, the pair has disconnected from the US/China stock ratio, suggesting either a rebound for the pair or an outperformance of Chinese equity (SP 500-driven or not).
I favor the commo/technical signal, especially since the SP 500/SH Comp ratio has structurally drifted upward. In addition, a slight outperformance of the SP 500 in a bearish environment would be historically consistent. But as the SP 500/SH Comp ratio reaches new heights, a sharp rebound for AUD/USD is becoming a real possibility in late Q4.
Disclosure: I have no positions in any stocks mentioned, and no plans to initiate any positions within the next 72 hours. I wrote this article myself, and it expresses my own opinions. I am not receiving compensation for it (other than from Seeking Alpha). I have no business relationship with any company whose stock is mentioned in this article.