Nat gas and coal were a hot topic during last night's presidential debate. Lower natural gas prices, combined with environmental regulation, have accelerated the substitution of nat gas for coal in power generation. In spite of a widespread and rising domestic use of nat gas, the ratio of nat gas to coal prices went down up to early this year, when prices reached a decade low.
If relative demand cannot explain the price pattern, the answer could be found on the supply side. Yet, as can be seen below, coal supply has drifted downward since 2009 whereas nat gas supply has consistently edged up. This was not enough to stabilize the price ratio. Only the sharp fall in coal supply in early 2012 - combined with the perception that nat gas was oversold - pushed the ratio upward.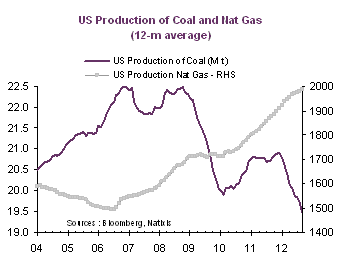 The rebound in nat gas prices from their April 2012 low is justified by the shrinking gap between today's inventories and their 5-year average. Many investors thought that at $1.9/MMBtu, producers were far from breakeven prices. The decline in rig counts to a 3-year low has also been brought forward as a potential reason, but it neglects the fact that nat gas is a byproduct of oil extraction.
The shift toward liquid-rich wells could have limited the increase of overall supply. Attracted by the spread between methane and natural gas liquids (propane, ethane), many producers have favored the drilling of liquid rich wells. This must have been a much stronger phenomenon than "drill it or lose it" as there is always a share of methane that is collected. Yet, as can be seen below, the incentive could be reduced as ethane prices did not rebound in the wake of higher nat gas prices (ethane price have also disconnected from WTI prices, to which they are correlated as a substitute for naphtha in ethylene production).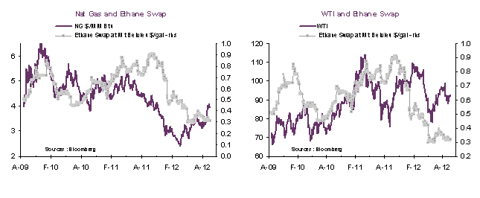 It looks like nat gas has found a new price range, and that a rebound in prices up to $4/MMBtu will depend on more traditional factors, such as the weather.
Both commodities are showing similar patterns in terms of domestic prices and net exports.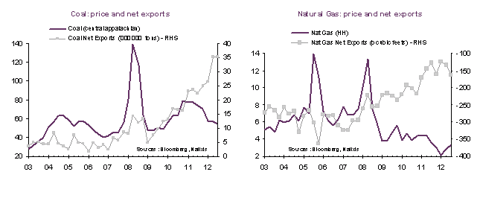 The first chart highlights the disconnect between higher net exports of coal and lower domestic prices. The second chart shows the fall in nat gas domestic prices that began in late 2009 and the subsequent decline in net imports.
The comparison stops here. In the case of coal, the fall in domestic use is partly offset by higher exports, but it is not enough to balance the market. As for natural gas, imports are dwindling while exports are stuck due to a lack of facilities (and political will).
One market is isolated, while the other is open.
Domestic use of natural gas is mounting (substitute for heating oil, tame hopes for transportation). There is no significant LNG export infrastructure in place, and opening the market to exports would probably have the same impact on domestic prices as it does on gasoline: a correlation with Brent, not WTI (hence, a loss of "price-independence").
Domestic use of coal should not be ruled out as many power plants can continue to make arbitrage between nat gas and coal. In addition, political willingness to revive the market has recently reemerged. But most importantly, the westward shift of coal production is opening the way for more exports as some Asian countries, China in particular, are turning into net importers of coal.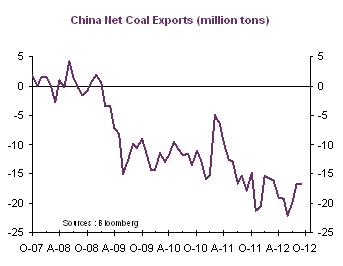 Disclosure: I have no positions in any stocks mentioned, and no plans to initiate any positions within the next 72 hours. I wrote this article myself, and it expresses my own opinions. I am not receiving compensation for it (other than from Seeking Alpha). I have no business relationship with any company whose stock is mentioned in this article.