Are all bull markets created equal? More than 3 years after stock markets recovered from the 2008 crash, I question the quality of returns, by gauging the factors that can explain the 6-month returns of the SP 500. To do so, I breakdown equity returns into three different contributrors: earnings growth, PE growth, and dividends.
The contribution from the dividend yield (and share repurchases) is generaly stable and low. What matters for us is the relative contribution of earnings growth and PER increase (see chart below).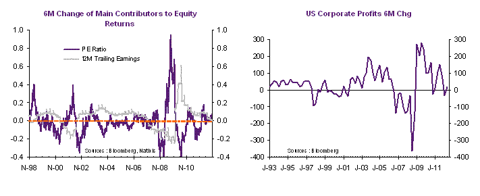 As can be seen, the contribution of earning growth to equity return has dwindled over the past few years. The contribution is now close to zero, which is in sharp contrast with the 2002-2007 period when earnings grew at a rate of approximately 6% per year. As the chart (above, right) shows, this series is closely linked to US corporate profits. The recent trend is not encouraging, even though profits as a share of GDP remains high.
The 6M change in PER has contributed positively to equity earnings over the last few quarters. Basically, returns are more closely linked to price appreciation than to earning growth. Is this a bad omen for stock returns, as the "quality" of earnings has worsened?
The answer is "yes, but…" as it depends on where the PER stands. Based on trailing and forward earnings, PER remains within the range of fair value, even though it seems to be heading towards the upper bracket.
On a cyclical basis, and remaining on the 6M frequency for return analysis, the chart (below, left) shows that that there is no clear cheapness or richness of stocks relative to US Treasuries.
In addition, based on a conservative forecast of ISM at 52 in November, the disconnect between stock returns and the economy should not last and may favor higher stock returns.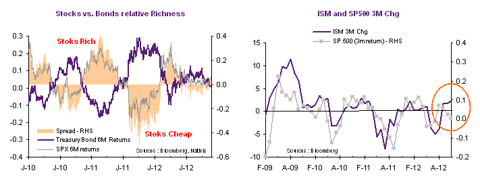 The worsening quality of stock returns could add to the current bear case (fiscal cliff, political uncertainty), but my analysis shows that:
There is no evidence of strong mispricing between stocks and bonds; and
The contribution of PER growth to stock returns can offset declining earnings growth for several quarters.
So, there might be some correction ahead but stocks still have some potential to rally in the next few months.
Disclosure: I have no positions in any stocks mentioned, and no plans to initiate any positions within the next 72 hours. I wrote this article myself, and it expresses my own opinions. I am not receiving compensation for it (other than from Seeking Alpha). I have no business relationship with any company whose stock is mentioned in this article.
Additional disclosure: TLT, SPX