The ADXY(a basket of Asian currencies against USD) cleared an important short term resistance at 118 but a potential medium term resistance lies slightly higher around 118.35 (resistance line linking April 2011 and February 2012 high pivots). A break above this threshold would pave the way to 2011 top at 120.20 and possibly toward the next long term resistance at 121.40 (retracement). Key support stands at 117.70.
Baring the INR and IDR all sub-component have appreciated against the USD. Interestingly, the ADXY decoupled with most of my traditional cross assets ratios or indicators. For instance, the disconnect between ADXY and the Gold/Copper is striking. It could suggest a sharp rally in copper ahead (even though SP 500 and copper recoupled sharply recently). This is not the only disconnect that is noticeable as the outbreak of the 118 level by the ADXY did not came along the usual outperformance of emerging stocks against the S&P 500 (right chart).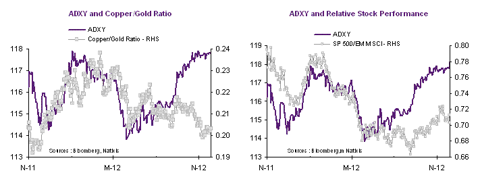 The list of cross assets relationships that failed to explain or at least reflect the sharp rise of the ADXY is long: copper/brent does not work ; even the robust link between ADXY and the US 10-year breakeven inflation has broken down lately. The only ratio that looks well priced is the silver/gold ratio.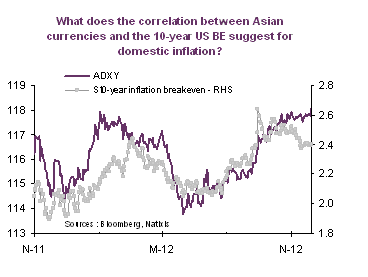 If I summarize, the ADXY outbreak points toward: higher copper prices relative to gold, higher emerging stocks relative to the SP 500, higher inflation expectations in the US, the traditional risk-on cocktail. I would highly recommend to watch the behavior of ADXY around the next resistance of 118.35: it could clearly signal the continuity of the current rally.
Disclosure: I have no positions in any stocks mentioned, and no plans to initiate any positions within the next 72 hours. I wrote this article myself, and it expresses my own opinions. I am not receiving compensation for it (other than from Seeking Alpha). I have no business relationship with any company whose stock is mentioned in this article.