I start the year with a rare pattern and a very alluring opportunity. As can be seen on the chart below, the 30-day correlation between gold prices and the DXY (a basket of currencies against USD) has sharply disconnected.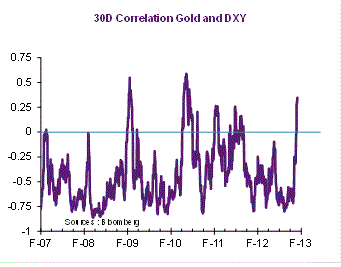 A positive correlation between gold and DXY is something that happen once a year. This is a clear "flight to quality pattern" when gold and dollar go up hand in hand. gold and USD where seen as a safe haven in the prospect of the fiscal cliff. Now that a (weak deal) has been reached, either the dollar or gold will have to give.
What I like in this chart is that there is always a sharp mean reversion when the "mispricing" occurs. Mean reversion means that the relationship goes back to "normal": that is a negative link between USD and gold (remember that gold is supposed to be the best hedge against USD weakness. Such a correlation break means that the hedge is subject to regular "black swan" or extreme risk).
The message is clear though: if investors maintain a risk-on mood, then a lower dollar will bring gold prices higher. This is clearly what we've seen this morning. It will continue.
For investors willing to dig deeper into what it means for gold, the ratio in the chart below is important. It shows that the disconnect between the gold/oil price ratio and volatility ratio is still significant.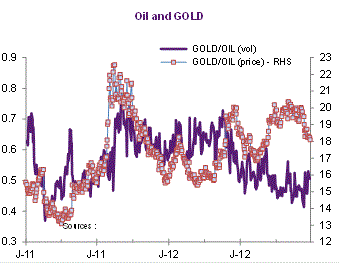 The current level of volatilities (taken from the CBOE Gold and Oil ETF volatility indexes that is OVX and GVZ) would suggest a much lower ratio for the GOR (gold-to-oil) based on relative prices. This suggests that oil prices should grow at a better rate than gold.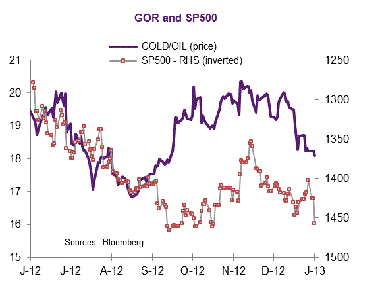 As can be seen above a GOR level of 16 would be much more consistent with current stock prices. As gold has a much lower (positive) beta to the SP 500 than oil, the GOR ratio should continue to fall.
There is still some room for higher gold prices, but on a cross asset basis I would favor higher beta commodities likes copper or oil… A possibility would be to buy oil and hedge with gold.
Gold bugs may remain concerned by the prospects of a downgrade (Congress has been unable to pass a long term debt solution). This is a possibility, of course, if you believe that the next round of debt ceiling negociations or sequestration cuts will bring long term rates higher. The weak relationship between US Sovereign bonds yield and gold should suggest cautiousness though.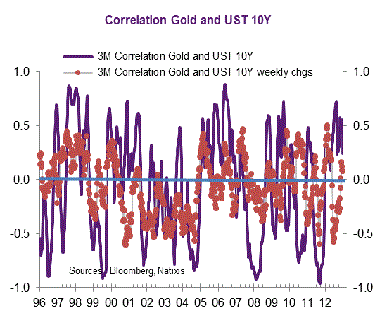 Disclosure: I have no positions in any stocks mentioned, and no plans to initiate any positions within the next 72 hours. I wrote this article myself, and it expresses my own opinions. I am not receiving compensation for it (other than from Seeking Alpha). I have no business relationship with any company whose stock is mentioned in this article.