Gold: Breaking (really) Bad
I have stressed several times that among the numerous scapegoat-movers of gold (M2, Fed purchases, inflation threat…), US Treasuries real yields were the best - and economically soundest - driver of the yellow metal (see seekingalpha.com/article/1352801-gold-as...).
Two factors should have lifted the price of gold recently:
i. The postponement of the Fed tapering came along with much lower yields. For proponents of the quantitative theory of money (more money means more inflation) and those sensitive to the opportunity cost of holding gold (UST yields), gold should have climbed much higher;
ii. The shutdown, coupled with the ongoing threat of dire negotiation on the debt ceiling (there will be no Sequester this time, as the opposition is not on the means to stop the ever-growing public debt but on the Affordable Care Act), should have brought gold prices much higher: in mid-2011, the rise in US Sovereign CDS (white line in the chart below) drove gold prices (yellow) higher. This time, gold is not sensitive. It could be that there is no AAA-rating threat, but something else could also be at play.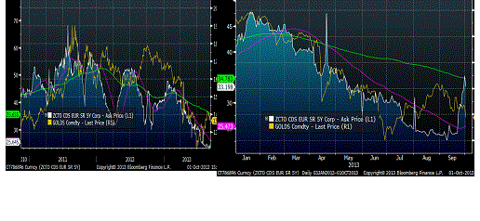 The charts below show the extent of the gold crisis:
In 2011, gold and real rates rose together during the crisis. The temporary disconnect that followed reflected the relief of many investors and the surge of risky assets;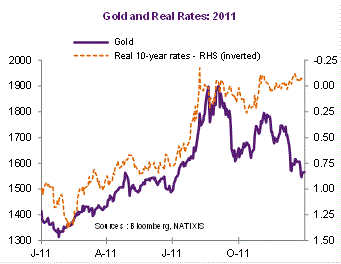 What is striking today is that gold kept falling in spite of the decline in real yields.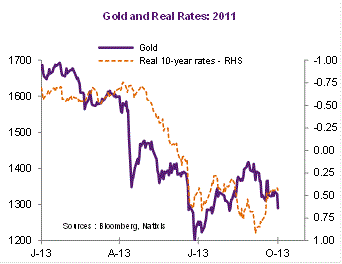 Bottom line: if gold cannot rebound with a little help from the Fed and the US Congress, only a few options remain for gold bulls. As India is still in the midst of its worst external crisis since the early 1990s, it would be dangerous to bet on Chinese buyers to be long gold again… I remain short gold in spite of the shutdown.
Disclosure: I have no positions in any stocks mentioned, and no plans to initiate any positions within the next 72 hours. I wrote this article myself, and it expresses my own opinions. I am not receiving compensation for it (other than from Seeking Alpha). I have no business relationship with any company whose stock is mentioned in this article.