US housing prices are rising at a pace similar to the one that prevailed before the collapse. Even though the average price level is still 19.5% below the July 2006 peak, some investors are concerned by the slope of the price recovery. The chart below highlights what is at stake: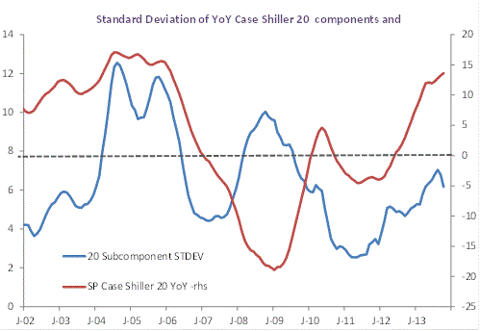 i. The year-over-year growth of home prices is increasing, which means that prices are accelerating to a level of growth that is close to matching 04/06 levels; and
ii. The blue line shows an interesting pattern: contrary to the late 2000s, the price dispersion among cities is much lower today. It means that the price recovery is more broad-based (the big outliers then were Las Vegas and Phoenix, and, to a lesser extent, some cities in California and Florida).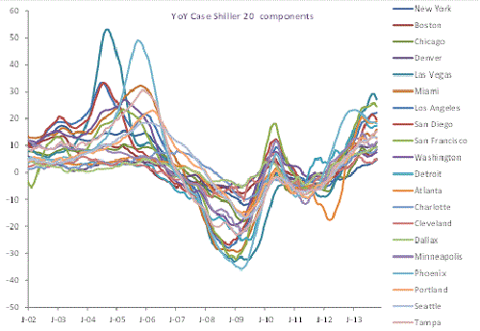 The chart below shows that the price action reflects one indicator of supply/demand conditions in the housing market: prices are accelerating, reflecting the shrinking supply of homes for sale in the market. However, this is not a perfect chart, because although the month supply of homes stabilized at around 4 months between 1999 and 2005, prices continued to accelerate. Yet, as can be seen in the chart below, the recent price action is clearly consistent with the V-shaped recovery registered after the Great Recession.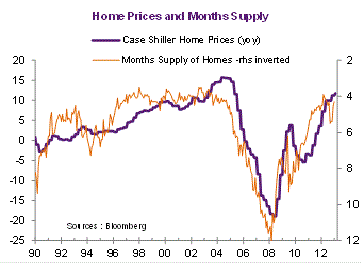 In the same vein that CPI accelerates (inflation increases) when unemployment hits the structural unemployment level, could it be that housing price's growth rate is poised to increase now that the supply of homes for sales has reached an incompressible level?
My answer is no and the chart below explains why: Construction employment has dropped to very low levels since the crisis, and has not rebounded, despite the modest recovery in housing starts in the past two years. Housing starts are standing at a level that is well below the unsustainable levels of pre-06 (2.2 million units per year) but also what looks like a demographics-induced medium run level of 1.4 million unit a year. In other words, there is no supply constraint that could lead to a bubble in housing.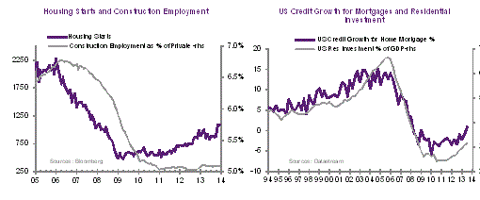 Bottom Line: the acceleration of housing prices over the last few quarters may be a cause for concern, especially since it has been a broad based phenomenon. I would tame the fear here for several reasons:
i. There is much more slack on the supply side than in 2007.
ii. The Rent-to-price ratio is still very low, which is an incentive for home ownership and construction. Where housing prices to continue to rise at a 15% annual pace and rents to continue to grow around 2% per annum, the price-to-rent ratio would still be 22% below its 2006 peak in late 2015.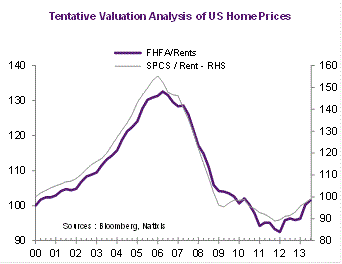 iii. The Senior Loan Officer Survey may suggest that banks are easing their conditions for origination of prime loans, but the pace of mortgage growth is still far below that of 2004/06.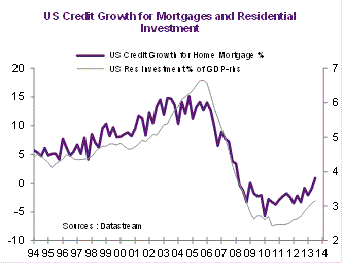 iv. Higher long term interest rates (Tapering + Fed normalization) may hamper demand for credit but the correlation between home prices and sovereign yields is generally positive, not negative. Given the limited upside move expected for US Sovereign yields (3.5% at year-end for the 10-year), the potential for higher housing prices is limited.
There is no housing bubble in the US. Given the supply driven trend of the construction sector and the extent of the pent-up demand, I still expect residential investment to be a positive contributor (+0.4 point) to growth in 2014, in spite of my call for higher treasury yields.
Disclosure: I have no positions in any stocks mentioned, and no plans to initiate any positions within the next 72 hours. I wrote this article myself, and it expresses my own opinions. I am not receiving compensation for it (other than from Seeking Alpha). I have no business relationship with any company whose stock is mentioned in this article.