Here come the Fragile 5: Brazil, India, Indonesia, Turkey and South Africa. At the heart of the ongoing crisis, they present some macro imbalances that distinguish them from the Fantastic four: Mexico, Poland, Czech Republic and Thailand.
The charts below show the extent of the imbalances between those two groups:
Relative current account trends (external borrowing requirements) have diverged significantly in the aftermath of the financial crisis (or following the implementation of QE in the US… pick your own poison).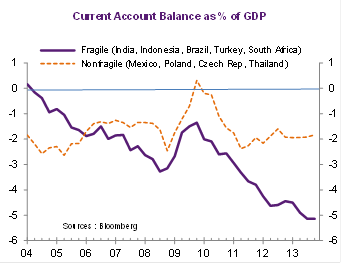 Inflation: Not only do many of the Fragile-5 countries suffer from above-target inflation, but the average inflation figure was and still is well above that of the Fantastic-4.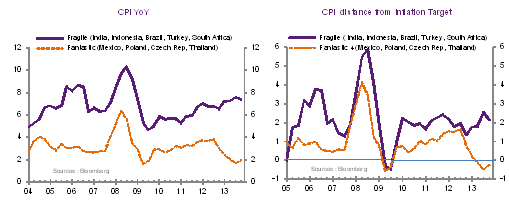 GDP growth for the Fragile-5 was clearly above that of the Fantastic-4 for during the last few years - that is, when the imbalances were formed.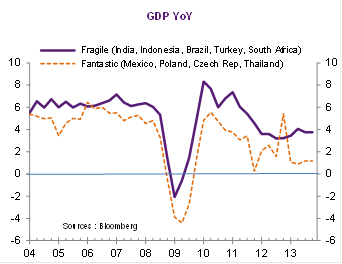 Those imbalances were the result of excess credit growth, among other things.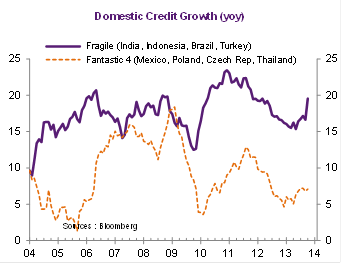 This should be a good case for a basket long Fantastic-4 / short Fragile-5. However, it's a little more complicated than that. The chart below highlights several things: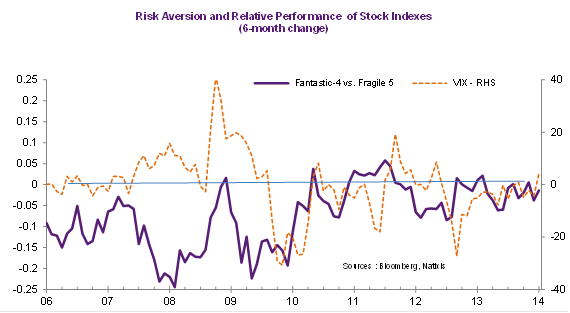 The Fantastic-4 have been fantastic losers almost every time over the last 8 years;
The link between global risk appetite/aversion and the relative performance of Fantastic-4/Fragile-5 is, at best, very loose; and
The recent changes in VIX and (UST yields - see below) have not benefited the Fantastic-4…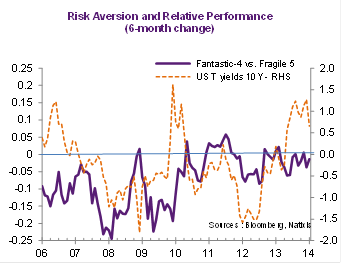 Bottom Line: this short analysis confirms what I wrote in a previous post (Thttps://seekingalpha.com/article/1982221-emerging-markets-dont-try-to-discriminate), EM crisis are no time for discrimination. Fundamentals may play a role in the medium run, but betting on them, even on a relative value basis, when prices are going down, is useless. Stay short EM stocks across the board. It might even be too early to buy on dips.
Disclosure: I have no positions in any stocks mentioned, and no plans to initiate any positions within the next 72 hours. I wrote this article myself, and it expresses my own opinions. I am not receiving compensation for it (other than from Seeking Alpha). I have no business relationship with any company whose stock is mentioned in this article.