Discretionary stocks are generally outperforming their Staples counterparts when the economy is booming, as households tend to spend more in cars, leisure, culture and luxury goods. On the contrary, Staples are more defensive and should outperform, somewhat by default, when the economy weakens.
As a result, there is a positive relationship between the relative performance of discretionary against staples and the economic news flow. More precisely, discretionary stocks will tend to outperform staples when the economic momentum is growing (when the change in the news flow is positive - chart below).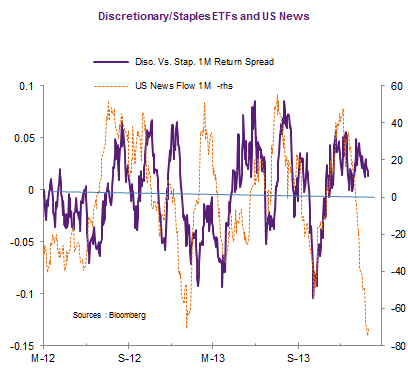 Interestingly enough, there has been a strong disconnect between both series over the recent past. The downtrend recorded in the news flow should have driven the Discretionary/Staple ratio much lower.
The same is true when it comes to the link with US treasury yields, even though the recent price action suggests that the mispricing is waning.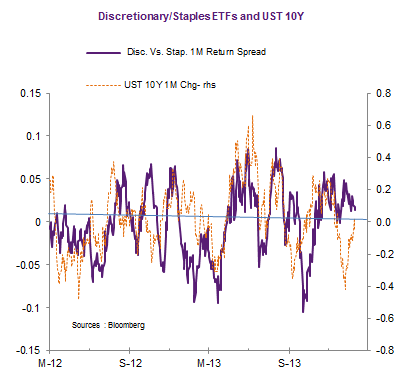 This could mean that investors have collectively decided to shun the recent decline in economic data, suggesting that the belief that most of the bad news is attributable to the bad weather is pervasive. If they are proven wrong, the potential for an outperformance of staples is quite significant though.
What does this imply for the stock market as a whole? At first glance, the performance spread between discretionary and staples is loosely, but mostly positively, correlated to the total return of the S&P 500.
Gauging the relationship through absolute levels and not daily changes is more convincing and suggests that the relationship is robust and positive.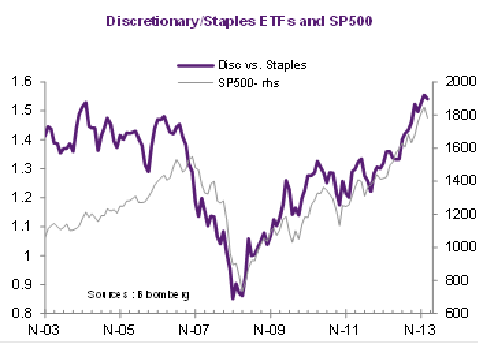 Technical analysis suggests that the ratio is above its historical peak but also that there is still some room for a further increase. Coupled to the resilience of the relative performance to the signal sent by the news flow, it should support a positive view for US stocks.
Bottom Line: The disconnect of the return spread between discretionary and staples stocks from the news flow suggests that market participants are still hoping that the polar vortex has not frozen the US economic momentum. Given the recent price action of the ratio, it could suggest higher stock prices ahead (NYSEARCA:SPY). The disconnect has to be watched carefully, as any negative data published in March/April would clearly be an ultra-bearish signal.
Caution is requested though. News of another polar vortex hitting the US in the next few days could set off a negative domino effect on the weather-disrupted data for the month of March, and the polar vortex fatigue may begin to eat away at even the most optimistic investor.
Disclosure: I have no positions in any stocks mentioned, and no plans to initiate any positions within the next 72 hours. I wrote this article myself, and it expresses my own opinions. I am not receiving compensation for it (other than from Seeking Alpha). I have no business relationship with any company whose stock is mentioned in this article.