Could the Fed deliver a perfect rate hike instead of a perfect storm ? In spite of hugely divided communities of investors and economists, does everybody agree on what would be the best scenario for risky assets? The table below summarizes what is at stake: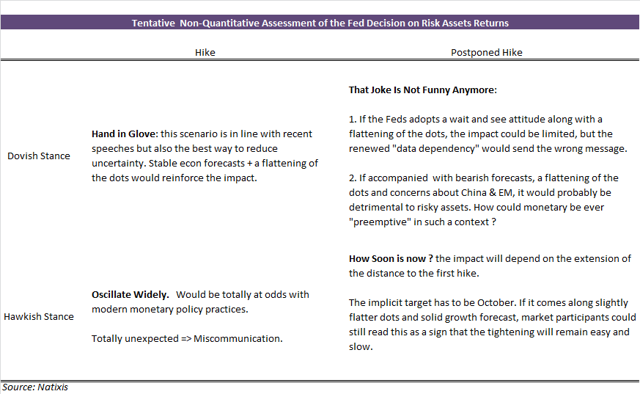 My favorite scenario is a combination of a hike and a dovish stance. In that sense I clearly subscribe to what Athanasios Orphanides wrote a few weeks ago: "when monetary policy is appropriately conducted, liftoff does not mark the end of the expansion phase of the business cycle".
To sum up: this "map" shows how risky assets could react to the next FOMC according to different scenarios: target range + economic forecast + dots.
I clearly bet on a hike coupled with a dovish stance. It would probably be the most favorable outcome for risky assets.
Disclosure: I/we have no positions in any stocks mentioned, and no plans to initiate any positions within the next 72 hours.
I wrote this article myself, and it expresses my own opinions. I am not receiving compensation for it (other than from Seeking Alpha). I have no business relationship with any company whose stock is mentioned in this article.