This sentence from the July 31-August 1 Minutes tells it all: "Many members judged that additional monetary accommodation would likely be warranted fairly soon unless incoming information pointed to a substantial and sustainable strengthening in the pace of the economic recovery."
A look at the chart below shows that QE2 was announced (late August 2010) at a time when both the news flow (news index) and inflation expectations were very low.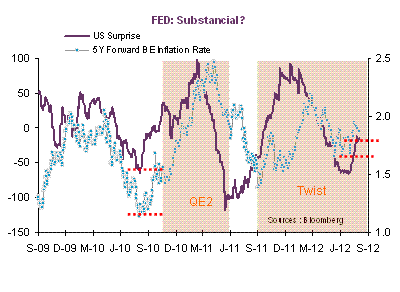 July's Minutes are reported when the economic news flow has not only rebounded but is at a higher level than in 2010. However, the recovery is not old enough to be qualified "substantial." Leaving the door open for action, the Minutes were vague enough for Bernanke to deliver the final (practical) details (tools, amounts) at Jackson Hole next week.
To remain (or at least appear to be) politically "neutral," the Fed may decide to act in September. But in any case it would be a QE3-lite as the inflation/growth does not call for a strong action from the Fed.
The Minutes were vague enough to allow for some "monetary accommodation," but this does not mean that if they choose to implement measures, these measures will be unconventional policies (how about forward guidance that were discussed). This may be the message from long-term UST yields whose decline is at odds with what happened following QE2.
Disclosure: I have no positions in any stocks mentioned, and no plans to initiate any positions within the next 72 hours. I wrote this article myself, and it expresses my own opinions. I am not receiving compensation for it (other than from Seeking Alpha). I have no business relationship with any company whose stock is mentioned in this article.