Intuitive thinking: Winter weather and natural gas.
As Sandy showed the East Coast, weather plays a significant role in the economy. The infrastructure shutdown, the productivity grinding to a frozen halt, and the messy cleanup afterwards all might be regionally bearish indicators, but there are some securities really like winter storms such as Sandy.
The chart below represents the Energy Select Sector ETF (NYSEARCA:XLE) during and after hurricane Sandy, potentially ignited by the storm: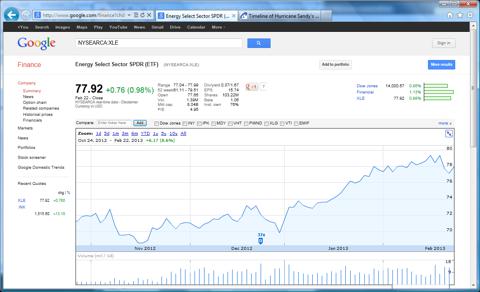 Natural gas is not only a significant electricity and heat producer in the US but could soon be powering cars and trucks around the globe as an inexpensive, cleaner alternative to gasoline The US has been fortunate with huge natural gas supply and now inventory that have pressed prices to next to nothing domestically. It is only a matter of time before Liquified Natural Gas is scaled to international production.
Since the run in the XLE there have been two very powerful winter storms rolling through the continent, one being the ongoing winter storm Rocky. These have and will seriously impact the Midwest. The economic impact won't be what it was for Sandy; however, the effect over the continent is at the very least, lower temperatures. As previously mentioned, natural gas is highly demanded for many things, it represents over a third of the US furnace fuel. If temperatures are dropping, you can be sure that investors are thinking natural gas. Will the XLE continue upward because of these storms?
As the XLE saw nice gains after Sandy the price of natural gas has decreased. How can a storm be a natural gas play if the commodity has been in a 4 year bear market?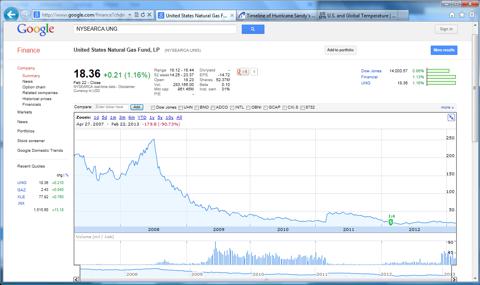 While the bear run may not be ending in the short term, gas plays can be a great long term investment. The ETF that tracks the price of natural gas is United States Natural Gas Fund, LP (NYSEARCA:UNG). If volume is a predictor of anything it is volatility and as we go into 2013, the price of the commodity looks like it might be gearing up for a run. I would argue that the cost of natural gas is not only a supply story. As the supply has increased because of fracking and new discoveries, there have also been fewer heating needs in the US, in general over the last decade. I have included a chart from the EPA on earth surface temperatures in the US (continental) to indicate there has been at least on aggregate basis, less of a need for heat than in the past for consumers.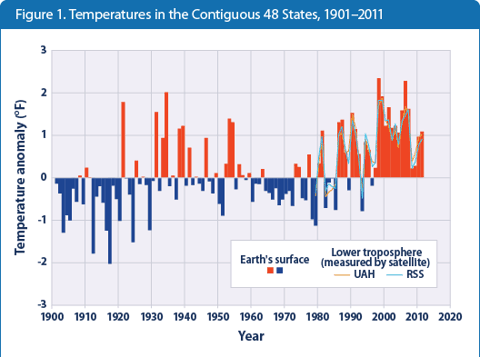 With the demand now being realized in the form of storms and therefore heat needs and the noted long term growth prospects for natural gas demand, a handful of investments would benefit from winter storm Rocky which could dump as much as 20" of snow in the Midwest. The XLE saw a run from the overall market and possibly from Sandy already, this may be an area where the run is running out of gas and selling calls here could be a great way to maximize returns. For a more focused play on gas, there is UNG, the Dow Jones-UBS Commodity Index Total Return ETF (NYSEARCA:GAZ) or the Direxion Shares Exchange Traded Fund triple levered ETF for natural gas, (NYSEARCA:GASL).
The small cap natural gas space, however, might be poised for a short term run from the storm as well as the longer term benefits of demand growth for natural gas. To respond to impending or ongoing severe winter weather, look for Energy to benefit from the frozen fracas and it could be an excellent time to find and long a lean, profitable company with a juicy dividend so you are essentially paid to wait for whatever volatility in this sector shows up.
Disclosure: I have no positions in any stocks mentioned, and no plans to initiate any positions within the next 72 hours. I wrote this article myself, and it expresses my own opinions. I am not receiving compensation for it (other than from Seeking Alpha). I have no business relationship with any company whose stock is mentioned in this article.