Caterpillar (NYSE:CAT) is the world's largest manufacturer of construction and mining equipment and derives more than half its revenues internationally. After the company reported better than expected 1st quarter earnings on 4/24 and guided the street higher for the balance of 2014, Piper Jaffray analyst Alex Potter reiterated his buy recommendation on CAT and raised his price target from 97 to 115.
Caterpillar has diversified to the point that the softness in their mining business was not an impediment to reporting 1st quarter earnings of $1.61 vs. analyst estimates of $1.24. Revenue also edged slightly higher than expected. The energy, transportation and especially the construction areas of CAT's business contributed to the improved earnings and mining represented just over 10% of profits.
Caterpillar guided to 2014 EPS of $6.10, well above consensus estimates of $5.93 and previous guidance of $5.85. These positive results pushed Caterpillar to a new high at 107.40 which was recently revisited prior to the stocks market's rebuff at 1,900 on the S&P 500 Index.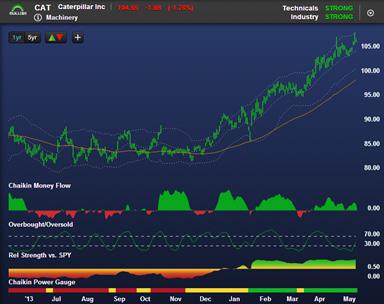 CAT has a bullish Chaikin Power Gauge rating and fits very nicely into our investment thesis - a swing to international centric large cap value and yield oriented stocks. Technically Caterpillar is strong with persistently positive Chaikin Money Flow indicating that the institutions are still accumulating CAT.
Caterpillar benefits from strength in the machinery group and has a management team which has proven itself in tough economic climates. Cost-cutting measures should yield longer term benefits. This is the type of defensive stock which represents upside potential, a decent 2.25% yield and the lower volatility which investors crave right now.
Some of the positive drivers for CAT are the potential growth in the Chinese and Asian markets. In addition to the acquisition of Bucyrus International which rounds out their mining product offerings, Caterpillar has made a number of acquisitions in China. This reflects their broadening international business and a belief that China which represents about 7% of CAT's revenues will play an important role in their growth going forward. The construction market in China and India with its emphasis on energy and power plants should help fuel Caterpillar's growth in 2014 and beyond.
Caterpillar's bullish Chaikin Power Gauge rating reflects earnings consistency, a relatively high return on equity, positive free cash flow and rising analyst opinions and earnings estimates.
With the weakness in the high flying momentum stocks as well as the small cap stocks now spilling over into the S&P 500 index, look to buy CAT on a pullback to support in the 100 -102 area. With analyst price targets in the 115 - 122 range this is an attractive price zone to buy Caterpillar.
Read more: http://www.nasdaq.com/article/stock-pick-of-the-week-caterpillar-cat-cm354116#ixzz32GRaMVob