Chaikin Market Insights - May 31, 2014
S&P 500 Closes at New Highs: Is Caution Still Warranted?
The S&P 500 Index closed at 1,923.57, up 1.21% on the week. The S&P 500 Index made new all-time highs every day last week but market internals indicate that a small number of stocks, (less than 25) made new 52 week highs. You can look at that statistic two ways: there is a lot of catching up to do, or the market is vulnerable for a pause or a correction as the price strength in the major averages is masking deterioration in the broader market.
While the Nasdaq 100 made new bull market highs this week, as you can see below, the number of stocks with bullish vs. bearish Chaikin Power Gauge ratings continues to stagnate in the Nasdaq 100 Index. The S&P ratio has, however, improved to 126 vs. 78, a more normal ratio at new highs.
Power Bars from Chaikin Analytics

It is hard to argue with continuing new highs in the S&P 500 and a strong rebound in the tech and biotech sectors, which took such a big hit over the past 3 months. However with the small cap Russell 2000 Index staging only a tepid rally and with the renewed push to new lows in overvalued stocks like DSW Inc. (NYSE:DSW), Splunk (NASDAQ:SPLK) and Infoblox (NYSE:BLOX), the stock market is filled with potential mine fields.
Therefore, we still remain cautious for the next 2 - 4 weeks as the likelihood of a mild pullback is high. Anything more than that, with the S&P 500 at new highs every day will have to come from an unexpected event which is more difficult to predict.
In this environment it is critical to avoid mistaking short-covering rallies in stocks like ServiceNow (NYSE:NOW), Splunk (SPLK) and Workday (NYSE:WDAY) for an all-clear signal. These stocks are extremely overvalued and vulnerable to sharp sell-offs at any sign of earnings disappointment or negative guidance. Even positive news on the earnings front when it triggers rallies is an opportunity to sell (see WDAY chart below).
To participate in the current stock market advance, stick to stocks with bullish Chaikin Power Gauge ratings in strong industry groups. Bottom fishing may work for a short-term trader but it requires being nimble and the willingness to take profits quickly when the crowd is buying.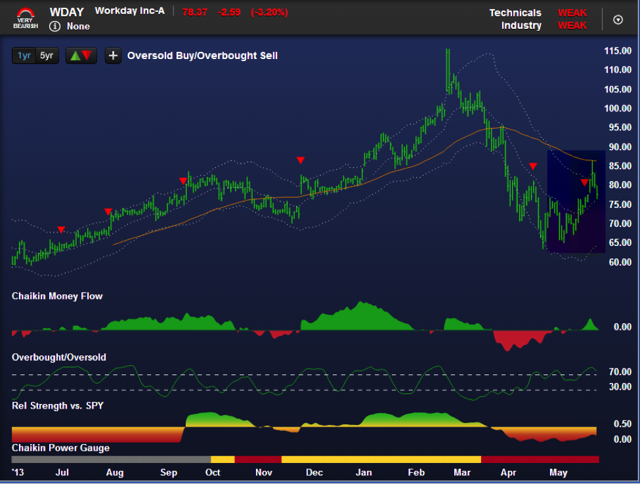 (Chart from Chaikin Analtyics)
Workday rallied after a strong quarter but profit takers sent the stock down 10% after it ran into resistance.
ETF Sector Update
The Energy (NYSEARCA:XLE), Health Care (NYSEARCA:XLV) and Technology (NYSEARCA:XLK) Select Spyder Sector ETFs continued to lead the market higher. Consumer Discretionary (NYSEARCA:XLY) and Consumer Staples (NYSEARCA:XLP) still rank weakest of the 9 Select Spyder Sector funds and should be used as a source of funds as the rally in the S&P 500 carries them along. The three stock in the Home Building ETF (NYSEARCA:XHB) which we viewed as sells on strength; namely, Masco (NYSE:MAS), Toll Brothers (NYSE:TOL) and USG Corp (NYSE:USG), all rallied early in the week giving ample opportunity to move cash out of these stocks as they subsequently sold off later in the week.
Portfolio Strategy in the Current Market Environment
With 10 year U.S. Bond yield under 2.5% and the Federal Reserve Board continuing to taper its bond purchases, the stimulus behind the stock market's strength these past 18 months is no longer driving the market. Further gains will depend on positive earnings, revenue gains and strong forward guidance in 2nd quarter company reports. With earnings season 5 weeks away, I expect June to be choppy at best and continue to recommend caution, particularly in speculative, high price to sales, high P/E stocks.
Chaikin 2014 Model Portfolio Recap as of May 30, 2014
Our model portfolio is up 0.44% for the year lagging the S&P 500 which is up 3.88%. While stocks like Ryder (NYSE:R), Capital One Financial (NYSE:COF), Phillips 66 (NYSE:PSX) and Legg Mason (NYSE:LM) are making new highs, the portfolio is being dragged down by the technology and computer software constituents such as Avnet (NYSE:AVT), CACI Intl (NYSE:CACI), iGate (NASDAQ:IGTE) and IAC/Interactive (IACI). Since this is a buy and hold portfolio based on corporate buybacks, growth and initially a bullish Chaikin Power Gauge rating, we expect that as the year evolves the portfolio will catch up and exceed the S&P's performance.