Rally Stalls as Sector Rotation Continues
The S&P 500 Index closed at 1,960.96, down 0.1% on the week. The stock market reversed from a new all-time high on Tuesday at 1,968 on the S&P 500 Index and finished down 0.6%, breaking a short-term support pivot at 1,952. While this bearish price action usually results in 2-3% follow through selling, this is a resilient market indeed, and stocks regrouped to finish the week on relatively solid footing.
As shown by the Power Bars below, large cap and blue chip stocks continue to lead the way as investors look for stability and yield, while the spread between bullish and bearish power gauge ratings in the Nasdaq 100 remains slightly negative.

(Power Bars from Chaikin Analytics)
While there has been a decent rally in The Nasdaq 100 and something less but still positive in the Russell 2000, there is nothing likely to change in the upcoming holiday shortened week. With traders and investors taking a long weekend, we should expect more of the same, with the markets unlikely to make upside progress.
With earnings season due to begin on July 8th when Alcoa (NYSE:AA) reports, the stock market will take its cue from company guidance regarding the 2nd half of 2014.
A 6% rally in the 1st half of 2014, after a 5 year bull market, is decent enough and there is nothing that I see which would derail the stock market short of some very disappointing 2nd quarter earnings reports and negative company guidance.
Stay tuned.
ETF Sector Update
The strongest sectors in terms of Power Gauge ratings are Utilities (NYSEARCA:XLU), Financial (NYSEARCA:XLF), Health Care (NYSEARCA:XLV), Energy (NYSEARCA:XLE) and Technology (NYSEARCA:XLK). There have, however, been lots of cross-currents as investors fled from high yield utilities and oil refiners effected by the limited lifting of a longstanding ban on U.S. exports of crude oil.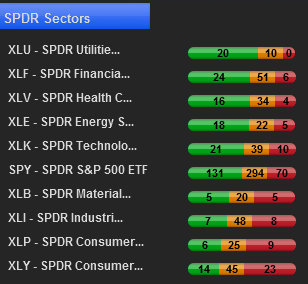 (SPDR Sector Chaikin Power Bars from Chaikin Analytics)
The Retail stocks continue to drag down the Consumer Discretionary Sector (NYSEARCA:XLY).
Update on the Oil Refining Stocks
Oil Refiners which have been stellar performers with bullish Chaikin Power Gauge ratings were blindsided last week by a Wall Street Journal story about a Commerce Department decision to allow 2 Texas oil companies, Pioneer Natural Resources (NYSE:PXD) and Enterprise Products Partners (NYSE:EPD) to export extra-light crude oil condensate overseas.
There has been a ban on U.S. exports of unrefined crude oil since 1975. In the past 3 years as the price of Brent (overseas) Crude Oil has spiked higher vs. domestic crude oil (NYSE:WTI) companies like Valero (NYSE:VLO), Tesoro (TSO) and Holly Frontier have benefited. These stocks dropped 8-10% on Wednesday and have struggled to regain their footing.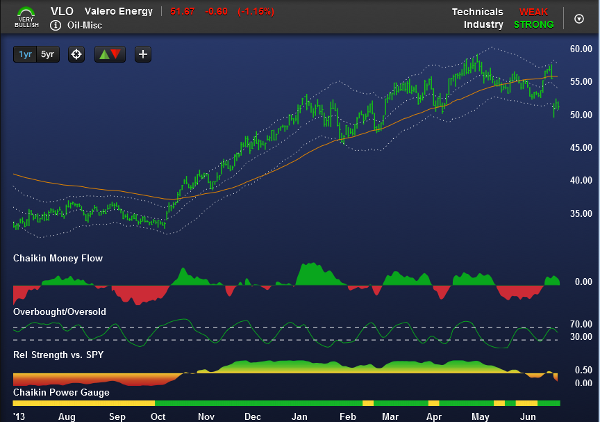 (VLO chart from Chaikin Analytics)
Both VLO and TSO still have bullish Chaikin Power Gauge ratings but it will take some time for the market to decide if this exception to the export ban will result in a trickle or a flood of crude oil exports. Politics will play a part in this discussion as U.S. energy independence is a major plus for the U.S. economy, and the Obama administration may not want to appear to be jeopardizing that very positive state of affairs.
For more actionable ideas from Marc Chaikin, visit chaikinpowertools.com!