High Volume Decline Suggests More Downside to Come after Rally Attempt
The S&P 500 Index closed at 1,925.25, down 2.67% on the week. All market segments traded sharply lower this week, with the S&P 500 Index breaking through its 50 day average on Thursday for the first time since April. It closed Friday below its lower volatility band and traded unusually high volume on both down days, suggesting more downside to come after a rally attempt this week.
The reasons offered by financial pundits for the market's steep 2% decline on Thursday ran the gamut from nervousness about inflation in the U.S., the hint of deflation in the European economies, where Germany has experienced lower consumer prices and a softening economy, to the geo-political concerns about how economic sanctions on Russia might negatively affect multi-national trade.
Add in a mixed bag of economic reports, a market which was already experiencing deterioration in the small cap stocks and also in the internal breadth statistics in the large cap S&P 500, and it's no wonder that the buyers went on strike on a lazy summer week.
The Chaikin Power Bars for the major Indexes confirm the across the board weakness with the S&P 500 Index joining the Russell 2000 small cap Index with a preponderance of bearish vs. bullish Power Gauge ratings.


(Power Bars as of 7/31/14 from Chaikin Analytics)
While we have been cautious since late May, this week's sell-off doesn't strike us as the start of a bigger decline…not until a failed rally up to resistance first.
Looking Back at Our January 2014 Advice
It is useful to look back on prior forecasts to see if the market is acting according to its projected path or is diverging from expectations. Here is what we said in our January 3rd Market Insights:
"For the 1st quarter, expect stock prices to do well as long as rates don't rise precipitously. We may very well see the market move up to 2,000 on the S&P 500 Index if a perfect storm of an improving economy and low interest rates continues. But 2014 is not a year to be complacent."
"…investors should expect higher prices in the first 6 months of 2014 but be alert to the possibility of a sharp correction in excess of any experienced in 2013. A decline of 10-20% from a peak in 2014 would set up the stock market for the 50% advance documented above. Markets tend to experience cyclical peaks in April and August so those are periods to be particularly vigilant with regard to your equity holdings."
The stock market is indeed playing true to form. However, the move up to 2000 on the S&P 500 Index masked significant deterioration in the small cap stocks where over 30% of small cap stocks are down more than 10% from their 52 week highs. In the large cap world, more than 25% of the S&P 500 stocks are down 20% or more from their 52 week highs.
ETF Sector Update
No sectors escaped last week's carnage. The Consumer Staples ETF (NYSEARCA:XLY) cratered along with the Industrials (NYSEARCA:XLI) on the back of strength in the U.S. Dollar vs. the Euro currency. Previously strong sectors such as Energy (NYSEARCA:XLE), Technology (NYSEARCA:XLK), Health Care (NYSEARCA:XLV) and Utilities (NYSEARCA:XLU) joined in the decline this week.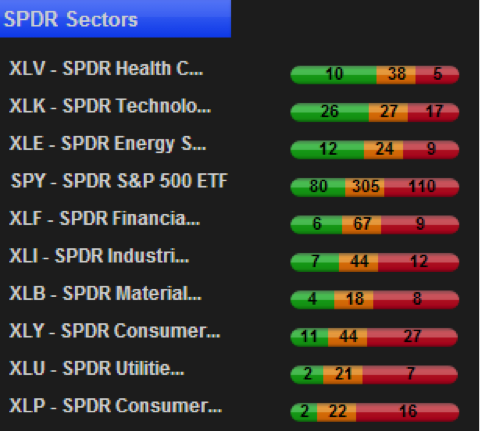 To read more of Marc's Weekly Insights, visit https://www.chaikinpowertools.com/market-insights.shtml.