Monday Morning Volatility Alert
Chinese GDP will be reported before the opening on Monday. Be sure to check the stock index futures on CNBC to see the market's reaction which often leads to a large gap up or down on Monday.
The S&P 500 Index closed on Friday at 2,033.11, up 0.9% on the week. After early weakness the market rebounded sharply on Thursday and held the gains on Friday.
In spite of mediocre economic reports and less than inspiring 3rdquarter earnings from banks, Wal-Mart, Schlumberger and others, the stock market kept chugging along. Better economic news out of China and the perception that a Fed rate hike is unlikely in 2015 helped the market to overcome the retail sales slippage and bad Empire State and Philly Fed manufacturing reports.
The stock market continues to feed off the "W" bottom of 9/29, with group rotation leading to good internal breadth statistics which can support further advances into overhead resistance at 2,045 - 2,055 even though the stock market is overbought on a short-term basis.
Short-covering by hedge funds, who had been unusually bearish going into October, also kept the rally going, as the weakest stocks from June through October led the rally.
The rally was also fueled by weakness in the U.S. dollar which helps companies that derive a large percentage of revenue from international markets. It is ironic that crude oil dropped this week to the $45 a barrel level and an interest rate hike by the Federal Reserve Board in 2015 is now considered unlikely. A few weeks ago these events would have triggered sharp declines in stock prices. The stock market is an ever fickle foe that defies logic and commentary alike.
Below is an intra-day chart of the S&P 500 Index, courtesy of Doug Short at advisorperspectives.com, which shows that Thursday's strength was the bulk of last week's rally.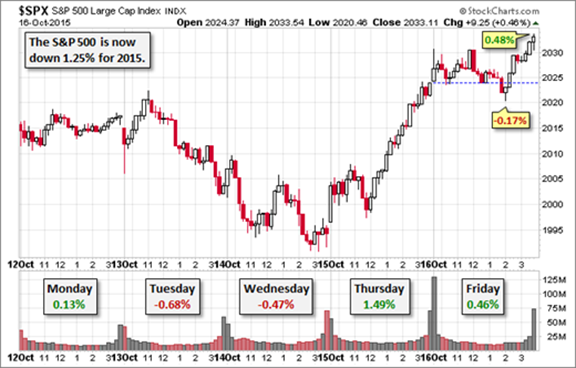 Is there a roadmap for the balance of 2015?
The stock market appears to have made a "W" shaped bottom very similar to the one made 4 years ago in October of 2011. Some smart market commentators have pointed out the similarities to the 2011 lows and the subsequent rally into year-end. There is much to support that analog . . .
For more stock market insights like this, subscribe to Power Suite Premium, which includes Marc Chaikin's weekly (Sunday) stock market analysis report, Market Insights.
Disclaimer: Chaikin Analytics LLC is not registered as a securities broker-dealer or advisor either with the U.S. Securities and Exchange Commission or with any state securities regulatory authority. Chaikin Analytics does not recommend the purchase of any stock or advise on the suitability of any trade. The information presented is generic in nature and is not to be construed as an endorsement, recommendation, advice or any offer or solicitation to buy or sell securities of any kind, but solely as information requiring further research as to suitability, accuracy and appropriateness. Users bear sole responsibility for their own stock research and decisions. Read the entire disclaimer.