The S&P 500 Index closed on Friday at 2075.15, up 2.07% on the week. After sideways action early in the week, talk of further monetary easing by European Central Bank head Mario Draghi and Friday's surprise rate cuts by the People's Bank of China fueled a global stock market advance to end the week. Japan may join the party with additional monetary stimulus shortly, leaving only the U.S. Federal Reserve Board off the stimulus bandwagon.
The result of another wave of quantitative easing outside of the U.S. was a resurgence of the U.S. dollar and a move in the S&P 500 Index through resistance in the 2,045 - 2,055 area.
We are once again into the trading range that held the stock market back in the summer of 2015, but with sector rotation out of Heath Care into Financial, Technology and selected Consumer Discretionary stocks. Market moving earnings reports from large cap tech favorites Amazon, Alphabet, formally Google, and Microsoft helped propel the popular averages through resistance.
It is interesting to note that ½ of Friday's advance in the S&P 500 can be attributed to those 3 stocks. Small cap stocks underperformed, as did energy stocks. One major difference between 2nd quarter and 3rd quarter earnings season is that while negative reports are still being punished by sharp declines, companies like Amazon (NASDAQ:AMZN), Microsoft (NASDAQ:MSFT), Alphabet (NASDAQ:GOOGL) and Juniper Networks, to name a few, are spiking up to new highs. This is in sharp contrast to the 2nd quarter reports when good earnings attracted profit-taking. The market is clearly in stronger hands coming off W" bottom of 9/29.
Below is an intra-day chart of the S&P 500 Index, courtesy of Doug Short at advisorperspectives.com, which shows Monday through Wednesday digesting the previous week's advance and buyers coming back in late in the week…a very bullish pattern.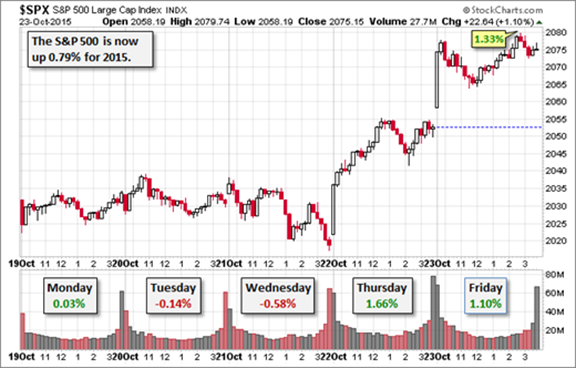 We envision a similar week for the stock market as early profit taking is likely, with resistance at 2,100 being probed and tested later in the week. The Tuesday/Wednesday Federal Reserve Board's Open Market Committee meeting is likely to be a non-event as the stock market focuses on key housing, consumer confidence, personal spending and jobs reports . . .
For more stock market insights like this, subscribe to Power Suite Premium, which includes Marc Chaikin's weekly (Sunday) stock market analysis report, Market Insights.
Disclaimer: Chaikin Analytics LLC is not registered as a securities broker-dealer or advisor either with the U.S. Securities and Exchange Commission or with any state securities regulatory authority. Chaikin Analytics does not recommend the purchase of any stock or advise on the suitability of any trade. The information presented is generic in nature and is not to be construed as an endorsement, recommendation, advice or any offer or solicitation to buy or sell securities of any kind, but solely as information requiring further research as to suitability, accuracy and appropriateness. Users bear sole responsibility for their own stock research and decisions. Read the entire disclaimer.