The S&P 500 Index closed on Friday at 1,940.24, up 1.75% on the week. The stock market initially reacted badly to the Federal Reserve Board's Open Market Committee statement on Wednesday and temporarily disconnected from the rising price of crude oil. Crude oil was up again for a 2nd week, closing at $33.62 up 4.5%. With deepest thanks to Japan, which instituted a negative interest rate policy to encourage banks to lend and thus stimulate their dormant economy, the S&P 500 Index followed rising equities around the world and finished Friday up 2.48% on the day.
The rally was impressive and broke through key resistance at 1,917, closing above its 21-day average at 1,928, although getting overbought on a short-term basis. Any further strength will run into initial resistance at 1,964 and very strong resistance at 1,995 - 2,000.
Sharp rallies like we saw last week are more characteristic of bear markets or corrections than bull markets, particularly when small cap stocks are underperforming as they are now. A break back below the 21-day average at 1,928 would likely trigger a relative strength sell signal in Chaikin Analytics and lead to a test of recent lows in the 1,800 - 1,820 area.
Bulls have conceded a decline down to 1,710 - 1,730 as a possibility, while bears are still looking for 1,600 as a downside target.
Caution is warranted, with rallies an opportunity to eliminate bearish Chaikin Power Gauge stocks from your portfolio. However, selective buying of strong Power Gauge stocks, on extreme weakness only, is still recommended.
The chart of the S&P 500 Index ETF (NYSEARCA:SPY) below, shows the overhead resistance that needs to be overcome. With the market overbought, based on Friday's advance, upside gains should be limited to an additional 1-3%.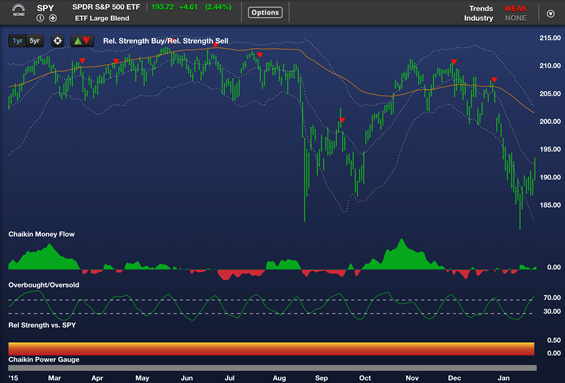 Below is an intra-day chart of the S&P 500 Index, courtesy of Doug Short at Advisor Perspectives, which shows the market, for the 2ndweek in a row, bottoming on Wednesday and finishing the week on a very strong note. The pickup in volume on Friday is a plus and speaks to the possibility of further gains in the near term.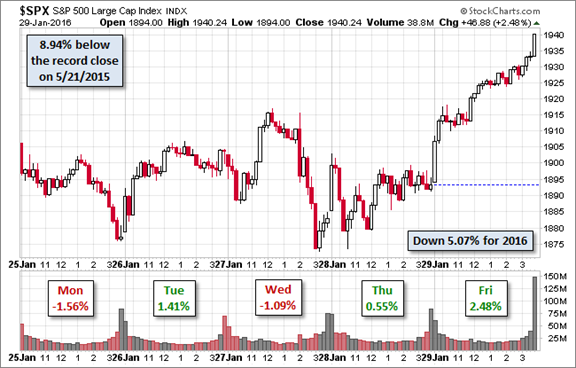 The ability of the market to hold the gains of the prior week was critical and now points to further upside potential to important resistance at 1,965 and then 1,995 - 2,000. However, we have yet to break the bearish price pattern of lower highs and lower lows which has prevailed since the September rally ran out of steam in late November.
lows in the 1,800 - 1,820 area. We can then judge whether a "W" bottom was formed, which would be highly unusual so close to the "W" bottom in August/September.
Failing that, the downside price targets cited above would come into play.
Last week we said, "There is a strong inclination for stocks to rally for 1-3 months when panic selling like we saw into Wednesday's low leads to a sharp rally like we have just witnessed. Volatility always accompanies these advances and the fluctuations in the price of crude oil and the statements from the Fed will only serve to exacerbate volatility."
That more or less sums up last week's market action. Crude oil continued its advance, while the initially negative reaction to the Fed interest rate policy statement was reversed on Thursday and Friday. The week ended on a high note after the Japanese Economic Minister resigned and the Bank of Japan surprised the markets by instituting a negative interest rate policy, triggering a jubilant rally in stocks around the world.
Disclaimer: Chaikin Analytics LLC is not registered as a securities broker-dealer or advisor either with the U.S. Securities and Exchange Commission or with any state securities regulatory authority. Chaikin Analytics does not recommend the purchase of any stock or advise on the suitability of any trade. The information presented is generic in nature and is not to be construed as an endorsement, recommendation, advice or any offer or solicitation to buy or sell securities of any kind, but solely as information requiring further research as to suitability, accuracy and appropriateness. Users bear sole responsibility for their own stock research and decisions. Read the entire disclaimer.