The S&P 500 Index closed on Friday at 1,999.99, up 2.64% on the week. The market saw some selling on Monday but then proceeded to break through resistance levels at 1,950 and 1,963 rallying into Friday's close. Strong Chaikin Money Flows in the SPY and the positive Power Bar differential for the S&P 500 Index point to further gains.
We may see some early weakness again as resistance at 2,000 attracts profit taking, but buying on dips is now our preferred strategy. The market should be able to break through 2,000 and rally to 2,050 before April earnings reports provide another gut check for stocks.
Positive economic reports, including Construction Spending, Factory Orders, the ISM Services report, culminating in Friday's Employment report all contributed to a better stock market climate.
Firmness in the price of crude oil, strength in the Transportation stocks and an improvement in the spread between high yield bonds and U.S. Treasuries also contributed to a continuation of last week's rally.
The prevailing focus has shifted from fear of a recession to the "goldilocks" economy in the U.S. that can fuel 2% GDP growth without scaring the Federal Reserve Board into interest rate hikes sooner rather than later.
Beware the Ides of March - Particularly in Fallen Angels That Have Come Back from the Dead
The 10% rally in the S&P 500 Index off the February 11th lows has been led by a 45% advance in the stocks which declined the most between the May 15th high and the lows in February. Now is not the time to chase these stocks, many of which are in the energy sector. The rally was triggered by a combination of short-covering and bargain hunting and should be viewed as an opportunity to exit these stocks if you are still long.
This week's bearish stock of the week, Netflix, is an example of a fallen angel which can be sold on this current strength.
Charts of the S&P 500 Index
The chart of the S&P 500 Index ETF (NYSEARCA:SPY) below, shows the market breaking above key resistance at 2,000 Friday accompanied by strong Chaikin Money Flow (NYSEARCA:CMF). The mood of the market changed dramatically last week with only a shallow pullback on Monday offering buyers any opportunities to pick up stocks on the cheap.
We remain very overbought, but with CMF so strong this is positive and suggests that pullbacks will be shallow and confined to 1 ½ - 3% at most.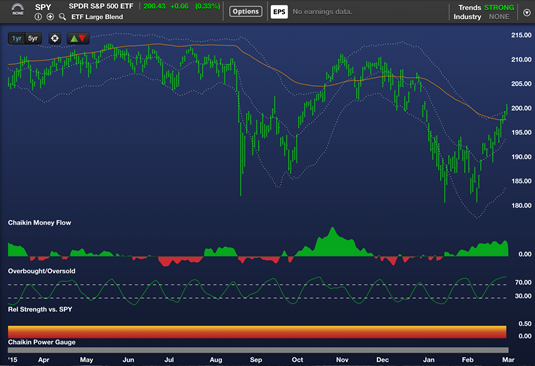 Last week we said "The bearish pattern of lower highs and lower lows, which dates back to April of 2015 has been broken and Chaikin Money Flow remains strong which suggests limited pullbacks and a renewed rally attempt which could take us up to 2,000 and beyond."
We also alluded to the beginnings of positive relative strength for the Guggenheim equal weighted S&P 500 ETF (NYSEARCA:RSP). This positive relative strength continued and has reversed a 10-month downtrend.
The result was a test of resistance at 2,000 accompanied by strong Chaikin Money Flow which bodes well for an advance to 2,050.
As the intra-day chart of the S&P 500 Index below shows, the stock market sold off on Monday below 1,935 and then proceeded to break above the two key resistance levels, 1,950 and 1,963. The action for the balance of the week was quite positive with intra-day declines attracting buyers and strong finishes each day. On Friday the S&P 500 Index briefly traded above resistance at 2,000, settling right there with a close of 1,999.99.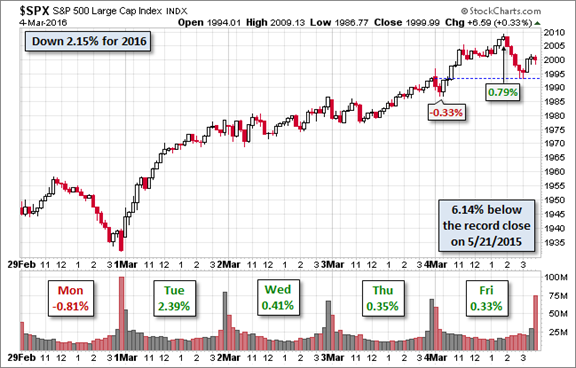 Chart courtesy of Doug Short at Advisor Perspectives
Power Bar differentials for the Major Indexes
The Power Bar differentials for the S&P 500 Index , Nasdaq 100 (NASDAQ:QQQ) and the Russell 2000 small cap index (NYSEARCA:IWM) all showed strong improvement this past week. The best gain was in IWM where 502 stocks have bullish potential vs. 345 with bearish ratings.
The S&P 500 Index has a bullish Power Bar rating for the first time in over 6 months which bodes well for a continuation of the advance.



Image from Chaikin Analytics for Desktop © 2015
For more market insights, subscribe to PowerSuite Premium, which includes Marc Chaikin's weekly stock market analysis report, Market Insights.
Disclaimer: Chaikin Analytics LLC is not registered as a securities broker-dealer or advisor either with the U.S. Securities and Exchange Commission or with any state securities regulatory authority. Chaikin Analytics does not recommend the purchase of any stock or advise on the suitability of any trade. The information presented is generic in nature and is not to be construed as an endorsement, recommendation, advice or any offer or solicitation to buy or sell securities of any kind, but solely as information requiring further research as to suitability, accuracy and appropriateness. Users bear sole responsibility for their own stock research and decisions. Read the entire disclaimer.