The S&P 500 Index closed on Friday at 2,049.58, up 1.35% on the week. The market traded in a mild 2 ½ day sideways correction leading up to Federal Reserve Board Chair Janet Yellin's dovish comments on Wednesday, after their Open Market Committee meeting.
Not only did the Fed keep rates unchanged but they indicated that instead of their previous suggestion of 4 interest rate hikes in 2016, 2 rate hikes were more likely. For once the comments by Fed governors and regional Presidents were in line with the Chairman's and thus did nothing to roil the markets.
Money came off the sidelines once again as the market added a 5thweek to its rally off the February 11 bottom. The bullish factors cited below continue to support the advance and suggest higher prices ahead. Friday was an options and stock index futures expiration which is often followed by short-term selling early the following week. When combined with resistance at the 2,050 level, the expectation is for a pullback of modest proportions next week.
However, strong Chaikin Money Flows in the SPY, the positive Power Bar differential for the S&P 500 Index and the continuing out performance by the Guggenheim Equal Weighted S&P (NYSEARCA:RSP) are strong indications that the rally can work its way higher ahead of earnings season which begins on April 11.
The stock market continues to respond positively to rising crude oil prices which have helped energy stocks and also alleviated fears of a debt crisis in high yield bonds, particularly those of energy related companies. There are enough bearish analysts (a contrary indicator) on CNBC to suggest that stock prices have more upside potential to our intermediate term price target of 2,100 on the S&P 500 Index.
Continue to buy pullbacks of 1 ½ - 3% over 2-4 days, as we have a comfortable 3-week window before the reality of 1st quarter earnings reports become a market moving factor.
Charts of the S&P 500 Index
The chart of the Guggenheim S&P 500 Index Equal Weighted ETF below, shows its positive relative strength vs. the SPY capitalization weighted S&P 500 ETF. As we noted last week this outperformance by the smaller cap stocks in the S&P 500 is a healthy development for the market. This is particularly so when accompanied by increasingly positive Chaikin Money Flow.
The extreme overbought condition that has pushed more than 90% of the stocks in the S&P 500 Index above their 50-day average price is a reliably bullish indication of higher prices ahead. The positive Chaikin Power Bar differential for the SPY, indicates improving participation in the rally, another bullish sign.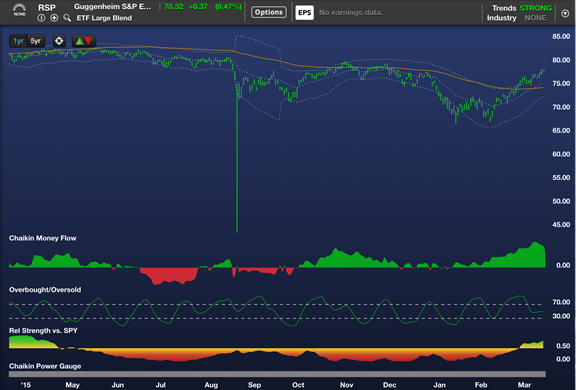 As the intra-day chart of the S&P 500 Index below shows, the stock market held above its breakout level of 2,000 and then took off after the Fed's comments on Wednesday which were interpreted as very dovish on future interest rate hikes. This reversal from 4 rate hikes projected to 2 in 2016 surprised hedge fund managers and longer term investors and helped fuel a rally that continued into Friday's close.
Expect the market to start the week on the downside as it normally does after a strong finish on options expiration Friday.
Chart courtesy of Doug Short at Advisor Perspectives
Sector Rotation Creating Sharp Swings in Groups Every Day
This 5-week rally in the market was initially led by the stocks that had been beaten down the most in 2015, and particularly in the period from the first Fed rate hike on 12/15/2015 until the low on 2/11/2016, when Jamie Dimon, CEO of JPMorgan Chase said that he was buying $25 million of JPM stock.
The short covering in energy stocks and relief rallies in oversold technology stocks has now given way to a focus on larger cap names. The weakness in the U.S. dollar has helped multi-national companies like Caterpillar (NYSE:CAT) and Nike (NYSE:NKE) at the expense of smaller cap stocks and the more speculative Nasdaq 100, where weakness in Biotech, Drug and Technology stocks has seen the QQQ ETF underperform the SPY.
Friday's rebound in Health Care stocks and the late week reversal in Financial stocks highlights the Sector rotation effecting stocks on a day to day basis.
Try to ignore these shorter-term influences and instead use theChaikin Power Gauge Ratings to guide your investment and trading decisions.
For more market insights, subscribe to PowerSuite Premium, which includes Marc Chaikin's weekly stock market analysis report, Market Insights.
Disclaimer: Chaikin Analytics LLC is not registered as a securities broker-dealer or advisor either with the U.S. Securities and Exchange Commission or with any state securities regulatory authority. Chaikin Analytics does not recommend the purchase of any stock or advise on the suitability of any trade. The information presented is generic in nature and is not to be construed as an endorsement, recommendation, advice or any offer or solicitation to buy or sell securities of any kind, but solely as information requiring further research as to suitability, accuracy and appropriateness. Users bear sole responsibility for their own stock research and decisions. Read the entire disclaimer.