The S&P 500 Index closed on Friday at 2,047.60, down 1.2% on the week. The rally from the February 11th low has stalled temporarily as the market bears have come out of their caves. Economic reports last week were generally good but muted.
The ISM service Index came in better than expected, reversing a 4-month downtrend and jobless claims continued to decline. The Atlanta Fed's GDP model, however, dipped to a projection of 0.1% growth in the 1st quarter, which has added to concerns about the state of corporate earnings due to be reported in the next 6 weeks.
This week we have the widely anticipated March Retail Sales report. A very negative report from GAP Inc. (NYSE:GPS) on its March sales revenue was a bearish harbinger that triggered selling in a host of retail and apparel stocks like Bed Bath & Beyond (NASDAQ:BBBY), L Brands (NYSE:LB), Ralph Lauren (NYSE:RL), Macy's (NYSE:M), Nordstrom (NYSE:JWN), Michael Kors (NYSE:KORS) and PVH Corp (NYSE:PVH).
We believe that earnings season will be a positive for stocks as companies beat tamped down analyst expectations and the weaker U.S. dollar will no longer provide headwinds for large multi-national companies. Continue to use periods of short-term market weakness to buy bullish rated Power Gauge stocks.
Strong support exists at 2,000 on the S&P 500 but dips may very well be contained in the 2,025 - 2,035 area.
Be alert to potential shifts in the market's technical strength and pay particular attention to failed attempts to get through the old highs in the S&P 500 Index above 2,137.
Charts of the S&P 500 Index
The chart of the SPDR S&P 500 ETF (NYSEARCA:SPY) below, shows a mild sell-off last week after the stock market's inability to punch though its downtrend line going back to June 2015, currently at 2,075.
The market remains overbought on an intermediate term basis, with 85% of the S&P 500 stocks above their 50-day averages. However, it is oversold short-term with positive Chaikin Money Flow and continued outperformance of the Guggenheim Equal Weighted S&P 500 ETF (NYSEARCA:RSP). These bullish indicators suggest that any sell-offs will be mild and contained in the 2,025 - 2,035 support area.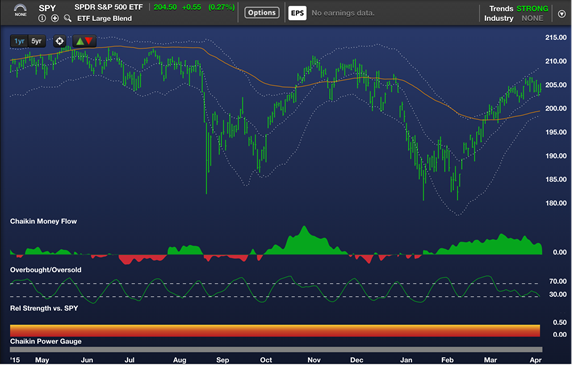 As the intra-day chart of the S&P 500 Index below shows, the stock market failed on Monday to break through resistance at 2,075 and had a mild sell off that took it down into support at 2,035. We saw a continuation on late day buying, even on down days, which normally indicates strong institutional demand for stocks.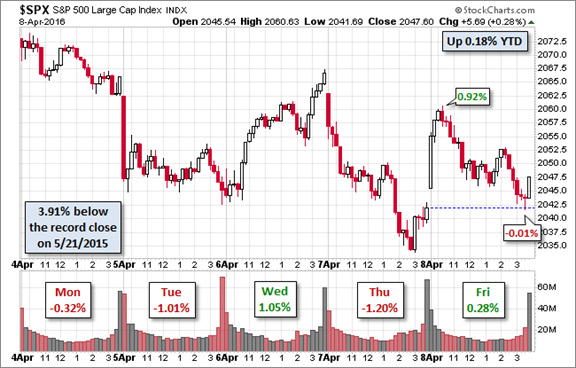 Chart courtesy of Doug Short at Advisor Perspectives
Here's What's Bothering the Bears
The 2 charts below, courtesy of Bespoke Investment Group, sum up the bearish case that has troubled technical analysts for the past 3 months. The S&P 500 Index has failed to breakout above a mild downtrend line in place since June 2015 and in the process has formed a rounding top formation over the past 12 months which is troubling to the bears.
Add in trepidation about 1st quarter earning reports and potentially high valuations for stocks and you see why the market is churning up near its recent highs. Perhaps we will see a resolution in the next two weeks as companies begin to report 1st quarter earnings.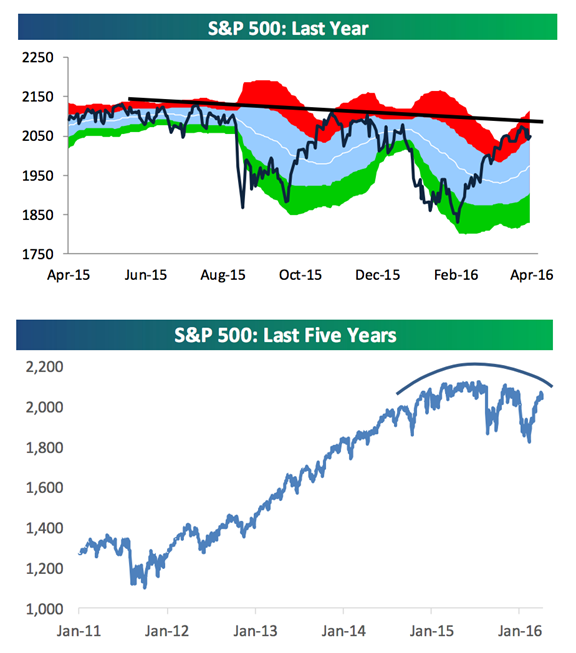 For more market insights, subscribe to PowerSuite Premium, which includes Marc Chaikin's weekly stock market analysis report, Market Insights.
Disclaimer: Chaikin Analytics LLC is not registered as a securities broker-dealer or advisor either with the U.S. Securities and Exchange Commission or with any state securities regulatory authority. Chaikin Analytics does not recommend the purchase of any stock or advise on the suitability of any trade. The information presented is generic in nature and is not to be construed as an endorsement, recommendation, advice or any offer or solicitation to buy or sell securities of any kind, but solely as information requiring further research as to suitability, accuracy and appropriateness. Users bear sole responsibility for their own stock research and decisions. Read the entire disclaimer.