The S&P 500 Index closed on Friday at 2,096.07, down 0.01% on the week. The stock market had a case of the jitters this past week. In addition to concerns about economic growth in the U.S., fueled by bearish comments from Carl Icahn, and George Soros, we had Bill Gross weigh in on the dangers of negative interest rates and Britain leaving the European Union (Brexit).
This week we should see a pickup in volatility as the Federal Reserve Board's Open Market Committee meeting will be capped by Janet Yellen's comments on Wednesday. Fears of the effect of Brexit, now polling at 54/46 in favor, on the British economy will then be front and center for the balance of the week.
I expect that support at 2,085 will be broken, but doubt that major selling will ensue. Put together a list of stocks with bullish Power Gauge ratings to buy on weakness. The ability of the stock market to close above the important 2,100 resistance level for 4 days last week is a harbinger of a strong summer rally.
Charts of the S&P 500 Index
The S&P 500 Index closed above overhead resistance at 2,100 until Friday when weakness in the Chinese and European economic reports triggered sharp selling in those markets which spilled over into an overbought U.S. stock market.
The S&P 500 was off 0.01% for the week while Nasdaq 100 Index was off over 1%. The relative weakness of technology and biotech stocks continues.
With the market overbought on a short-term basis, Chaikin Money Flow remains positive and the Guggenheim Equal Weighted S&P ETF (NYSEARCA:RSP) continues to outperform the SPY. The market needs a few more days of selling to work off the overbought condition and all indicators point to a resumption of the advance after the Fed's meeting and Brexit concerns are resolved.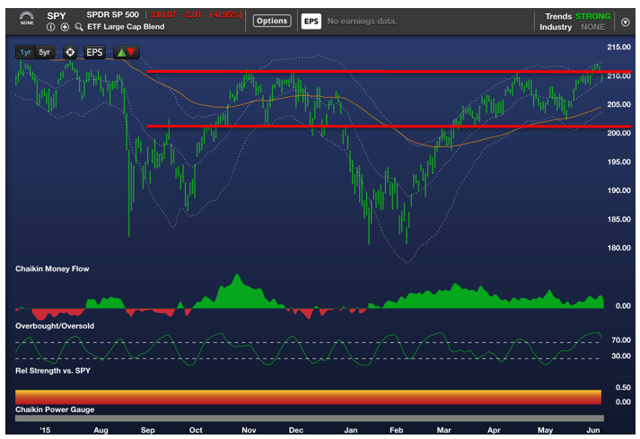 Chart from Chaikin Analytics©
Intra-day Chart of the S&P 500 Index
The stock market held up well above the key 2,100 level on the S&P 500 Index until Friday, when weakness in international markets combined with a sharp drop in the 10-year treasury yield to a 2016 low of 1.64% pushed the Index back below 2,100.
Support remains at 2,075 - 2,085 with resistance in the 2,100 - 2,135 area.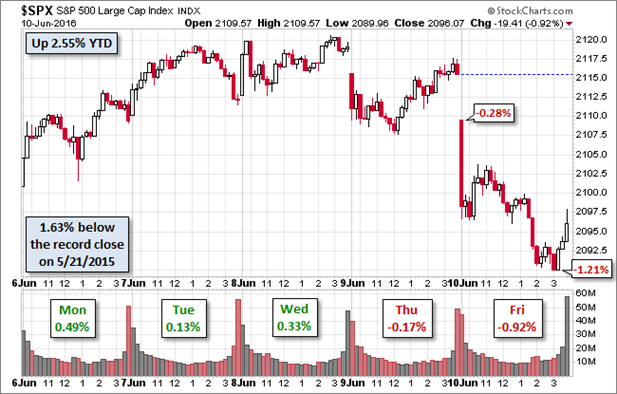 Chart courtesy of Doug Short at Advisor Perspectives
For more market insights, subscribe to PowerSuite Premium, which includes Marc Chaikin's weekly stock market analysis report, Market Insights.
Disclaimer: Chaikin Analytics LLC is not registered as a securities broker-dealer or advisor either with the U.S. Securities and Exchange Commission or with any state securities regulatory authority. Chaikin Analytics does not recommend the purchase of any stock or advise on the suitability of any trade. The information presented is generic in nature and is not to be construed as an endorsement, recommendation, advice or any offer or solicitation to buy or sell securities of any kind, but solely as information requiring further research as to suitability, accuracy and appropriateness. Users bear sole responsibility for their own stock research and decisions. Read the entire disclaimer.